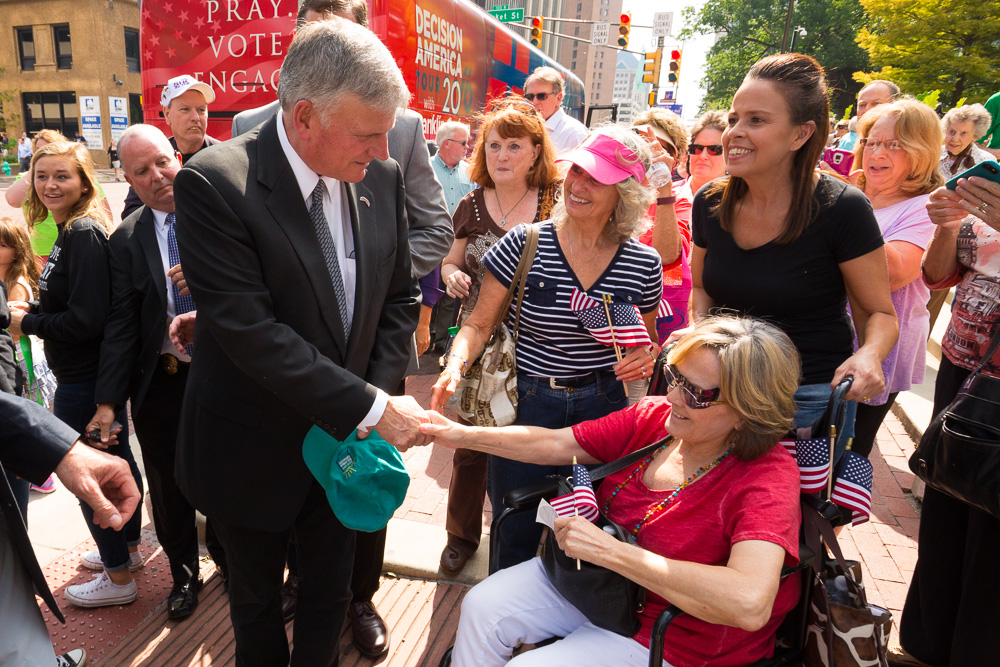 Scores of Christians across the country are concerned about the direction America's leaders and its courts have taken this nation.
From taking prayer out of public schools in 1962, to the passage of Roe vs. Wade in 1973 that legalized abortion, to last year's Supreme Court ruling making same-sex marriage legal—it seems God and His standards are being systematically torn from the fabric of the nation.
More than 200,000 concerned Americans have tangibly shown their frustrations as well as their love for our nation by joining Franklin Graham on his 50-state Decision America Tour. And over 100,000 people have signed a pledge to God and country.
A Time for Decision
Watch and share this 30-minute DVD from the Decision America Tour as you encourage those around you to stand for Biblical values.
The tour is nearly finished, but not until the evangelist visits the final two state capitals: Richmond, Virginia and Raleigh, North Carolina—the 50th and final stop.
At each prayer rally, Franklin Graham tells Christians that if they want change in America, they absolutely need to pray, vote and engage in the political process.
But perhaps what's most at stake—and what he has called the most important issue in this election at these rallies and also on his Facebook page—is the Supreme Court.
"That's what this election's about," Franklin said. "It's going to be the Supreme Court, and you have to decide which candidate you think will appoint justices that will defend our liberty, our Christian freedoms.
"This court and their rulings on issues of religious freedom, marriage, abortion and much more will impact this country for our lifetime and the lifetime of our children and grandchildren. There's so much on the line here."
Though the presidential election is just weeks away, the media have reported that many voters are still undecided or unsure about their choice.
Franklin Graham is not endorsing any candidate or political party, a fact he has made clear this past year.
The evangelist does, however, stress the importance of focusing on issues, not personalities—and is offering a comparison of the Democratic and Republican party platforms in a special election 2016 Election Guide issue of Decision magazine.
Most importantly, however, in every state, Franklin leads the crowd in the most powerful thing we can do for our country—pray and ask Almighty God for forgiveness.
"Father, we have sinned as a nation," Franklin has said. "You have given us so much blessing, and we've turned our back on you. Father, hear our prayers today. Forgive us."
Looking ahead to the final rallies, Franklin Graham's message won't waver—it's why he has crisscrossed the country this year:
"Christians have an opportunity to make a difference by praying, by voting, and by letting the Christian voice be heard. The only hope for our country is God."