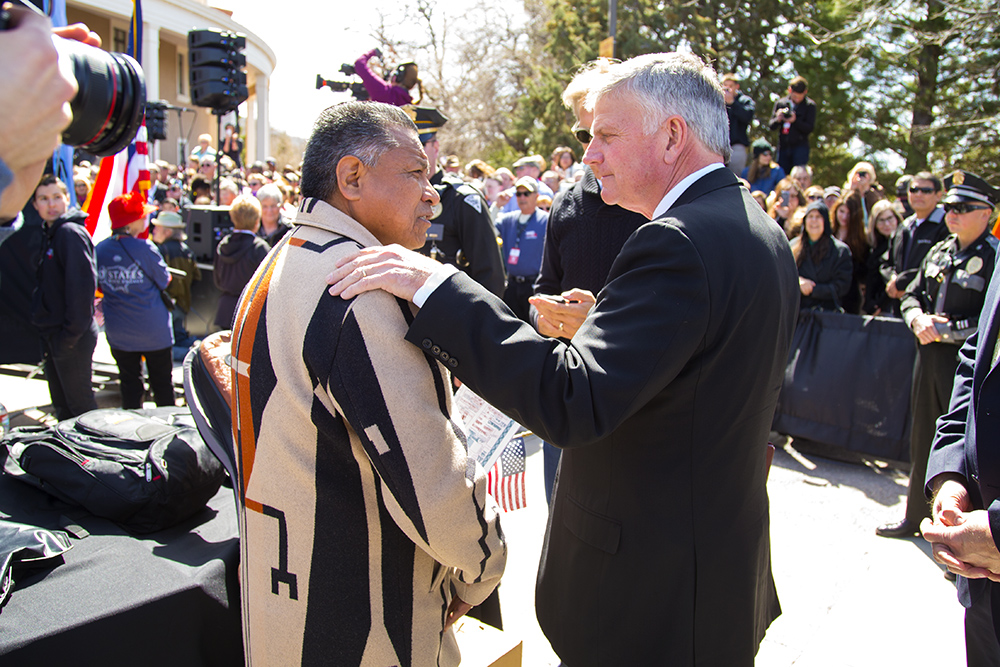 "All it takes is one."
Billy Graham spoke those words in 1975, during the New Mexico Crusade in Albuquerque. He was trying to dispel the myth we often believe, that small numbers can't make a big impact.
"If you're totally surrendered, totally dedicated and say, 'Lord, here's my hand with all I've got'—God has a place for you. He can use you," he said.
"God, plus one."
And now, in the heat of election season, Franklin Graham has a similar message for New Mexico and for America.
In Santa Fe on Wednesday, he challenged thousands at the Decision America Tour prayer rally to—one by one—get out and let their voice be heard.
"The church needs to vote. The church needs to show up at the polls," Franklin Graham said.
"Could you imagine if every one of you here ran for some [political] office, the impact that would have on the state of New Mexico? It would be huge," he added.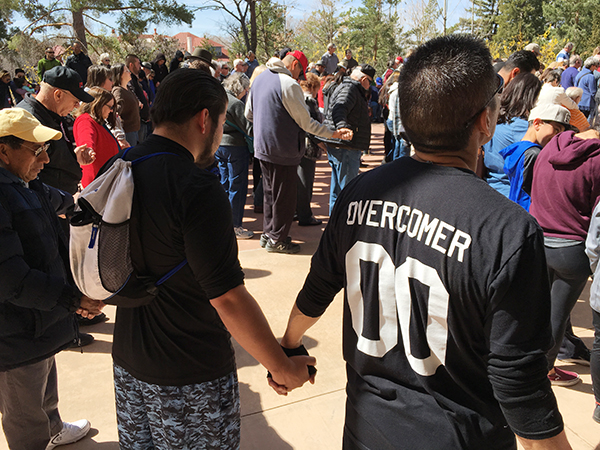 About 2,500 people gathered at the Capitol plaza in Santa Fe to join in prayer for America; some of the crowd even spilled into the lobby area.
Just the afternoon before, Franklin Graham was in Denver urging attendees there as well to take a stand for what's morally right.
"Secularism has come into Washington, and Washington is taking God out of [it]," he said in Santa Fe. "We as Christians are being pushed further and further to the back, and I say let's take our country back."
Santa Fe native Pastor John Trujillo admired Franklin Graham for boldly sharing his faith and insisting others do the same.
"Unfortunately, some pastors have become so watered down in their message that they've compromised more than they've actually made a stand," Trujillo said. "There's no compromise.
"We need to make a difference, we need to make a stand, we need to declare Jesus Christ over our nation once again. We need to win this nation back for Christ."
Trujillo and his group certainly turned a few heads at Wednesday's rally. He and about 30 others rode fat tire bicycles to the event.
Twice a week Trujillo and his family, along with members of his church, Zion Worship Center, get together for a 25-mile "Bible bike ride." They pray for people, have Bible study and eat as a group.
"We heard about this [rally] a while back and I thought, 'Why fight traffic? Let's get the bikes and come out and support,'" Trujillo said.
"It's a dying world, especially in this city," he added, referring to the drug problem in Santa Fe and surrounding areas.
"They call us 'the walking dead' because of the heroin use here," explained Travis Roybal, who serves as senior youth pastor at Zion Worship Center.
"But we have seen God do the miraculous because of prayer," Trujillo said.
"Even here today, we were just holding hands, and I could feel the power of the Lord sweep over this entire Capitol. I was in tears just thinking about what God is doing."
Though only nine stops into the Decision America Tour, there's been a great response. Thousands have shown at each rally so far and tens of thousands more have signed the pledge to stand for biblical values, publicly live out their faith and pray for America.
"Prayer is what's going to change our community. It's going to change our nation," Trujillo said. "You can do anything, but if you don't talk to God, you've done nothing."