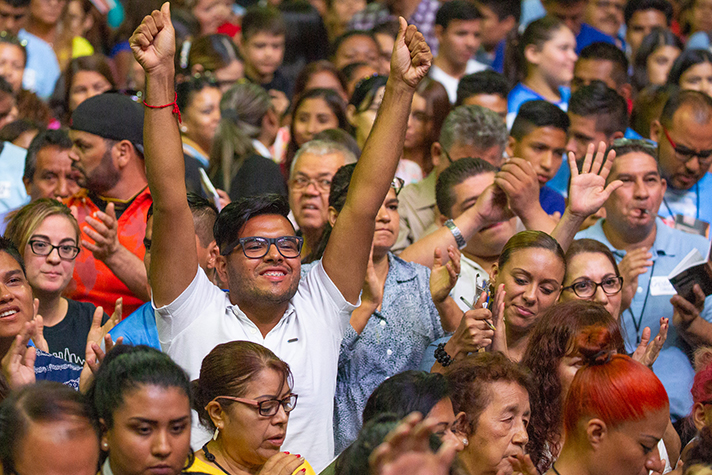 Dear Friend,
We praise God for pouring out a "wealth of salvation" (Isaiah 33:6, NASB) on opposite sides of the Atlantic Ocean in the last couple of months—in Blackpool, England, and then in Monterrey, Mexico. To Him be the glory!
In early October, I was in Monterrey, Mexico, a major industrial and commercial city about an hour's drive south of Laredo, Texas. Over 500 area churches, many of them small, had been praying and preparing for our Festival de Esperanza. As with Blackpool, friends like you were also praying, and God answered in wonderful ways. We thank and praise God for every soul saved.
There was an atmosphere of enthusiasm and expectancy among believers in Monterrey, and the arena was packed each night—on the first night, more people came than the arena could hold. Many who could not get inside remained near the entrances to listen while many others gathered in front of TV screens placed under two tent shelters.
I told the people that there is nothing more valuable than a soul, and that where you spend eternity depends on whether you accept or reject Jesus Christ during this life. It's the most important decision anyone can make. The Bible says, "What will it profit a man if he gains the whole world, and loses his own soul?" (Mark 8:36, NKJV). God opened many hearts as I preached the Gospel. At the invitation, crowds of people pressed forward to pray with our trained volunteers as they made decisions for Christ—so many that ushers had to hurriedly remove sections of seats near the front to make more room. Outside the arena, some prayer volunteers met with people who stepped forward in front of the TV screens in response to the invitation.
One 27-year-old man came to the event because a Christian he knew invited him. He came hoping to find answers to save his troubled marriage, but when he heard me explain the Gospel, he realized that he had an even more basic problem—he was not saved. He decided to go forward.
A prayer volunteer listened to his story and then said that he himself had become a Christian a few years earlier during a time of marital difficulty. "I shared part of my testimony," the volunteer said later, "and he understood what I was saying because I went through the same situation he is going through right now."
After the man prayed to receive Christ as Savior and Lord, the volunteer explained from Scripture about the Biblical role of a husband, adding practical advice from his personal experience. The two prayed together for God to heal the man's marriage, and the volunteer urged him to begin attending church with the friend who brought him to the Crusade.
Overall, more than 53,000 people attended Crusade events in Monterrey, and we praise God that over 3,100 told us they made decisions for Christ. Jesus said He came "to seek and to save the lost" (Luke 19:10, ESV)—the harvest was His and the glory belongs to Him.
Two weeks before Monterrey, God gave boldness to preach "the gospel of God amid much opposition" (1 Thessalonians 2:2) in Blackpool. I went at the invitation of churches in the area who have been praying, some for as long as two years, that God would use this Festival of Hope to reach hearts for Jesus Christ and change lives in Blackpool. But secular activists who reject the authority of God's Word joined with Muslim activists who reject the Gospel, working together for months to stir up opposition in the media and the community in an effort to discredit or even block the Festival of Hope.
Jesus once said to a group of opponents who challenged the authority of His teaching, "You know neither the Scriptures nor the power of God" (Matthew 22:29, ESV), and the same proved true in Blackpool. Many Christians prayed, and the Crusade went on exactly as planned. There were only a handful of people protesting outside, but the Blackpool Gazette had an online headline that said "Hundreds" came to protest, and their article began with the line that "Up to 200" showed up. Not true. On the largest night, we counted 39 protesters. They had signs and a 10-foot-tall papier-mâché statue of Jesus wearing a rainbow sash. The Jesus I worship is much bigger than that.
After the event, a woman wrote to the Blackpool newspaper: "As a local, I was surprised to read in Saturday's Gazette that a preacher from America, Franklin Graham, was causing so much outrage amongst the LGBT community. … I attended the Festival of Hope last night to see, hear, and judge for myself. Franklin Graham said that the main thing he wanted us to remember from what he said was that 'God loves you.'" She concluded her letter by describing what she heard as "very Biblical."
God honored the preaching of His Word. More than 9,000 people attended (a fact that the local media chose not to report), and 49,000 others connected live through their smartphones and laptops to participate via the internet.
Hundreds believed and repented. God made the entire event a "demonstration of the Spirit and of power" (1 Corinthians 2:4). Each night when I invited those who wanted to make a decision for Christ to come forward, people stood shoulder to shoulder at the front. Trained prayer volunteers from local churches talked and prayed with them one-on-one.
A 15-year-old girl and her mother came down from the balcony to pray with volunteers. Like so many others, they used to go to church but got out of the habit, and each started going her own way in life. "I just stopped believing," the teen explained. Both were struck by the joy they saw among believers at the Crusade. "There's quite a lot of hopelessness in Blackpool," the mother said. That night they understood what was missing in their lives—each wanted a personal relationship with Jesus Christ.
A young Christian, who co-leads a Bible study for inquirers in a city near Blackpool, came to the Festival to hear the music and preaching and to observe what happened. He said later that he was shocked by the power of the simple Gospel. "I saw the power of the Cross and Word of God in a new way, and I learned from Franklin Graham to share the simple Gospel." The next day was his turn to lead the inquirers study, and he led 13 people to Christ.
We have a busy schedule of evangelism the rest of this year as we continue to call lost hearts to Christ. My son Will Graham just led evangelistic events in two cities in northern Canada and will visit two cities in Thailand. Our associate evangelist David Ruiz will preach the Gospel at a Crusade in Mexico. And our longtime associate evangelist Robert Cunville is scheduled to lead Crusade events in multiple cities across India this fall. Will you pray for the lost in each of these places?
We rely on your prayers and your financial help to continue pointing spiritually hungry hearts to Christ. I am deeply grateful for your partnership.