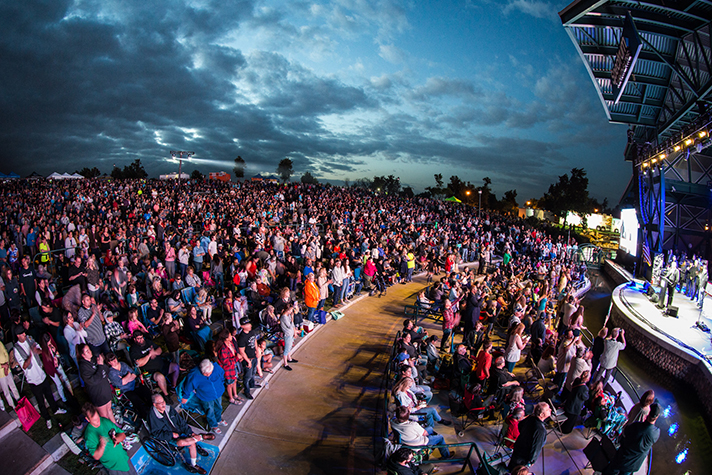 "And as they brought them out, one said, "Escape for your life. Do not look back or stop anywhere in the valley. Escape to the hills, lest you be swept away."
— Genesis 19:17 (ESV)
Describing the Decision America California Tour in a few words isn't easy.
It's part prayer rally. Part evangelistic outreach. Part energizing and challenging the church to live out their faith in Jesus Christ. Especially in places like California, where being an outspoken Christian doesn't exactly make you a lock for school board president.
Decision California has meant different things to different people. So naturally, as Franklin Graham began to address a crowd of over 8,000, spilling out of gorgeous Spectrum Amphitheatre on Friday evening, he came up with a new category of people.
After all, they say the most effective speakers define their audience first.
"Tonight, my message is for those who are almost saved," he said, before delivering a word from Genesis 19 (Sodom and Gomorrah).
And just like Lot's wife almost fully obeyed God, she couldn't help but take a quick peek back and found herself instantly paralyzed into a pillar of salt.
"All she did is glance back," Franklin Graham said. "The angels told Lot to get your family out now. Whatever you do—don't look back."
Of course, Franklin knows there's no such thing as being "almost saved," but that's the point. And it resonated. So many people stood to his invitation to follow Christ as Lord and Savior. There's no time to be halfway committed. Afterward, prayer volunteers gave out follow-up materials to hundreds in the massive crowd.
"Are your sins forgiven?" he asked more than once. "Are you sure?"
Jerry and Jessica were definitely sure after Friday night, and were overwhelmed by what took place.
"I didn't know there were this many (Christians) in Bakersfield," Jessica, 34, said. "I'm just glad Franklin came here. Who wants to come to Bakersfield?"
"I feel the Lord wants to bring purity back to the church," said Jerry, 37, as he looked through the materials. "I think it's really important to follow His Word and not the world's ways.
"Also, he sounds a lot like Billy Graham."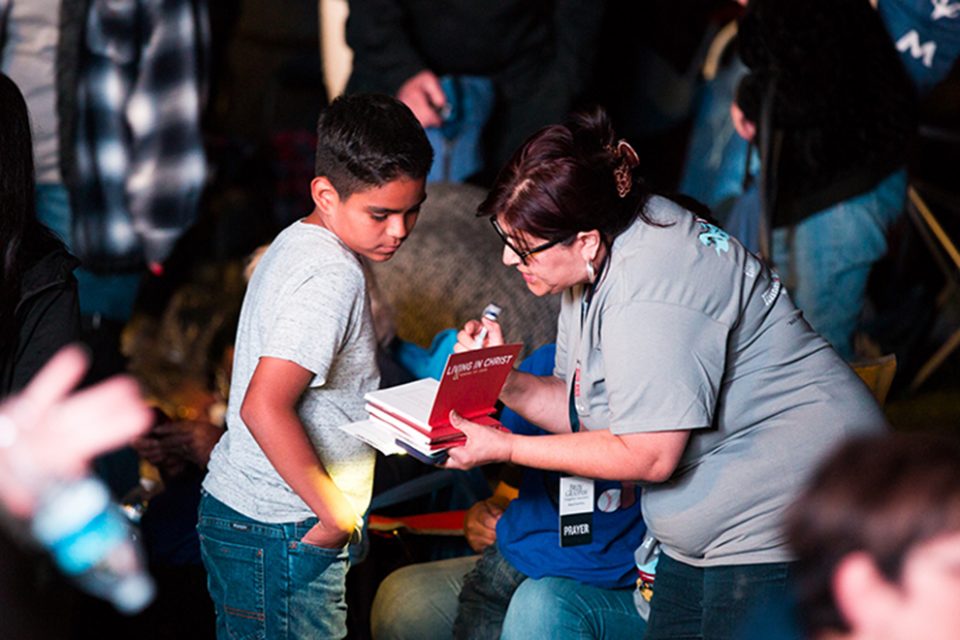 Meanwhile, on the other side of the lake, where you could still hear what was going on, folks from all walks of life lined up in folding chairs and on blankets. Many families, young couples, retirees, and perhaps sitting the furthest away from the action, a young family. They came with their three small children to eat nearby, heard the music and remembered "seeing something about it on a billboard."
"We like Christian music," was their best alibi, as their kids ran around in circles.
For Cheryl Carroll, born and raised in Bakersfield, it was the music. And the message. But also, mostly about coming together to pray. On the day Ireland voted to legalize abortion, her anti-abortion sticker said more than she could, especially when she started choking up about the future of our country, of California, of Bakersfield. And her grandchildren.
She came to pray for all four.
"I was so excited to hear Franklin was coming to Bakersfield," she said, recounting her parent's devotion to Billy Graham's ministry and her Crusade experience as a young child. "We need revival here."
She hears it all the time, especially when she visits family on the East Coast.
"Everyone says California is full of crazies out there," she said. "Well, I'm conservative and love the Lord. Am I crazy?"
Sergio Herera might have thought it was a little crazy bringing out his wife, 6-year-old son and his 9-month-old daughter. But he just finished an Israel tour and was on fire to hear a new Gospel message.
"Our church normally has a prayer meeting on Friday night," he said, "but they cancelled it so we could all come out here.
"Bakersfield could use a revival. The state and country, they all need a revival."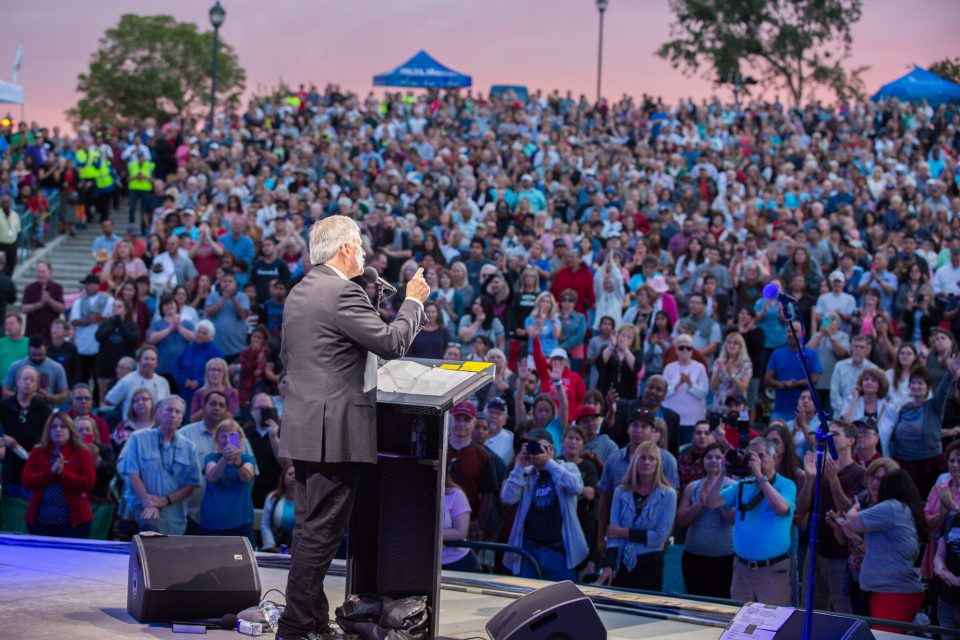 And just as Jeremy Camp was wrapping up his worship set, introducing Franklin Graham to the stage, it was hard to miss the majestic sunset radiating the sky, taking on additional octaves of color. It was impossible to miss, even if you were streaming online at BillyGraham.org/Live or watching on Bakersfield's ABC-23 (KERO-TV) website or Roku channel.
"I want you to know, it is divined that you are here tonight," Jeremy said. "God loves you so much."
And if you stood perfectly still, you could catch the slightest of breezes. It was 71 degrees. Billowing clouds up above. Practically a Rembrandt.
Sergio, hands on his stroller as his baby slept, couldn't believe Friday night's perfect conditions, as he looked up to the sky and smiled: "This is one in a million."
And the Holy Spirit was about to move.
The Decision America California Tour
Watch any of the remaining 6 Decision California events LIVE at: Billygraham.org/live. All events begin at 7:30 p.m. PT/10:30 p.m. ET.
Monday, May 28: Fresno
Tuesday, May 29: Modesto
Thursday, May 31: Santa Clara
Friday, June 1: Berkeley
Sunday, June 3: Chico
Tuesday, June 5: Redding
>>Get more details about the tour here.
>>Each city on the tour has unique needs. Find specific prayer points here.