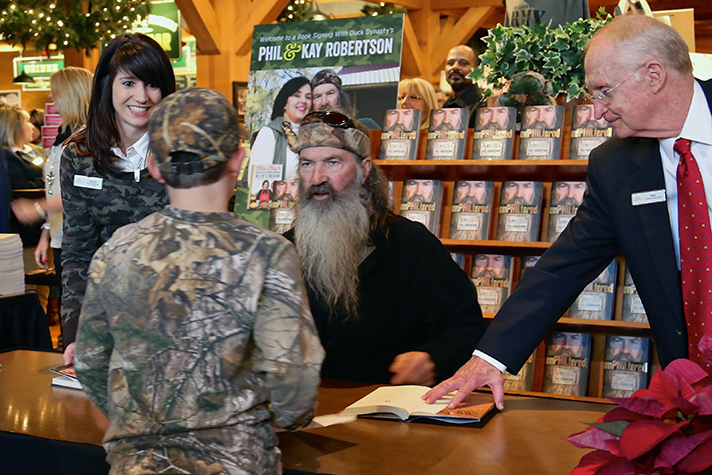 It may not have been the question on everyone's mind Thursday afternoon at the Billy Graham Library, but when Gaye Hanna was face to face with Kay Robertson securing a prized autograph on her new cookbook, she didn't waste the moment.
"What should I cook tonight?" Hanna asked Kay.
The answer came without hesitation:
"The biscuits with Sprite," Kay told her.
Sprite? Really.
"You'd be surprised," Kay reassured her.
Hundreds of Duck Dynasty fans had similar interactions with both Kay and Phil Robertson, the head of A&E television's favorite family, who traveled to Charlotte, North Carolina, to sign their newly released books unPHILtered and Miss Kay's Duck Commander Kitchen.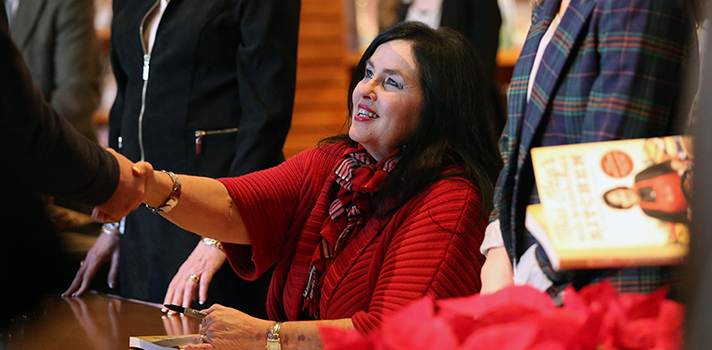 "We've been looking forward to this for some time," said Franklin Graham, who introduced the couple. "It's an honor to have Phil and Kay Robertson here today at the Billy Graham Library along with their son Alan."
The feeling, said Alan, is mutual.
"It's a very special place. We're honored to be at the Billy Graham Library today," said Alan, the beardless Robertson. "We share the same value system and we want to reach people for Christ."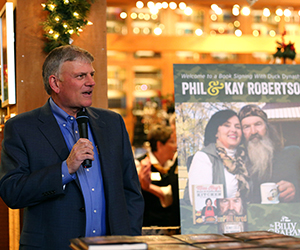 And those Christian values were far and away the reason why more than 600 stood in line for hours, zig-zagging through the Library, the line extending far out the door to the parking lot.
"They stand for what they believe and they're not concerned about backlash or criticism," said Hailey Kemper, 32, of Huntersville, North Carolina. "They fight for the right to be able to say Christ's name on TV. I love that part."
Kemper, sporting a "Happy, Happy, Happy" camouflage hat, along with her 17-year-old sister Madison Mauney are both religious fans of the Duck Dynasty show—in every sense of the word.
"I like that it's funny and that they're Christians," Mauney said. "But they're not on there being preachy. They're not trying to shove it down your throat."
Added Kemper: "I like its traditional values and I don't have to worry about what's going to show up on my TV when my kids are around."
Those values, according to Alan, are a real credit to his parents' steadfast faith in Christ. "We all still go to the same church in West Monroe (Louisiana)," he said. "The Robertsons family, our faith is what grounds us. We say faith, family and ducks, in that order."
And Christmas.
Partly because of Phil's love for Christmas that overflows and trickles down to the rest of the Robertson family. Alan points back to his father's modest upbringing, where a good Christmas may have included gifts of "nuts and berries and maybe a few oranges."
"Our table may be bigger now and our gift pile may be bigger," Alan said. "But our focus is still on the true meaning of Christmas."
Which made the warm backdrop of the Christmas-decorated Billy Graham Library the perfect venue to welcome people from all walks of life, including one dressed up as Santa Claus, who came to get an autograph in between gigs.
"I got a selfie," an excited Callie Idol said as she walked through the parking lot. "It's already on Instagram."
Callie and her sister Maggie, 19, were both enamored with their brush with fame. Mostly, because of the down-to-earth way the TV stars handle themselves.
"They're kind of normal. They're like us," Callie said.
"I love how they pray at the end," Maggie said. "And how they're not ashamed to share their Christian beliefs."
Jay Hanna took the opportunity to tell Phil how much he appreciates him "standing on his faith."
Phil responded with a humble "Thanks" and hearty "Thumbs up."
Jay's wife, several minutes after meeting Kay, was still buzzing. "She was a sweetheart," Gaye Hanna said. "You can feel this spirit when you're around them. You can tell they really love the Lord."
She took one look around the Library, crowds still pressing to get through the door.
"I don't want to leave," she said. "Can we go through the line again?"