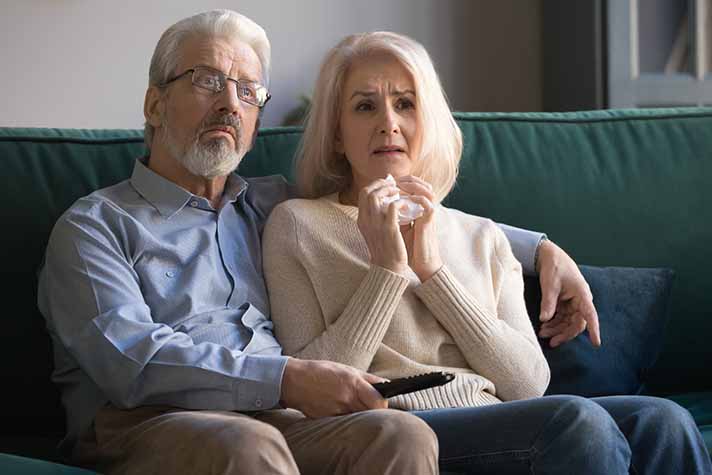 Living with fear and uncertainty has become a normal part of life for many Americans, with the recent natural disasters, joblessness and violent protests.
Couple that with a trepidation of contracting COVID-19 and the upcoming elections—and some are in outright panic mode.
More than 47 percent of Americans are 'afraid or very afraid' of the November 3 results, according to a 2019 Chapman University Survey of American Fears. The study also found that non-religious people are more apprehensive about the outcome than those who put their trust in God.
Oftentimes, the anticipation of disaster is worse than the actual event.
This fear can paralyze us, explained Billy Graham, who shared the hope of Christ with millions around the world. In his sermon, "The Cure for Worry," Graham once shared how "troubles that never come make up an imagined burden that will crush the spirit.
"The human mind is not meant to be limited to such a narrow scope," he said. "It is to be free to soar, to dream, to hope and to trust."
Some Christians believe all the chaos in our country points to Biblical prophecies being fulfilled. In Matthew 24, Christ predicted certain events as the end of the world nears.
"We are told in Scripture that there will be signs pointing toward the return of the Lord," Billy Graham once taught. In fact, he said believers should be more worried if these events don't take place.
>>Need to pray with someone? Call the Billy Graham Prayer Line at 888-388-2683 day or night.
Are You Afraid?
It's not too late for you to find the peace God offers. Start focusing on Him instead of the terrible news happening. There is something you can count on: God's still on the throne and He grieves for our broken world.
Those who have a close relationship with Christ know His peace. Others can't understand or explain the struggles in today's world.
"If you haven't [put your faith in Christ], then your fears and difficulties are justified for there is no security here or hereafter without Him," said Billy Graham.
Before we can ask God to fix things, we need to know Him personally. What does this mean? It's nothing complicated, it's simply praying and telling Him this:
—You believe He sent His Son, Jesus Christ, to die on the cross for your sins.

—You're sorry for your sins (trespasses) and want Him to forgive you. 

—You trust Christ as your Savior and follow Him as Lord.
Once you've started or renewed a relationship with Christ, you'll have more confidence in asking for His peace—for yourself, your family, our nation. And you'll have the assurance that He answers prayer in His timing.
By searching your own heart first, you're then ready to ask God to heal America.
"We must first be able to say: 'Forgive us our trespasses' before we can pray 'deliver us from evil,'" Billy Graham explained. "That is the divine order. We must be in Christ before we can cast our burdens upon Him."
>>Join Franklin Graham on September 26 for Prayer March 2020 in Washington, D.C., or watch live here.