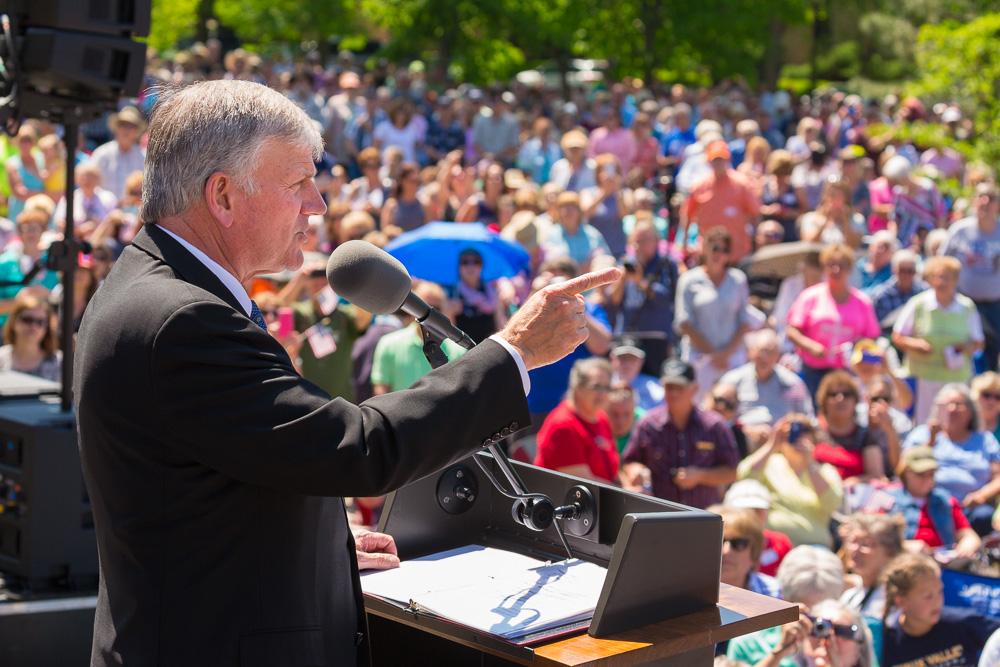 Amid the abundant lawn chairs and cowboy hats on the South Dakota Capitol lawn at the 25th Decision America Tour stop, there was one woman who didn't seem to fit into the crowd of more than 2,400.
Edith Gwien danced unashamedly along with the music that played before the rally began on Tuesday.
When she gave birth to a child several years ago, she suffered some major complications—and was told she would never walk again.
So now, she dances.
"My mom prayed over me to be healed in the name of Jesus," she said. "And I told Jesus that if I were to be healed, I would not only walk for His glory, but that I would dance for His glory!"
Gwien has a deep appreciation for the power of prayer and her God-given ability to walk. She is also thankful for the freedom she has in her new country. Nine years ago, she fled her native country of Liberia because her life was in danger due to civil war—and through a series of events, wound up in South Dakota.
Now, as an American citizen, she came to pour her heart out to God on behalf of her nation.
"I'm here for two reasons: I'm here to pray for a good president for America. I pray that whoever is elected will fear God and tell the truth," said Gwien. "And I'm here to pray for the lives of Americans. That God will give us wisdom. I'm especially praying for the children—the fatherless ones. And I'm praying for unity in our country."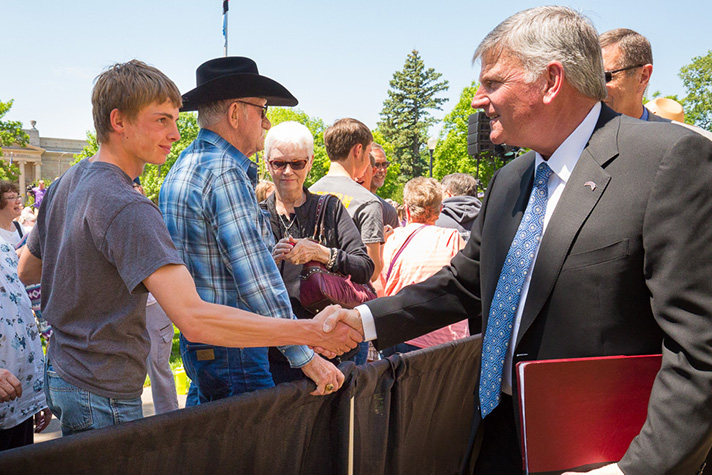 Gwien traveled to the rally—which was about a three-hour drive from her home in Sioux Falls. She left at 6:30 in the morning with two busloads of people from her church, Sioux Falls First.
Kathryn "Kit" Murray is one of her fellow church members—and someone whom she fondly calls "sister."
Murray said that their church has—for many decades—made disciples from all over the globe. But as she explained it, "The nations actually came to us."
She continued, "Our church has always been evangelical. And the heart of our pastor is to reach out to the nations. Lutheran Social Services started bringing in people from all over the world. So Sioux Falls First has been a hospital—a place of refuge—for many."
Christians: 'The Army of God'
During the rally, Franklin Graham said from the stage, "We've allowed secularists and progressives to take God out of our schools and out of the public sphere."
Murray shares his concerns. As she began to speak again, her eyes shifted toward the Decision America Tour buses, which bear the tour slogan: Pray. Vote. Engage.
"I think it's the engage part that the church has stepped down on recently. We've let things go sideways. Events like this challenge Christians to get out, stand out, and to be a presence," she said.
"God has a plan for the world. We've read the end of The Book already. But we as Christians have be the army of God. That means not standing by while everything goes haywire."
When all is said and done, Murray isn't here to make a political statement, but a Kingdom one: "For me, it's not about politics. I just want the Kingdom of God to rule. It's great to be here with all these other people and be a part of what God is doing. And to see how He is working and say, 'Amen!'"