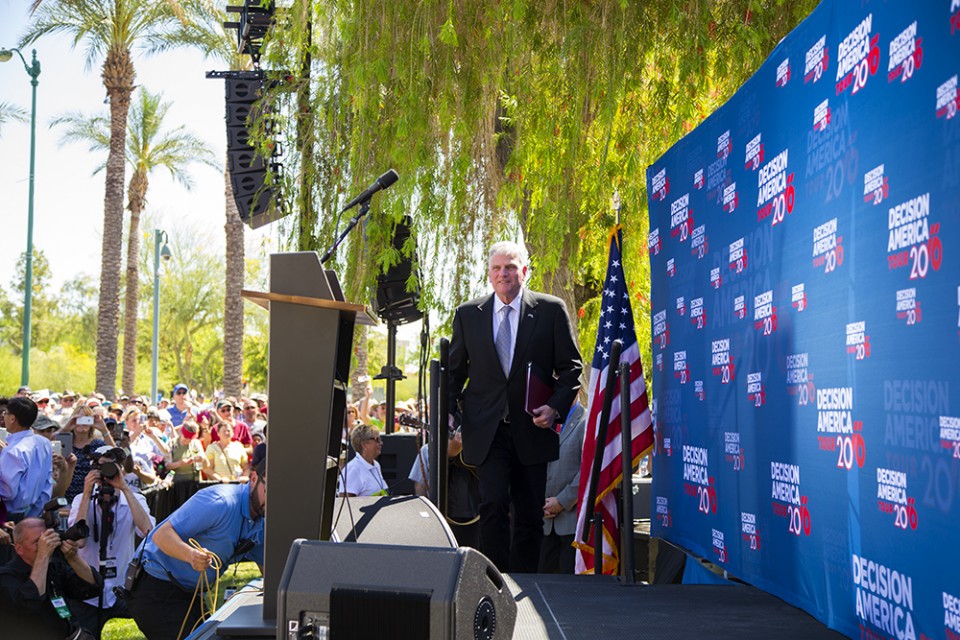 The Decision America Tour with Franklin Graham heads out west again this week for events in Utah, Nevada and California. Prayer rallies will take place Tuesday in Salt Lake City, Wednesday in Carson City and Thursday in Sacramento.
The stops are part of Franklin Graham's plan to visit all 50 states this year, sharing the Gospel and challenging Christians to pray for our nation, get out and vote, and engage in the election process down to the local level.
"Our nation is really at a moral tipping point," Franklin Graham recently wrote on his Facebook page. "If we just stay home, we're going to lose this country, and we will only have ourselves to blame."
So far, Franklin Graham has traveled to 10 states, drawing more than 40,000 people to pray and repent. Earlier this month, he visited Colorado, New Mexico and Arizona (scroll down for upcoming tour dates).
"We know that our country is in trouble spiritually, racially, economically, politically," Franklin Graham said in Phoenix. "No political party is going to be able to turn this thing around. … Our hope—my hope—is in Almighty God."