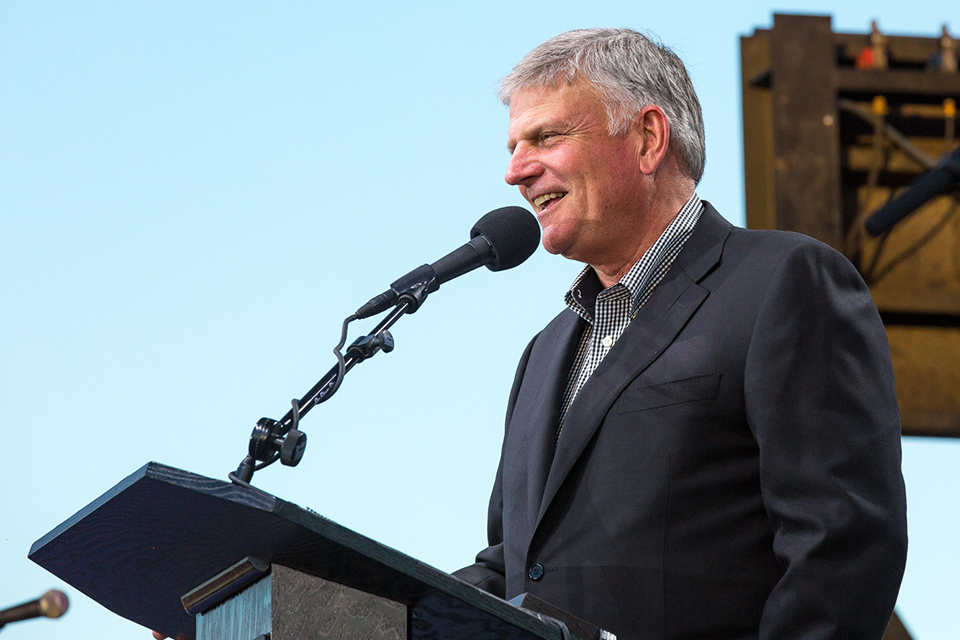 Franklin Graham's ongoing Decision America Tour will roll across his home state of North Carolina this fall.
From October 1–13, the Decision America Tar Heel State Tour will make eight stops in Fayetteville, Greenville, Wilmington, Raleigh, Greensboro, Hickory, Charlotte and Asheville.
Decision America North Carolina Tour Stops
Fayetteville
Tuesday, October 1
7 p.m. – Festival Park
Greenville
Wednesday, October 2
7 p.m. – Pitt County American Legion Agricultural Fairgrounds
Wilmington
Saturday, October 5
4 p.m. – Legion Stadium
Raleigh
Sunday, October 6
4 p.m. – Coastal Credit Union Music Park at Walnut Creek
Greensboro
Wednesday, October 9
7 p.m. – White Oak Amphitheatre at the Greensboro Coliseum Complex
Hickory
Thursday, October 10
7 p.m. – L.P. Frans Stadium
Charlotte
Saturday, October 12
4 p.m. – PNC Music Pavilion
Asheville
Sunday, October 13
4 p.m. – U.S. Cellular Center
Billy Graham was born and raised in Charlotte, which is home to the Billy Graham Library and the headquarters of the Billy Graham Evangelistic Association (BGEA). Before Mr. Graham passed away in February 2018, he spent many years in Montreat, North Carolina, just outside Asheville. That's where Franklin Graham and his four siblings were raised.
"The work of BGEA has deep roots in North Carolina, and I am excited to have the opportunity to preach the Gospel in cities across the Tar Heel state," Franklin Graham said.
The Decision America Tour has been traveling across the United States since the beginning of 2016, when Franklin Graham visited all 50 state capitals to lead Americans in prayer and call the nation back to God.
The final stop of the 2016 tour took place in Raleigh, North Carolina, where more than 14,000 people crowded the Capitol Grounds to pray together.
Since then, Franklin Graham has continued to travel to various regions of the country—most recently the Northeast—to tell people the Good News of Jesus Christ.
"There's lots of religions in this world, but there's only one Jesus," he shared with thousands of people in Syracuse, New York, last month. "He gave you a soul, and it's valuable because He paid for it with His blood."
When dozens of upstate New Yorkers walked to the front of the venue to indicate making a decision for Christ, Franklin Graham led them in a prayer of repentance and faith. Then he reminded them they just got a fresh start.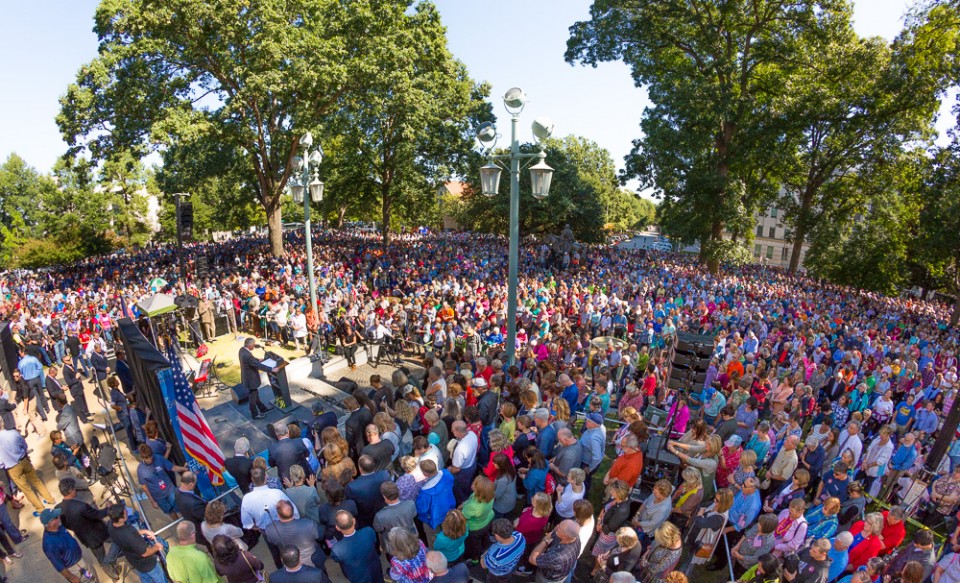 "You're forgiven. You're forgiven. You're forgiven," he said. "Don't stay in those sins. You've got a new beginning in front of you."
In North Carolina this fall, Franklin Graham will bring the same message of forgiveness and hope.
In some ways, the audience will be different than the one that gathered in New England and upstate New York. After all, North Carolina has long been considered part of the country's so-called Bible Belt. But many Christians in the state, including those planning October's tour, are quick to point out times have changed.
"Although most people would think of North Carolina as being the Bible Belt, I'm not so sure anymore," said Steve Rhoads, vice president of Church Ministry for the BGEA.
"The state that we live in is pretty secular, and you just have to be in Charlotte, Raleigh, Asheville or some of these places to see it," he said. "It's reflected in the culture. Many people live with no sense of God and no sense that people are responsible or accountable to anyone other than themselves.
"We see that in North Carolina more than we would have 10 years ago. You just have to look around. … It's reflected everywhere."
Rhoads, the son of a late Charlotte pastor, says many local preachers are well aware of North Carolina's slide into secularism.
"There are a lot of good, strong, Bible-preaching pastors, young and old, who aren't satisfied anymore with just doing the same thing but are realizing that we really need an awakening here," Rhoads said. "Churches can be full of people who go to church on Sunday but aren't born again. Unless God shakes up the church, it's miserable to be in big houses of worship that are dead. So pastors are aware that we need an awakening."
Rhoads hopes to work with many pastors in the coming months as tour preparations get underway. Ahead of the October events, the BGEA will hold Christian Life & Witness Courses across the state, with the goal of equipping believers to deepen their faith and have the courage and tools to articulate it.
"The problems that North Carolina faces are deeply spiritual, and the only answer to those problems is God," Rhoads said. "Franklin Graham is holding this series of events to preach the Good News of Jesus Christ and to call the church to prayer. We look forward to working with thousands of churches to bring hope across the state."
Visit DecisionAmerica.com to get involved and please pray that people across North Carolina will find salvation in Jesus Christ.