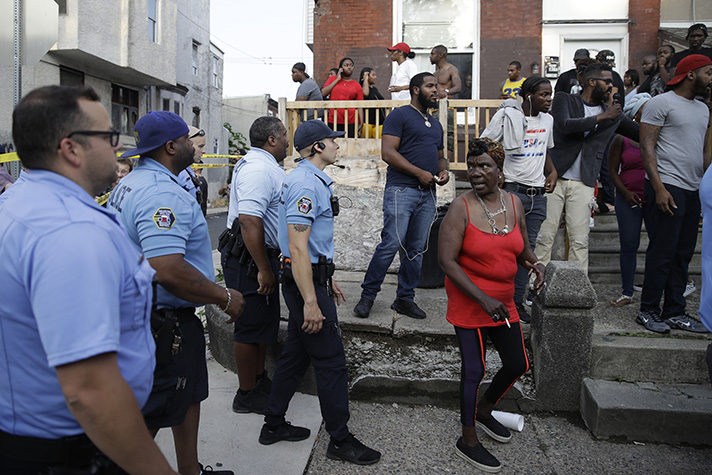 Six police officers were shot Wednesday afternoon in Philadelphia, Pennsylvania, after attempting to serve a narcotics warrant. It turned into a hostage situation inside a home Wednesday night before two officers who had been barricaded inside with the suspect were evacuated by a SWAT team.
The shooter surrendered early Thursday morning in the Nicetown-Tioga neighborhood in northern Philadelphia.
"It's a relief rather than a grief," said Jack Munday, director of the Billy Graham Rapid Response Team (RRT). As the head of a network of 1,500-plus chaplains that respond to natural and man-made disasters, he knows the grim outcome of many shootings.
Thankfully, all of the injured officers were quickly released from the hospital.
"I have respect for law enforcement nationwide," Munday said. "And in Philadelphia, we see another example of their professionalism, patience and restraint demonstrated by officers who just had six of their brothers shot and wounded."
The Billy Graham Rapid Response Team had one chaplain on the scene Wednesday evening, and three more arrived Thursday. Two of them also serve as police chaplains in their communities.
"Our hearts are heavy," RRT Assistant Director Josh Holland said. "We are working with a local church to support and assess the emotional and spiritual needs in the community."
In addition, the chaplains plan to minister as needed to students at nearby Temple University (TU).
"We want to make our services available to support the campus ministry at TU, and to help students process emotional and spiritual issues they may be dealing with," added Munday. Earlier this year, the chaplains offered similar support to students at the University of North Carolina at Charlotte after a school shooting.
Billy Graham chaplains also recently deployed to El Paso, Texas and Dayton, Ohio, after the recent mass shootings.
With constant tragedies indicating deeper life issues, Munday said, "It's a reminder how desperately our country and communities need Christ. He's the only One that can bring peace and hope to our lives.
"Could these violent acts be an indicator of a society moved away from God and a need to have a personal relationship with Christ?"
Munday paused before answering his own question: "I think so."
Please pray for the Philadelphia officers, their families and the city's police force.