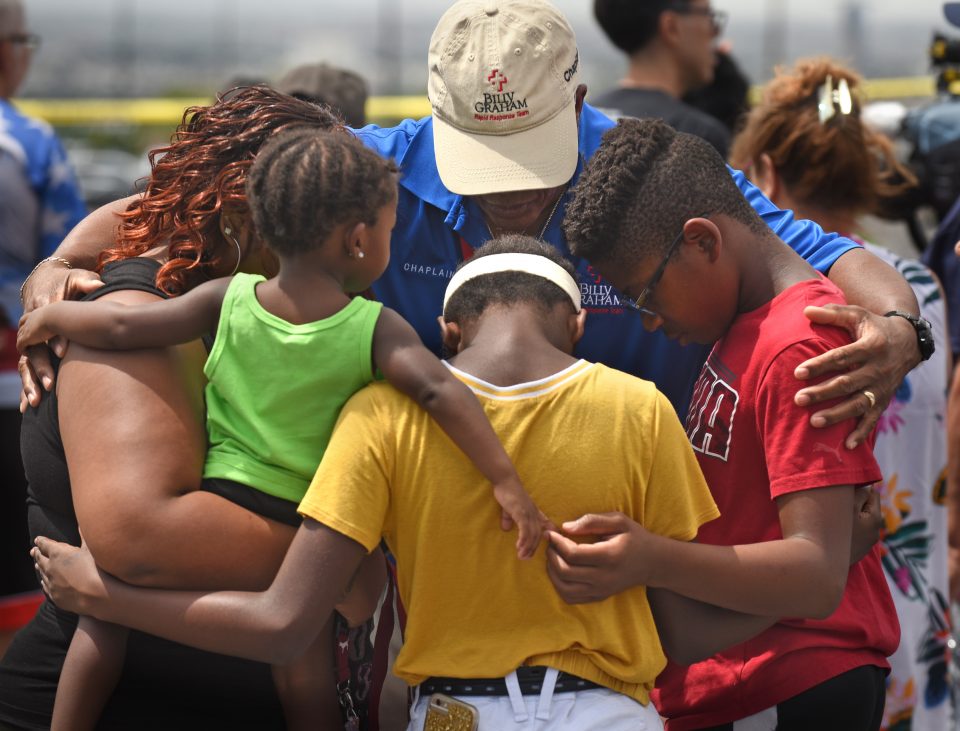 On a day when President Donald Trump and U.S. Sen. Ted Cruz visited El Paso, Texas, 22-year-old Elias Gutierrez spent the morning at a memorial site holding a cardboard sign reading "no bitterness, no politics, no blame, just love."
Gutierrez works for a furniture store just down the street from the Walmart where the shooting occurred, and is choosing to focus "mainly on the power of love, and not on the politics … or fear, either."
"Operating from a place of fear can paralyze a nation—let alone an individual," he explained Wednesday, ready to comfort the community where he was born and raised. "And when you operate from a place of love, fear has no power over us."
In front of him, a dozen blue-shirted Billy Graham Rapid Response Team (RRT) chaplains were dispersed to offer emotional and spiritual care to hundreds paying their respects.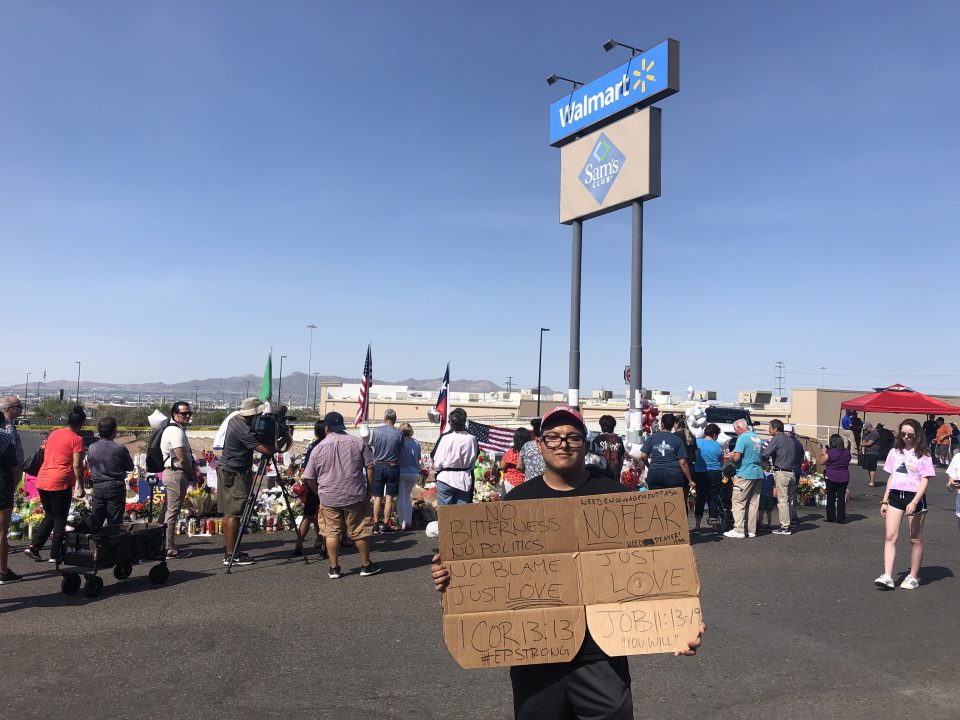 "How are you holding up?" chaplain Rick Zemke asked a young man standing by himself, who appeared to be contemplating the tragedy.
Distraught from the shooting, the man began to solemnly think through what he was trusting in before gladly reading through a Steps to Peace booklet provided by Zemke.
After hearing about a loving Lord and Savior, the man prayed to receive Jesus Christ into his life.
"I looked up and he had a huge smile on his face and his countenance changed," Zemke said, noting that God had prepared his heart for this moment.
The evening before, he'd witnessed God enter the heart of another man inside RRT's Mobile Ministry Center (MMC), parked at the memorial site as a safe haven for the community.
While Spanish worship lyrics floated among those standing outside, Zemke heard the community member's story alongside crisis-trained chaplain David Pittman.
The resident explained he'd been in a nearby mall on Saturday when police showed up in SWAT uniforms looking for another possible shooter.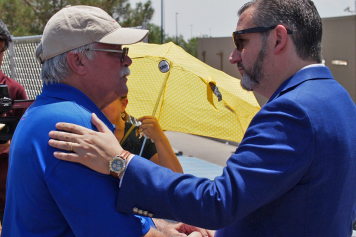 "It really freaked him out and hit him hard," Pittman said. "For the past couple of nights, he's had trouble sleeping. Thoughts keep running through his head."
Although the man had studied different religions, he'd never actually placed his hope in a higher power.
The Billy Graham chaplains shared with him that he could trust in Jesus. As the man asked God to forgive him of his sins, an old friend of his entered the MMC. They hadn't seen each other in more than a decade, but the woman now attends a church that the man had briefly visited.
Indeed, God's divine timing was clear to see.
'If We're with God, Who's Against Us?'
Leticia Carillo attested to God's sovereignty and timing the day of the shooting. Saturday morning, she'd taken the bus and stopped right by the Walmart. She thought about getting out to buy a drink, but something kept her from doing so.
"I know the Holy Spirit retained me there," the 57-year-old spoke with confidence. Hours later, her adult daughter called her hysterically crying, afraid she lost her mom.
"You have to appreciate life, your families and children, because it could be the last day. We don't know," Carillo paused. "The only One who knows about life is Jesus because He's the Alpha and Omega, the Beginning and the End."
She shared that truth as she raised her voice in prayer over her community, standing before the 22 wooden crosses, countless flowers and glass candles.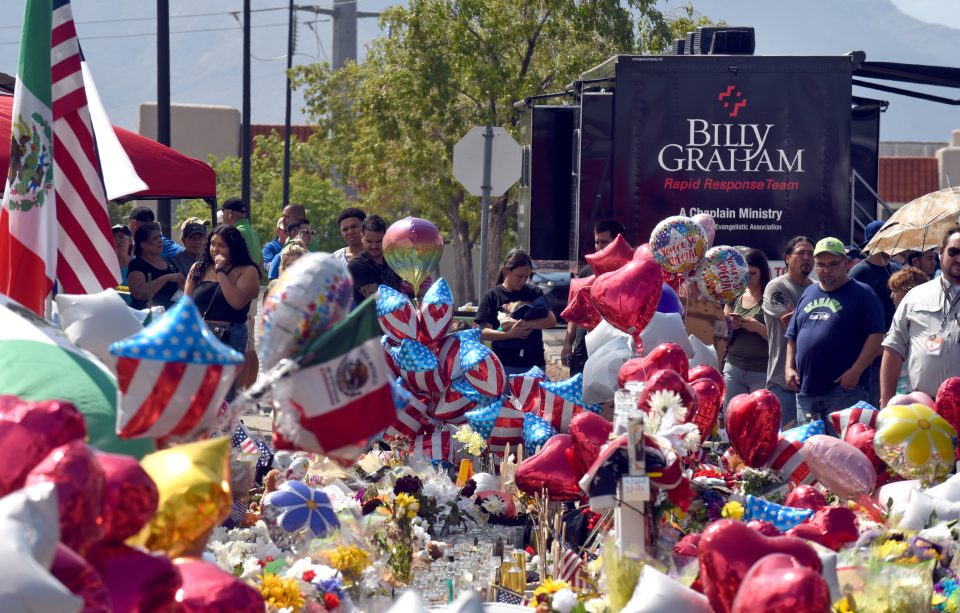 "We have to be united, one nation under God," Carillo proclaimed. "God's going to give us strength and lift us up like the eagle. He's going to give us love.
"President Trump's not the one who caused this problem," she continued. "The only one you can accuse is the enemy because he came to destroy and kill us, not to give us peace. But God came to save us, to look for the lost."
"But they who wait for the Lord shall renew their strength; they shall mount up with wings like eagles; they shall run and not be weary; they shall walk and not faint." —Isaiah 40:31
Carillo, who spends much time ministering to those sick in the hospital or in prison, constantly shares her faith.
"Persons can do a lot of bad things. It's not just gonna be here in the mall; it can be anywhere," she said. "But [Christ] came here to protect us and tell us He loves and to be strong, because He already finished everything at the cross. So if we're with God, who's against us? Sí?"
Still, she knows the days ahead won't be easy.
"A lot of things are going to come, a lot of obstacles, but if I have Jesus inside my heart, nothing can separate me from Him," Carillo continued, desiring to give love to everyone. "Jesus is love. Love conquers all."
Perhaps Carillo spoke the future hope of El Paso best when she said, "We just have to keep loving, keep praying, keep forgiving."