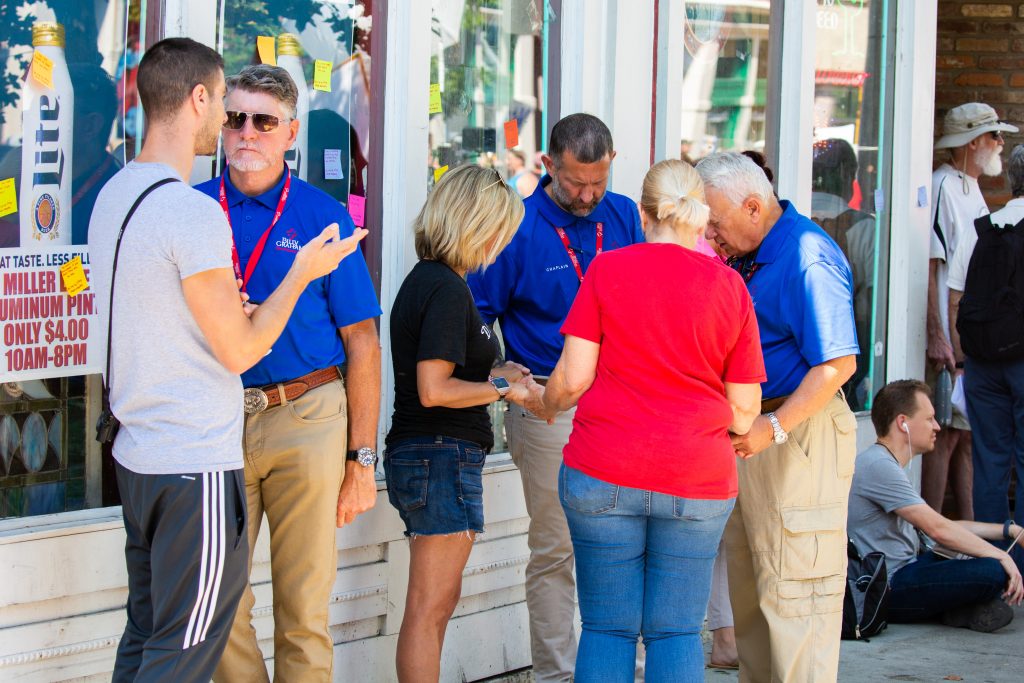 A grim reality is sinking in for the Dayton, Ohio, community as funerals continue for nine people killed during a horrific shooting early Sunday, August 4. The gunman was also killed, and dozens were injured.
In the popular nightlife district where the shootings took place, a conglomeration of people are mourning—all in a tiny one-block area. Police officers looking for shell casings walk alongside neighborhood addicts as well grieving family members. A makeshift memorial sits in close proximity to adult video stores and the like.
In the midst of it all, the Billy Graham Rapid Response Team is ministering to people from all walks of life.
"It's very intense," said Strib Boynton, chaplain coordinator for the deployment. "Each person in this neighborhood thinks of the victims as part of their larger family. Everyone seems to know each other. They're really grieving together."
The chaplains have ministered to everyone from homeless people to police officers to politicians. Acknowledging the mix of ministry opportunities to share God's love, Boynton confirmed, "The Lord brought us here."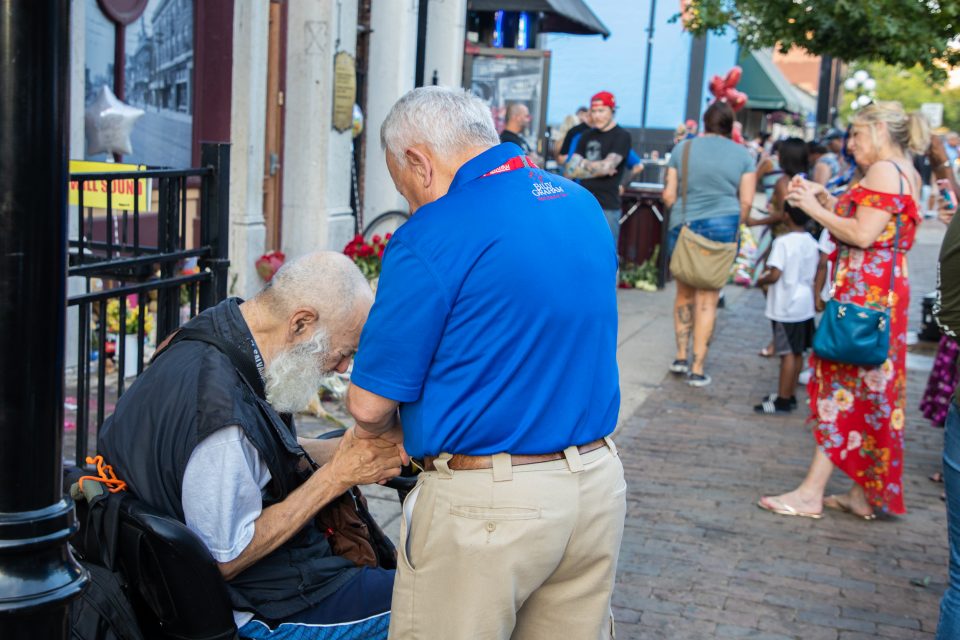 Why?
Many mourners are asking why this and other mass shootings keep happening.
And though chaplains don't have all the answers, they're assuring people God is there in Dayton and that He cares.
Keith* came up to Billy Graham chaplains Tuesday, his eyes sad from grieving. Dressed in rumpled clothes, he began sharing his plight to work his way back into favor within his denomination. Keith had spent time in jail and struggled with guilt.
The ex-soldier listened as Boynton shared life-giving words. "You don't have to work your way back into anything," he said. "A relationship with Jesus Christ is free."
The chaplain explained how Christ would forgive his sins if he asked. And how Keith could start anew by committing his life to Jesus. "I think I got it," Keith said, and prayed to give his heart to the Lord.
"Your life has changed right here, right now," said Boynton. "You don't have to worry about being accepted by God now.
"You've made a choice to live life looking through the windshield of freedom and life. Looking forward—forget the rear view mirror."
The next day, Keith showed up in a suit, ready to accept a Bible the chaplains had for him. So touched by his change of heart and show of respect for the Lord, "it caused us [chaplains] to pause and rethink our life with the Lord," Boynton explained. "It's a reminder of the mercy and grace of God. We don't have to carry our baggage either."
Wednesday, President Donald Trump visited Dayton to express his condolences to affected families and the city. The president is also visiting El Paso, Texas, today to pay his respects. At least 22 people were shot down and many others injured in the U.S.-Mexico border town at a Walmart on Saturday. Twelve Billy Graham chaplains are ministering to that heartbroken community.
In both Dayton and El Paso, chaplains know they're right where God has called them to be. "We listen to people's stories, then listen some more," said Boynton. "We reassure them that Jesus loves them."
*Name changed for privacy.
Please keep praying for grieving families and friends of the people killed in both Dayton, Ohio, and El Paso, Texas.