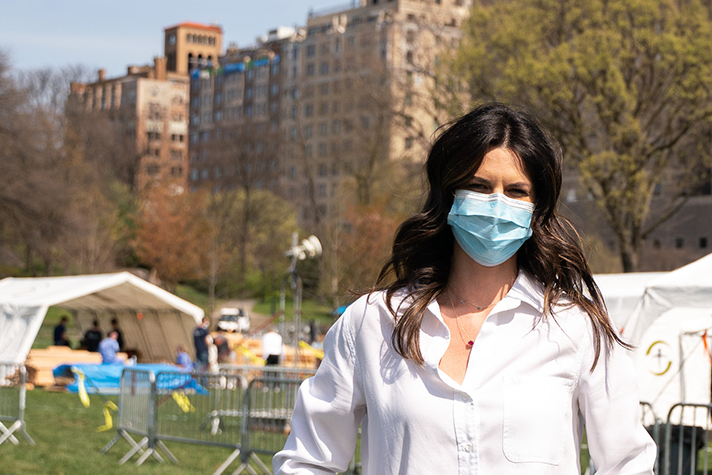 Jesus died on a cross for our sins, rose again and is alive today.
While that hasn't changed, the way Christ followers will celebrate Easter this year has.
Cissie Graham Lynch, daughter of Franklin Graham and granddaughter of Billy Graham, believes none of us will forget this year's celebration.
Lynch shared how the church—the body of Christ—can worship Him anywhere. No buildings needed.
While some on social media have suggested that Easter is canceled this year, she encourages everyone to remember the true meaning of this holy day.
She shared how her own family will celebrate Easter:
Easter's going to look quite different for everybody. But I think during this time, it might be a sweet Easter that none of us will forget because I think God—He's simplified our lives right now by stripping our entertainment and our sports and everything away. He's even stripped the churches and the buildings away.

Our worship to Him has really been simplified. This Easter will just be spent with my children and my husband, and I'll probably still get the children dressed up to look nice sitting in our living room.

But the intimacy of our worship to God and what Jesus truly did on that cross, when the clouds went dark and Satan thought he had won and he might have held victory, that Jesus Christ beat death and He conquered the darkness. That is the hope of Easter and we often say, 'Jesus is our hope.' But what does that really mean that He truly conquered death? That He has prepared a place for us? As Christians, we have to have a heavenly mindset. That has to be our hope.

For this Easter, we'll be in our home with our family—quite different—but I believe it might be one of the sweetest Easters ever because it will be more intimate with Jesus.
Is Easter Canceled?
Cissie Graham Lynch went on to explain more about the beautiful simplicity of this Easter, when the day won't look like it normally does:
Why would we as people try to put a label on what Jesus did on the cross by saying it's canceled because we can't worship in a church? Generations and generations, since the beginning of time, never worshiped in a church before.

I do believe that God has stripped even our church buildings away because many people can idolize that building, that production, that music. And He has stripped it away to simplify. Just look at Jesus and draw close to Him and the foot of the cross.

This Easter, it's up to parents to choose and make it a choice to be joyful and to praise Jesus for what He did for you and for me on that cross. And set that example beautifully before your children.
>> Ask Jesus to give you His peace. Pray now.
>>Listen to Cissie Graham Lynch's Fearless podcast episode, Easter's Light in the Darkness.