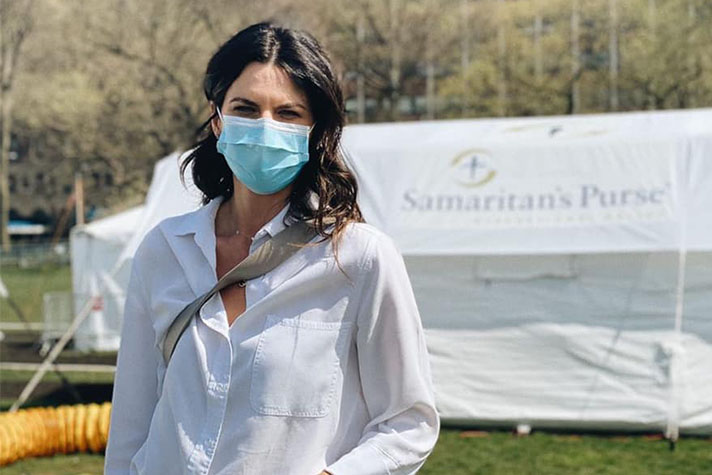 On Tuesday, Cissie Graham Lynch went to the global epicenter of COVID-19 in New York City to hear her father, Franklin Graham, record an Easter message of hope. The message, featuring worship with Michael W. Smith, will air on Fox News Sunday, April 12 at 10 a.m. ET.
"I never would have imagined—in the days that we live in—I would see my dad preach in Central Park and bring a Gospel message to share the love of Jesus in a dark time in America's history," Lynch said.
This difficult season has been harbored by the new coronavirus that's infected more than 1.4 million people worldwide and killed at least 80,000. The outbreak has shut down many regions economically and socially as people hunker down across the globe.
"When we look at this country and the number of skyrocketing deaths, it's heart wrenching. We live in a time where people are really scared, people are losing their jobs, people are losing loved ones, but I remember that God is with us through it all. He is still sovereign." Lynch said. "The same God I call on in the light is the same God I turn to in the midst of darkness."
While in Central Park's East Meadow, Lynch and her father visited a Samaritan's Purse emergency field hospital, whose medical staff have come from across the nation to assist Mt. Sinai Hospital and serve coronavirus patients around the clock. Nearby, crisis-trained chaplains from the Billy Graham Evangelistic Association's Rapid Response Team talked and prayed with passersby. The teams have setup an additional field hospital in hard-hit northern Italy.
Today I went to New York & checked on our team working at the @SamaritansPurse Emergency Field Hospital in Central Park. They are doing such an incredible job! Each one of these men and women count it a privilege to be there, helping people in #JesusName. 1/3 pic.twitter.com/nMJ3C3rLWg

— Franklin Graham (@Franklin_Graham) April 8, 2020
>> View photos from the chaplains' COVID-19 deployments.
"We've never seen anything like this," Lynch said. "But we've seen God's presence in the midst. He tells us He's ever-present in the time of trouble."
Lynch said Franklin Graham, who's the president of both ministries, "never could have imagined" seeing the Samaritan's Purse and Billy Graham Rapid Response Team's trucks parked along New York City's Fifth Avenue.
>> Read more about what's taking place on New York City's Fifth Avenue.
"The city and the streets are shut down, but the Billy Graham Evangelistic Association and Samaritan's Purse are there to respond on the front lines, and to run to the crisis and not runaway," Lynch added.
BGEA's History in New York City
New York City is not a new destination for the Billy Graham Evangelistic Association.
Franklin Graham's idea for the Rapid Response Team rose from the ashes of Ground Zero after the 9/11 attacks, when he saw the need for chaplains during manmade and natural disasters. And a decade beforehand, Billy Graham held a New York City Crusade in Central Park, which happens to be Cissie Graham Lynch's first memory of his evangelistic events.
Lynch said, "That was probably the first time in my life I realized there was something different about my grandfather," who she refers to as 'Daddy Bill.'
>> Learn more about Billy Graham's ministry in New York.
"We showed up to Central Park and hundreds of thousands of people were there. At five years old, I didn't realize the significance of it," Lynch said. "I was just so excited of all the crowds and all the people that came to see my grandfather."
A record attendance of 250,000 came to hear Billy Graham preach that Sunday, September 21, 1991, which The Daily News reported, "the crowd was the largest assembly in New York City history."
This attendance was a stark contrast to the quiet, near-empty park where Franklin Graham recorded his Easter message in the middle of a pandemic—but the need for the Gospel remains.
Before Billy Graham held his first New York City Crusade in 1957, he said that "no other city in America—perhaps in the world—presented as great a challenge to evangelism." Yet, he also stated that the Big Apple was "the most strategic center in the world. We could have this many people in Louisville, Kentucky … Oklahoma City … even in Chicago … and it wouldn't mean as much as New York City. It becomes a stage on which we can do evangelism to the whole nation, to the whole world."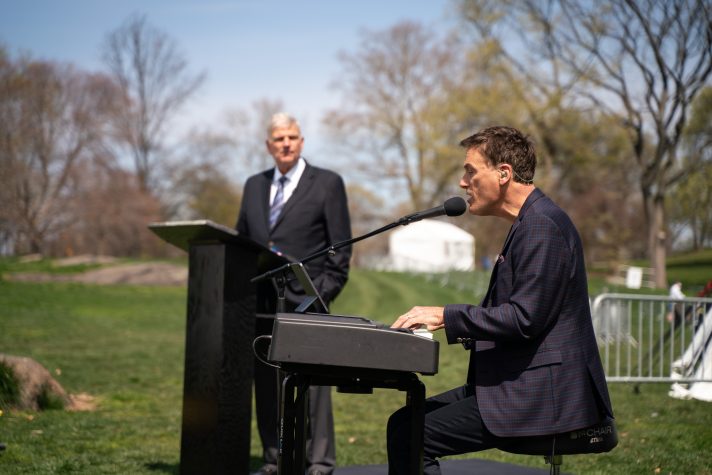 Rest for 'The City That Never Sleeps'
Now, that same city is being ministered to once again. And in light of Holy Week, hope is on the rise.
"When the skies went dark and He gave up His last breath, Satan probably thought he held victory over Jesus and over God," Lynch continued. "But just three days later, Jesus conquered death. He conquered the darkness, and He holds victory. We can be reminded of that this Easter—Who holds victory and light over the darkness. And that's Jesus. May we keep our eyes focused and our minds set on the foot of the cross of what Jesus did.
Easter Sunday, Lynch will be celebrating that victorious moment while watching her father's broadcasted Gospel message.
"Only God could open up an opportunity for my dad to share the Gospel in the same city my grandfather did—almost 30 years later—one of the most amazing cities in the world," Lynch said.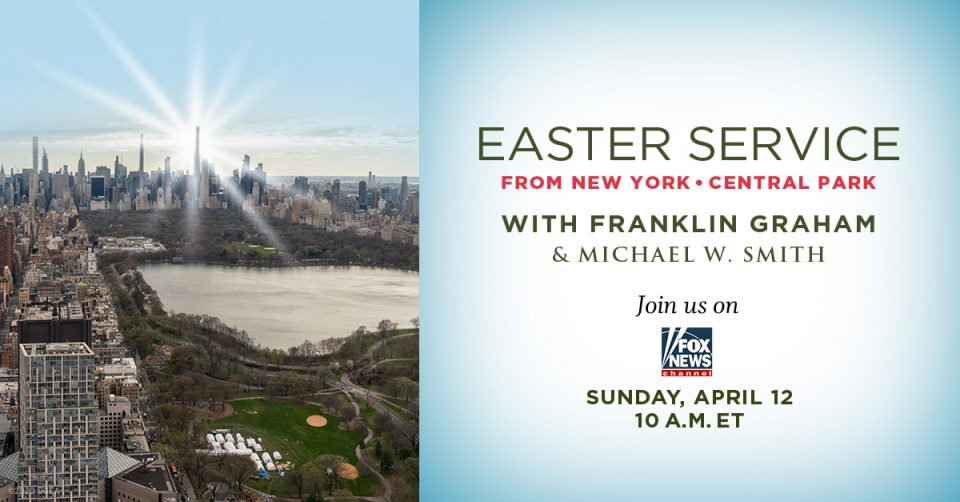 Do you have a relationship with God? Know Him today.
Watch Franklin Graham's Easter message on Fox News Sunday, April 12 at 10 a.m. ET.