The Billy Graham Rapid Response Team (RRT) is partnering alongside Samaritan's Purse to comfort those facing recent flooding in Hidalgo County, Texas.
After several weeks of heavy rainfall, the county was slammed with another downpour of more than 15 inches of rain June 21-22, forcing many residents to evacuate their flooded homes.
"The community is still very much affected by the aftermath of the extensive rainfall that fell here," said chaplain coordinator Carolin Perez. "Large portions of the area are still underwater."
Near the southern tip of the Lone Star State, Hidalgo County is home to more than 800,000 residents, but said to be higher with the addition of people from Mexico.
Even though the area is at the center of the current immigration debate, "Everyone is focused on trying to help people and meet immediate needs," Perez assured.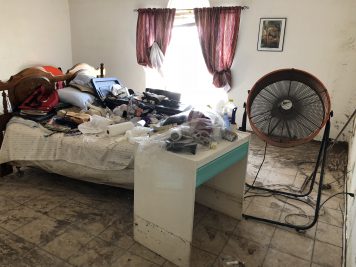 A seasoned RRT chaplain, Perez recently deployed after the officer shooting in Kansas City, Kansas, and school shooting in Santa Fe, Texas. She and her husband are in Hidalgo County with six other chaplains to minister to the community over the next few weeks.
"People are really struggling," Perez said, adding that she's heard stories from people who lost their possessions due to 3-4 feet of water in their homes.
Others she talked to haven't been allowed to see their houses and are anxious about what they'll find when they return home.
Just over 300 miles south of Houston, the flood's destruction especially hits home with those who lived through Hurricane Harvey last summer.
"What we're hoping for is, through emotional and spiritual care, we're able to bring light to a hopeless situation to many residents of that area," said RRT chaplain Al New.
Please continue to pray for those affected by the flooding—that they'll be able to envision a new beginning for themselves with the help of the Lord.
"[God's] going to be with them in the days ahead and bring them His peace and comfort," Perez said.
And surely, He will.
Even in tragedy, you can find comfort in Christ. Know His peace today.