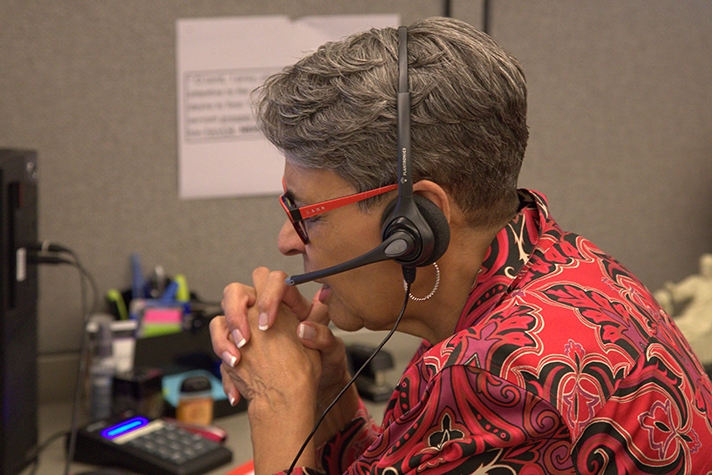 Recent unrest at the U.S. Capitol has shaken our country, heaping more fear and uncertainty on our plates amid rising COVID-19 cases.
The January 6 event led to a significant increase in calls to the Billy Graham Prayer Line created to offer God's hope after the pandemic began.
"I think what we have seen is there are just a lot of people with fear still," said Jonathan Edwards, who manages the prayer line for the Billy Graham Evangelistic Association. "People are hurting and just scared."
Billy Graham Prayer Line
1-888-388–2683
24 hours a day, 7 days a week
Edwards also attributes the surge to the spike in coronavirus—and people going into lockdown again. Call volume has been up since early January, he explained. "We're at least several hundred calls above what we are used to on a normal prayer line day."
Since the Billy Graham Prayer Line opened in March, trained prayer volunteers have answered more than 330,000 calls and thousands have made spiritual decisions for Christ.
Many callers have expressed frustration, anger and hopelessness at the state of America's political discourse. Others have needed reassurance that God is still in control and asked for prayer. Some had spiritual questions.
Here is a sampling of those conversations:
Anger and Confusion
Jennifer* was both angry and confused about events at the U.S. Capitol. She wanted to help, somehow, and couldn't get past her anger. The normal peace she had in the Lord was missing. Jennifer also felt ostracized, as her family turned their backs on her because of her beliefs. A trained prayer volunteer encouraged Jennifer with a reminder of God's sovereignty, acknowledging He doesn't need our help, that "He's got it." They prayed together before ending the uplifting conversation.
Seeking Peace and Joy
After seeing a 60-second TV spot from Franklin Graham that shares the Gospel, Lori* prayed along with him to receive Christ. She called the prayer line afterward, wanting prayer for her rage and anger. Lori felt these issues were keeping her from being a good person, and she desperately wanted peace and joy in her life. The prayer volunteer explained how being a good person wouldn't save her—only Christ dying on the cross for her sins could save her. With more understanding, she wanted to pray with the volunteer again to invite Christ in her heart. Lori is looking forward to receiving a Bible so she can study God's Word and grow in her new faith.
Prayer for America
Gary* called to pray for America because of the unrest in Washington, D.C. Losing faith in humanity, Gary said he still had faith in God. A volunteer prayed with him that people would become peacemakers, as the Bible states in Matthew 5:9. Gary and the volunteer also asked God that people would love one another as they love themselves (John 13:34).
From Agnosticism to Believer
A self-proclaimed agnostic and intellectual, Roman* called to discuss why he should believe in Christ. The volunteer took her time and shared different verses about receiving salvation through Christ. Talking through the Scriptures helped Roman understand what Christ has done for mankind. At the end of their discussion, Roman decided to ask God to forgive his sins and prayed to surrender his life to Christ.
Fearful Memories
Ines*, a believer, voiced her concern about troubles at the Capitol. As a child, her family left Cuba during tumultuous times. Ines still remembers the disturbing events and is fearful of seeing continued unrest in America. The volunteer assured her that God sees everything that's going on and He is the El Roi, a Hebrew name for God that means "the God who sees me." The volunteer encouraged her to fix her eyes on Jesus (Hebrews 12:1–4).
Searching for peace? Find peace with God—pray now.
*Names changed to protect privacy.