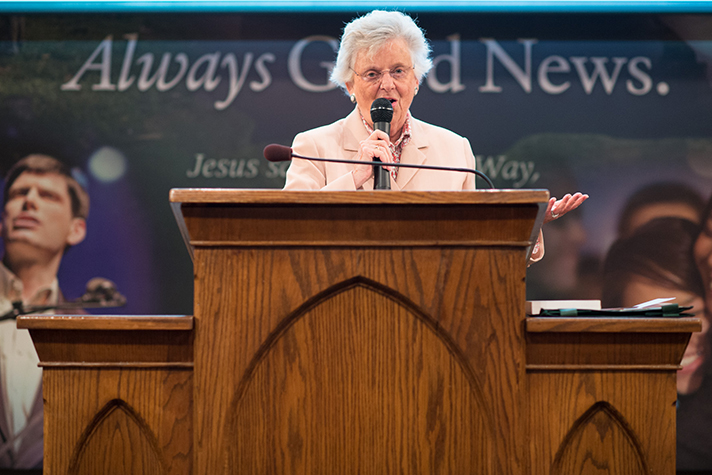 Jean Graham Ford visited her older brother this week at his home in Montreat, North Carolina.
After all, it was his birthday week—his 96th birthday to be exact—and she wanted to catch up with her older brother she's always called "Billy Frank."
But as they were talking, she noticed something missing. Nothing earth-shattering, but where was that cat of his that's always lurking around?
"Cat?" he said.
"Yes, Cat," she repeated.
Ford was talking to a crowd at the Billy Graham Evangelistic Association headquarters, faithful supporters of the Billy Graham Library, who came to hear stories of the world famous evangelist, who grew up on a North Carolina dairy farm.
Not one to miss an opportunity to tease her brother, Ford uncovered a few little-known details of her older brother.
"His cat's name is 'Cat,'" Ford said. "His dog's name growing up was 'Pup,'"
"Very original," she said with a deadpan pause.
While the crowd enjoyed a good laugh, the irony of the comment was hard to miss.
Of all the superlatives for all the siblings in the world "very original," was about as apt as it comes.
Yes, Jean Graham Ford was talking about Billy Graham, who turns 96 years old today. The man known as "God's Ambassador," "God's Machine Gun" and "Pastor to the Presidents" can no longer travel around preaching the Gospel of Jesus Christ, but it's still very much alive in his heart.
Mr. Graham has been praying for the United States—Canada and the United Kingdom as well—where his message via the My Hope with Billy Graham project is launching today through the videos of Heaven and The Cross.
But as tens of thousands of churches are armed to present the Gospel through his message, Mr. Graham will celebrate with a "simple meal with family and friends," according to his oldest son Franklin Graham.
"His mind is still sharp," Franklin Graham added. "He remains interested in current events and the ongoing work of the ministry that he began more than 60 years ago.
"I know my father at his age is looking forward to spending eternity with family and friends. He's fought the good fight. He's ran the good race. But God still has him here for a reason."
Ford shared Thursday about how her brother was sitting up eating a meal during their visit. Communicating has become a bit of a challenge. Still, she was able to converse by using a microphone linked up to a headset.
It's quite a variance from hearing him preach, some three quarters of a century ago.
"The first time I heard him preach he was so loud," she said. "I had to put my hands over my ears."
By the time she was in college, she remembers her brother, 13 years her elder, was starting to gain "worldwide attention," Ford reported. "But that didn't impress me."
Ford shared many details about "growing up Graham," which she described as "very unremarkable."
For starters, Billy Graham and his brother Melvin would have to get up between 2:30 and 3 a.m. to start milking the cows. "We worked long hours on the farm."
But every Sunday morning, Sunday night and Wednesday night, the Grahams were in church. "Going to church was just like eating and drinking," she said. "It's just what we did.
"God was talked about a lot. Although it wasn't just God, it was the Lord Jesus Christ. Mother made sure we got the whole thing. She taught us the ways of God and I'm thankful we did not depart from that."
Billy Graham's father, William Franklin Graham Sr., was one of the founding elders of Calvary Church in Charlotte, North Carolina, and every night at 8 p.m., the Grahams had a time of family devotions.
"Mother would read and Daddy would pray," Ford said. "Billy has always said, 'I'd rather hear my father pray than anybody in the world."
Ford finished her talk with quoting another prayer, one she realizes she's tweaked slightly, but on the eve of her brother's 96th birthday, felt appropriate to share.
"Thank you oh my father for giving us Billy Frank, my brother. And leaving your spirit till Your work on earth is done."
Find out more information about becoming a Friend of the Library, including invitation-only events and discounts at the Library bookstore and Dairy Bar.  
Want a free DVD of Heaven, featuring a new message from Billy Graham? Order your copy today.