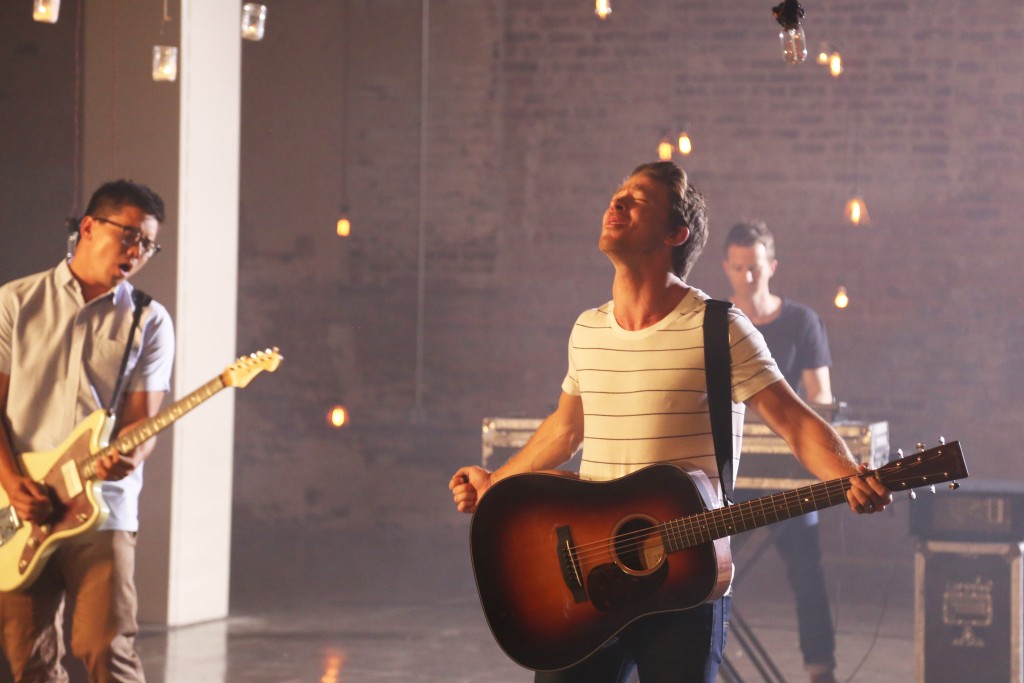 In Jacksonville, Florida, last May, a man walked into the Franklin Graham Festival with a heavy burden. He had been having suicidal thoughts and was making plans to take his own life.
After the Festival, rock band Tenth Avenue North learned the man changed his mind that night. He shared that God had spoken to his heart through the band's music and the Gospel message from Franklin Graham.
"In kind of a strange way, those stories are what inspire us to keep going and remind us that God's still working," Jason Jamison, the drummer for Tenth Avenue North said.
Bass guitarist and backup vocalist Ruben Juarez said Franklin Graham Festivals are "an amazing event that can bring people out of darkness and into the light, and at the same time also refuel that passion to dig deeper and know Christ more."
Another way the Billy Graham Evangelistic Association is spreading Good News is through its outreach, My Hope. The outreach combines short films with personal relationships to share Jesus in a simple way.
Tenth Avenue North hopes their music video featuring "The Spark" in this year's My Hope film will further the message of the Gospel. "The Spark," from their album Cathedrals, asks God to "speak light in my darkness" and is a request for God to reveal Himself personally.
"The same hope we have for music is the same hope we have for this film, that people's burdens will be lifted and they will meet Jesus," lead singer Mike Donehey said. Mike has felt the burdens of life as he was nearly killed in a car accident his senior year of high school, breaking both his skull and back at age 17.
He decided to become a part of the My Hope film after watching The Cross, the 2013 My Hope film featuring Lacey Sturm from Flyleaf and Lecrae. The band fully agreed.
"(Through watching My Hope videos) I realized how bold it is, especially when it's televised nationwide … to see such a strong message, undiluted, presenting the Gospel to an entire nation. That's pretty strong and it's really cool to be a part of that," lead guitarist Jeff Owen said.
Tenth Avenue North gathered at a furniture warehouse in Mooresville, North Carolina, last month to shoot the My Hope music video. The twinkling candles in mason jars and low-hanging light bulbs gently added light to a darkened room enclosed by old, exposed brick walls.
Band members kept the filming lighthearted as Mike and Ruben made a short video while running around the set. The band joked that their dream is to film a music video while skydiving. Mike said he'd finally get to play the "air guitar."
Although the band started with a couple of college guys making music—Mike and Jason have been part of the band from the beginning—this award-winning band still sticks by the values they began with. They've always been driven by the passion to see people understand the Gospel.
Tenth Avenue North knows the Billy Graham Evangelistic Association is committed to the same mission, and wants to honor this mission through their work. The men joined My Hope out of the desire to see God work in others' lives as He has worked in their own.
"Christ in me literally changes the way I think and the way I treat people and the way that I respond. It's something from within. … It affects everything; it's just the change of who I am," Jason said.
"If you don't have Christ, you don't have life," Mike said. "So you can make your life about anything but you'll still die, you still can't build your life on anything in this world. You have to have a hope, life that's bigger than yours, because you're going to die. Your mortality rate is 100% last time I checked."
The band hopes those who see the My Hope film later this year won't just hear their song, but will be pointed to Jesus throughout the film.
The 2015 My Hope film will be released this fall. See how you can get involved in this outreach.
Learn more about My Hope Canada and My Hope U.K. You can also share films in Spanish.