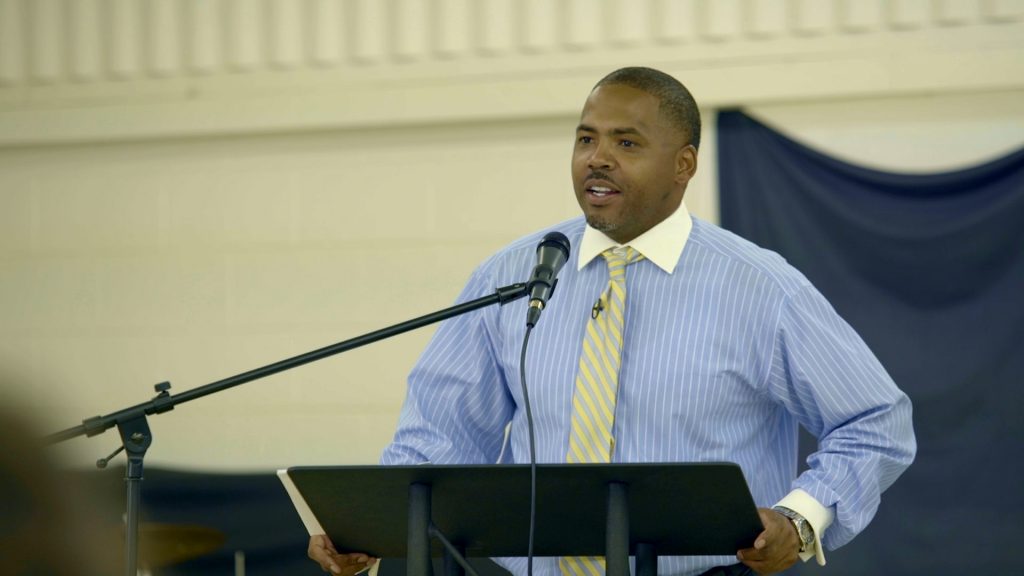 Terrence Gallman: a man many might have overlooked.
Growing up, he lived with his mom in a trailer and wandered the neighborhood while she worked. His own stepfather introduced him to crack cocaine. And, after using and eventually selling drugs, the 22-year-old was arrested and charged with drug conspiracy, and sentenced to federal prison for 27 years.
Now, serving as a volunteer for the Billy Graham Evangelistic Association's My Hope outreach, Terrence is a new creation. The My Hope ministry uses evangelistic films featuring life-changing testimonies and a powerful message to share the Gospel.
Watch the My Hope film Decisions online now.
When he first went to prison, Terrence had to figure out how to cope with a sentence that was longer than he'd even lived. He was frustrated and knew deep down he was better than his past transgressions would lead people to believe.
With plenty of time to think, he reflected on how his grandfather had shared Christ with him years before.
Terrence recalled his grandfather's calm manner, and his assurance and confidence in the Lord.
"I remembered the inspiration that came from knowing Christ," he said.
As Terrence's faith grew while behind bars, God opened his eyes to His saving grace and mercy all around him.
"You see Christ in a multitude of ways, and not just through your personal relationship, but you see him also working in the guards … in people traditionally who could be just hardened by the system, and you see that changing," he explained.
All of these moments motivated him to channel his frustrations about his circumstances into something positive. Terrence began to passionately pour his newfound joy into writing a book that would encourage other inmates to also realize their true potential.
After 12 years in prison, he was released and able to fully unleash his passion to help young people avoid the painful road he chose. Terrence helped other ex-inmates successfully transition to civilian life.
The former drug dealer began mentoring prisoners and their families, empowering at-risk young people, speaking, writing and running his own nonprofit.
Still, Terrence needed a relatable tool to share the Gospel, and after attending the Decision America Tour in South Carolina in February, he discovered My Hope.
Terrence is believing God will use the new My Hope film Decisions to change hearts and offer lasting hope.
The 30-minute program uses this year's Decision America Tour with Franklin Graham as a backdrop—inviting people to make the ultimate decision to follow Christ.
Terrence also thinks people will relate to the testimonies in the film of others struggling with everyday issues.
"I knew that when I ran into My Hope, that immediately God had [given] me a vehicle that I knew would produce immediate results in my community, my family, my friends and all over the world."
Not long after, the self-starter signed on to become a My Hope volunteer field representative and began building relationships with pastors and community leaders.
Many churches, parachurch organizations and individuals use the evangelistic films to reach the unchurched—or even churchgoers who haven't received Christ.
Terrence plans to show Decisions to those in his community who he says "don't look the holy look. People in pain, fear, [who] don't trust anyone."
"I'm on fire for My Hope. … I'm excited because I know how effective it could have been in my life. My journey to prison, it's all preventable." He added, "[God] has always used people who were less than great examples."
Terrence knows he can't save the whole world, but he does know the One who wants to—and how He can use Terrence to help save his little corner.
"With My Hope, now I can repair the community I come from."
Remembering how God sustained him in prison, Terrence recalls telling the Lord: "I would like to do for you out [there] in the world what you [have] done for me in [here].
"This is that moment."
Browse some ideas for sharing My Hope in your own community.