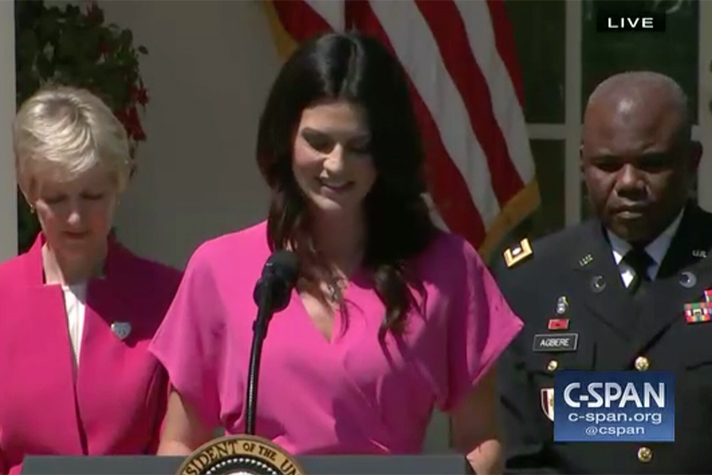 In 1952, Billy Graham stood on the steps of the U.S. Capitol building in Washington, D.C., and called on the United States Senate and Congress to request that the president enact a national day of prayer. This request was granted, annually calling people across the nation to be on their knees.
Sixty-six years later much has changed, but not the need for the Lord.
Holding true to her grandfather's legacy, Cissie Graham Lynch prayed in the Rose Garden at the White House on Thursday. This marked the nation's first National Day of Prayer without one of its greatest prayer warriors, Billy Graham. Even so, his legacy lives on as people continually turn to Christ.
Below is Cissie Graham Lynch's prayer for the nation:
Our Heavenly Father—
We come before You this morning and praise You for Your goodness and blessings which You have poured out on this country. We know it is far more than we deserve.
We thank You for a President and Vice President who understand the importance of prayer. We pray for their precious families who have made great sacrifices to serve alongside them.
We pray for them and all of our Nation's leaders that You would give them Your wisdom to know what is right and give them the courage to do it. May they remember You, and You alone, are the hope for this country.
Your scripture says, there is "a time to tear and a time to mend, a time to be silent and a time to speak, a time to love and a time to hate, a time for war and a time for peace."
Lord, we pray for a time of mending and unity in this country; we pray a time to turn away from hate and choose to love; and we pray for a time of peace.
We know by Your scriptures, Your Son Jesus is the Prince of Peace, the King of Kings, and the Lord of Lords.
Let the peace and love of God rule in our hearts and may we remember peace and love is from Him who is, who was, and who is to come.
And as my little girl reminds each morning when I rise: This is the day the Lord has made, may we rejoice and be glad in it.
In the precious name of Jesus we pray—Amen.
Cissie Graham Lynch is daughter of Franklin Graham and the granddaughter of Billy Graham. She was raised in the familiar surroundings of two ministries her father now leads—the Billy Graham Evangelistic Association and Samaritan's Purse. Since 2010, Cissie has worked as part of the two organizations as a ministry spokesperson and special projects producer. She has traveled the world advocating for initiatives that reach women, children, and young adults. Her mission is to stand boldly for the Gospel in an ever-compromising world and encourage others to stand on only the Truth―the same Spirit-filled Truth that she has found in her relationship with Jesus Christ.