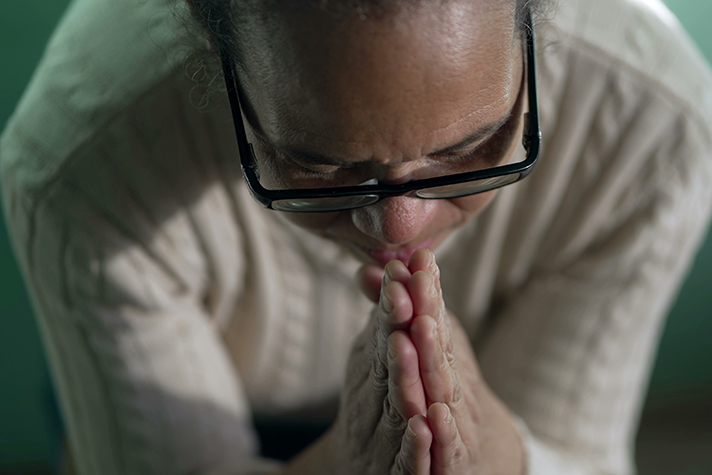 Have you ever felt so desperate that you didn't know where to turn? Or you've completely lost hope? At some point in life, many of us go through crises too heavy to handle alone.
When life weighs you down, who lifts you up in prayer?
Calling on God is the most powerful thing you can do—and you shouldn't go it alone. The Bible tells us to bear each other's burdens and "pray for one another, that you may be healed. The prayer of a righteous person has great power as it is working" (James 5:16, ESV).
>>Prayer is talking to God. Billy Graham explains how to approach God in prayer.
Knowing someone cares and is intentionally praying for you can mean so much in tough times, especially in a world where many people feel disconnected from personal, face-to-face relationships.
God designed us to help each other. In John 15:12, His Word says, "This is my commandment, that you love one another as I have loved you" (ESV).
Who Can You Ask?
At first, it might feel uncomfortable to ask someone to support you spiritually, but be intentional.
You could start with a family member, friend, neighbor, someone at your church, or a co-worker who has a strong faith in God.
If you don't know where to turn, there are people who care and are waiting for your call at the Billy Graham Evangelistic Association's 24/7 prayer line.
Since this ministry started in 2020, more than 1 million people have called to share their challenges and to ask for prayer.
>>Call the Billy Graham prayer line at 888-388-2683.
Here are examples of the powerful ways God is working through the prayer line to touch callers like you:
Joey* was depressed. His wife had left him. he was lonely, and he had just lost his home. A trained prayer line member told him, "I can't imagine what you are going through, but God [knows]," and stopped to pray for him. Because Joey didn't know where he stood with God, our staff shared about the hope of eternal life that God offers all of us. Joey decided he wanted that, and he joyfully prayed to follow Christ.
Kathy* didn't know what she needed; she just knew that her life wasn't going well. When she called the prayer line, a call center member told her about Jesus Christ. Kathy said skeptically, "Well, I don't know about that." The associate went on to share a few Scriptures: "For I know the plans I have for you, declares the Lord, plans for welfare and not for evil, to give you a future and a hope" (Jeremiah 29:11, ESV) and Proverbs 3:6: "In all your ways acknowledge him, and he will make straight your paths" (ESV). When she heard more about how Jesus offers hope and joy, Kathy's heart softened, and she prayed to accept Jesus Christ as her Savior and Lord.
Benjamin* shared he was struggling with whether God is real and didn't feel like He cared about him. Our staff member explained how God showed His love for us by sending His Son Jesus Christ to die for our sins—and then invited Benjamin to begin a personal relationship with Him. This was exactly what he wanted and needed, and Benjamin prayed to receive God's gift of salvation. At that moment, "His whole demeanor changed," said the prayer line attendant. "God was near. He was in control."
Darren* called crying, sharing how his drinking had destroyed his marriage of 36 years. Darren said he had messed up his life and wanted God to forgive him. Our team member explained the Gospel—that because of Jesus' sacrifice on the cross, Darren could finally be free of the guilt and shame of his past. He prayed over the phone with our staff member, asking God to forgive his sins and save him.
Whatever circumstances you face, God is there. Know Him today.
How do you pray? Does God really answer prayers? Read more.
*Names changed to protect privacy.