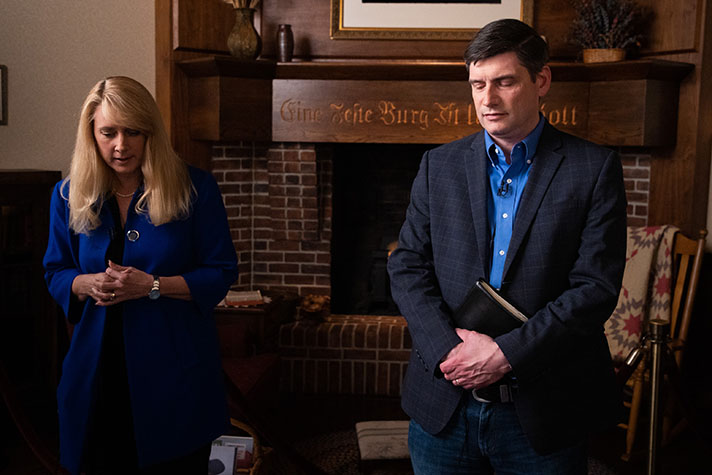 Thursday night, thousands across the United States unified in prayer for the country.
In honor of the 69th annual National Day of Prayer (NDOP), Will Graham co-hosted a special broadcast alongside Kathy Branzell, president of the NDOP task force, live from the Billy Graham Library.
It was back in 1952, as Billy Graham preached from the steps of the U.S. Capitol in Washington, D.C., that he encouraged the president and Congress to establish a national day of prayer. Soon after, it was signed into law by President Harry Truman.
Organizers of the 2020 National Day of Prayer had no idea last fall that this time around, the whole world would be facing a crisis. The prayer event focused on Habakkuk 2:14: "For the earth will be filled with the knowledge of the glory of the Lord as the waters cover the sea."

"We want our prayer and our worship to unite our hearts as we pray God's glory across the earth," Branzell said.
Throughout the two-hour webstream, dozens of people of all ages and nationalities—from government and military leaders to pastors and youth—gathered virtually to lift their voices to God from wherever they were. More than 124,000 tuned in via YouTube, Facebook and BillyGraham.org, as well as multiple radio and TV outlets.
Will Graham acknowledged the many struggles people have faced in past months, but also encouraged anyone listening.
"Now is a time of hope, of great hope," he said.
The world has seen a spiritual awakening, churches are breaking outside their walls and people are considering life after death, he said.
Evangelist Andrew Palau shared his personal testimony of going from a "selfish, self-centered punk kid" to seeing the power of prayer work in his life through Christ. Will Graham followed up Palau's story with a short Gospel message, assuring anyone who invites Christ into their lives has eternal hope and security regardless of what's going on in the world.
Below is Will Graham's appeal to God on behalf of the nation:
Heavenly Father, today we confess that we are in great need for you. Lord, our lives are in a mess. We have traded the truth for convenience and temporal pleasures. Forgive us for loving ourselves so much. Forgive us for thinking that we have all the answers. Forgive us for calling good evil and evil good.

We have made a mess of our lives apart from you. But we ask for your forgiveness right now. Lord, cleanse us anew now, we ask. May your glory be seen in us. We ask for the Holy Spirit to guide each of us that we might be better able to discern your will in the days ahead. Give us the wisdom you have promised to those who ask and the strength that you alone can give.

Lord, we need you. Our country needs you more than ever. Therefore, we take this time to confess our total dependence on you. Lord, we pray that the glory of the Lord will shine during this time. May people see your glory in us. As the world is captivated by fear, help us to be captivated by your glory. May the world turn to you and call to you in our time of great need.

Help our eyes to be fixed on you during this storm. And through the storms of life, we ask for your Holy Spirit to unite us, to fill us and intercede for us in our time of need.

In the name of Jesus we pray, amen.
Fix your eyes on Jesus. If you've never asked Him to be part of your life, you can do that right now.