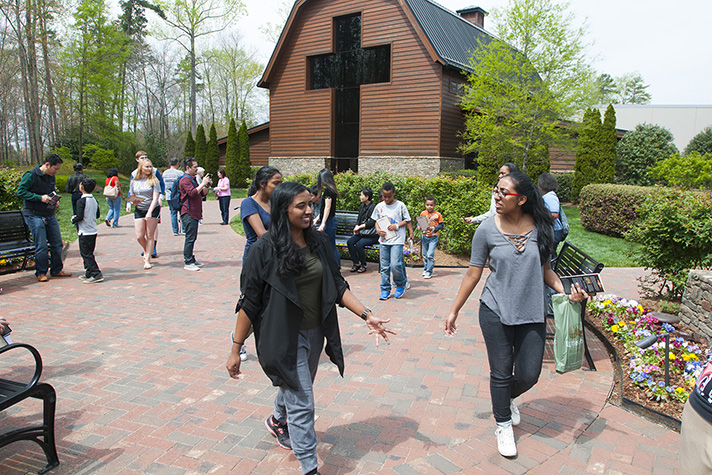 Families hanging out at the Graham Brothers Dairy Bar, couples strolling the grounds, flowers blooming—this is summertime at the Billy Graham Library.
While the Library is Tripadvisor's number one attraction in Charlotte, North Carolina, it is not your typical tourist stop. Following Billy Graham's journey from a farm boy to worldwide evangelist, the ministry's main purpose is to share the Gospel message.
For some who come, their lives are forever changed after hearing how much God loves them and what He did to be reconciled with mankind.
These four stories show how God works through the ministry in salvation decisions and prayers.
Decades-Long Prayer Answered
Tammy* was surprised her husband would even visit the Billy Graham Library. Bob* didn't have any interest in following Christ, though she had prayed for his salvation for decades. They decided to go through The Journey of Faith tour, which shows what God can do through any life that is fully surrendered to Him.
Afterward, Bob headed for the prayer room and asked Tammy to come, too. Tears streamed down his face when the prayer volunteer asked if he was ready to receive Christ. Bob answered, "Yes," and prayed to surrender his heart to Jesus. The couple's joy was evident as they left, with God answering Tammy's longtime prayer.
Bus Ride to Salvation
A troubled young man rode the bus from South Carolina to Charlotte, then took a cab to the Library. Michael* told prayer volunteers that he needed to find rest and peace—he was tired of aimlessly drifting through life.
After talking with them for an hour, Michael asked God to forgive his sins and prayed to follow Christ as his Lord and Savior. When he left, Michael felt peaceful and confident in his future and salvation.
Finding Hope Far From Home
A young man, Xavier*, and his wife recently traveled to the U.S. from Ecuador to see family and get vaccinated. Before their appointment, Xavier's sister brought them to the Billy Graham Library. Near the end of The Journey of Faith tour, the couple prayed the salvation prayer as they watched a video of Billy Graham.
Afterward, the sister hurried to the prayer room to hear more about their decisions and pray for them. A volunteer went through Steps to Peace With God, which explains how to follow Christ. The couple left with a Bible and follow-up materials—excited about their new commitment.
It Started With a Truck
During the 2020 Minneapolis riots, William* and Sydney* noticed the Billy Graham Rapid Response Team's (BG-RRT) Mobile Ministry Center parked in several locations that week. The large vehicle provides a quiet spot for conversation and prayer with Billy Graham chaplains. The ministry truck spurred them to pray harder for a peaceful resolution to the riots.
William recognized Billy Graham's name, but Sydney did not. After talking about Billy Graham's ministry, she wanted to know more, so they planned a trip to the Billy Graham Library.
Chatting with volunteer BG-RRT chaplains near Billy Graham's gravesite, the couple shared their thankfulness for what the BG-RRT ministry represented—God's love, respect for others, grace and peace. They spent time in prayer, holding hands and in tears, acknowledging that Jesus is the only answer for racial reconciliation.
*Name changed to protect privacy.