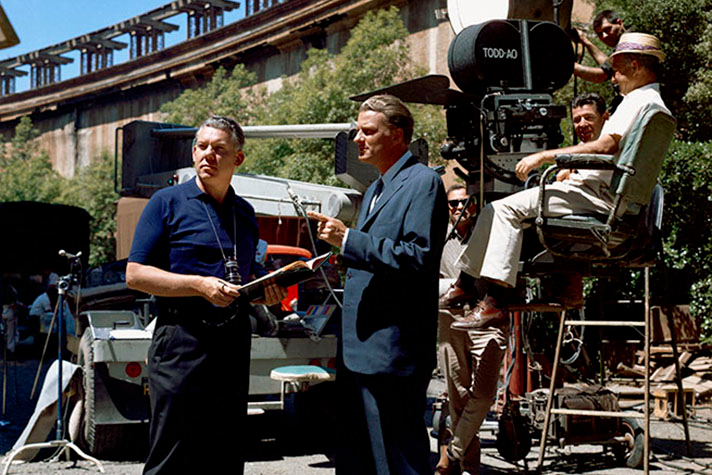 On March 15, around 100 people gathered in an Asheville, N.C., movie theatre as The JESUS Film Project® presented Billy Graham with the Hope Medallion award. Gigi Graham, his firstborn, was in attendance to accept the award on behalf of her father.
Since 2004, The JESUS Film Project has presented the Hope Medallion award to those who have demonstrated their dedication to sharing eternal spiritual hope around the world.
Billy Graham was recognized as a Christian film pioneer, primarily for his work of sharing the Gospel through World Wide Pictures (WWP), a motion picture division of the ministry that began in the early 1950's.
This award was presented in conjunction with a special showing of the remastered, high-definition 35th anniversary edition of JESUS, showing in select theatres across the country.
The first WWP film, Mr. Texas, made its debut in 1951. Since then, Mr. Graham has produced and distributed more than 130 films, including many full-length movies, through WWP. Some of the more popular films are The Hiding Place—the story of Corrie Ten Boom, and Joni—the testimony of Joni Eareckson Tada.
"We could not celebrate our 35th anniversary without honoring Dr. Graham and the role he played in Christian film," said Eric Schenkel, executive director of The JESUS Film Project. "He made Christian films at a time when it was a pioneering gesture. We know that his goal was and is to share the Gospel of Jesus Christ through any means possible.
"He shared this vision with the late Dr. Bill Bright and [Campus Crusade for Christ]. So, as a ministry of [Campus Crusade], we are 'nephews and nieces' of Dr. Graham. That's our continuing legacy at The JESUS Film, and that's why we are celebrating."
Gigi Graham explained that while WWP began in 1950, the idea of using film came to her father much earlier than that. She said that he was a student at Wheaton College when he first had the vision of making evangelistic motion pictures.
The wheels began to turn toward the film direction when it was suggested that his Portland, Ore., Crusade be filmed.
"At that time, he began to think that he could use film to tell a story—the greatest story ever told—the Gospel," said Gigi. "He thought about the many little towns that he could not physically visit, but he could tell stories of lives changed by the Gospel and broadcast those stories in theatres all over the country.
"That is when World Wide Pictures (initially called Billy Graham Pictures) was born. Ever since, thousands have come to know the Lord through these films."
Vonette Bright, widow of Dr. Bright, was in attendance to honor Billy Graham's work in Christian film.
"My husband and Billy Graham were very dear friends. They consulted each other often, and would chat about their opinions of things that were happening in the United States," Bright said. "Many times, they would talk about what they could do to exert their influence in our culture. This was a wonderful relationship I was able to observe.
"I am thankful for the creative ways Billy Graham has worked through film and that millions have come to know Christ through this. The legacy he leaves behind is very meaningful and inspirational for the future."
While Billy Graham himself was unable to be there to accept the award, his daughter already knows exactly what he would say.
"He would say, 'It's not me. It's the Lord.' Whether someone would visit him to personally thank him for the impact he has had on his or her ministry or life, or when he got the star plaque along the Walk of Fame in Hollywood, that's what he has always said," she explained.
"And so, if he were here at this theatre with us, right now, he would just shake his head and point upward."