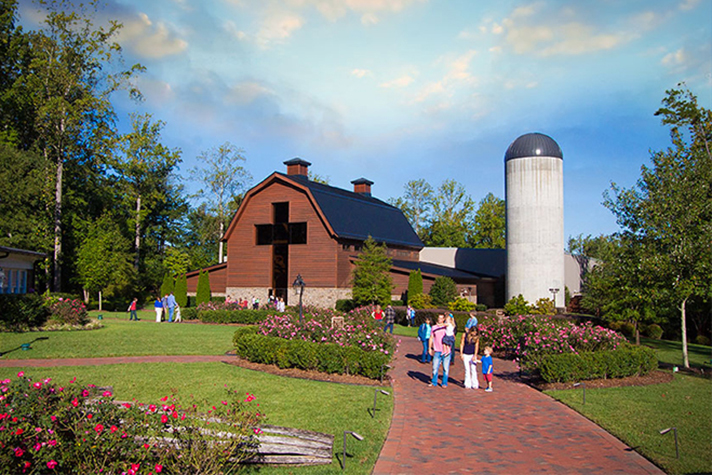 "Peace I leave with you; my peace I give to you. Not as the world gives do I give to you. Let not your hearts be troubled, neither let them be afraid." —John 14:27
The Billy Graham Evangelistic Association (BGEA), along with many other organizations and ministries, has had to make important, yet difficult decisions due to the coronavirus pandemic.
Several scheduled and upcoming ministry events have been postponed. As well, two facilities have temporarily closed.
The Billy Graham Library in Charlotte, North Carolina, announced Monday that it was closing, effective immediately, after President Donald Trump's recommendation to avoid gatherings of 10 or more people.
"Our prayers are with those affected by the coronavirus pandemic here in our community and around the world," said Scott Holmquist, executive director of the Billy Graham Library. "Closing our doors is not out of fear, but out of concern for the health of those who visit as well as our staff and volunteers. We look forward to welcoming visitors again as soon as we can in the near future."
All facilities within the Billy Graham Library are affected by the closure. Announcements about a reopening will be made at a later date.
"During this time with the coronavirus, fear is gripping the hearts of people around the world," said Franklin Graham, president and CEO of the Billy Graham Evangelistic Association. "We need to share the 'reason for the hope that is in you' (1 Peter 3:15). Jesus Christ is our hope, our anchor, our comfort, and our peace. Let's share His love with as many people as we can, making every day count."
Tifton, Georgia, Celebration
The Tiftarea Celebration with Will Graham, scheduled for March 20–22 at the UGA Tifton Campus Conference Center—is being postponed until a yet-to-be-determined date.
The decision was made following Saturday's announcement from Georgia Gov. Brian Kemp declaring a public health emergency in Georgia.
"This is a sad day and difficult decision, but ultimately a call that we had to make," said evangelist Will Graham. "I want the people and churches in and around the Tiftarea to know that I have a burden to share the hope and love of Jesus there, and I prayerfully anticipate being with you as soon as possible."
The Celebration will be rescheduled, although the date is to be determined.
The Billy Graham Training Center at The Cove
In addition, the Billy Graham Training Center at The Cove is postponing all scheduled events until further notice. This is following an executive order by North Carolina Gov. Roy Cooper to stop mass gatherings of more than 100 people.
"This decision does not come lightly, but we want to take measures to help ensure the health and safety of our staff and guests during this difficult time," said Will Graham, executive director of The Cove and vice president of the Billy Graham Evangelistic Association.
"We are taking every precaution to make sure our facilities follow the Centers for Disease Control and Prevention (CDC) and local health agency guidelines. We plan to reopen as soon as we can to continue the important work of providing Biblically-based training and programs for our guests."
The Billy Graham Training Center at The Cove, including the Chatlos Memorial Chapel and visitor's center are now closed to the public. The ministry will announce at a later date when these facilities will be reopened.
Internationally, the BGEA's Christian Life and Witness evangelism classes in the United Kingdom have been postponed ahead of the upcoming Graham Tour with Franklin Graham.
If you would like to talk or pray with someone, please call the BGEA at 1-888-388–2683 or visit us online at PeaceWithGod.net.