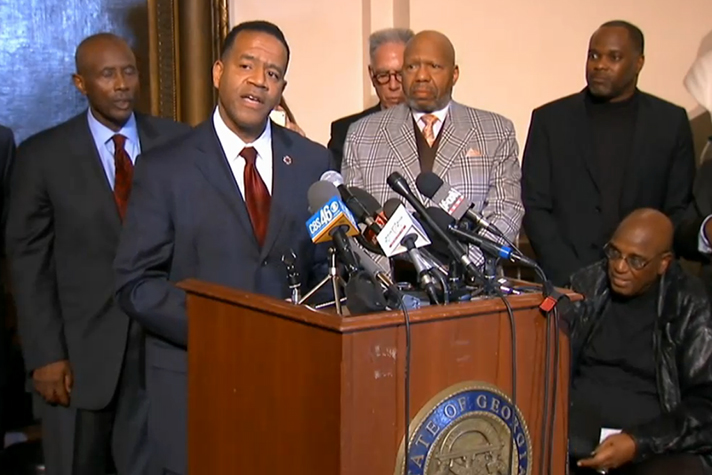 Recognizing religious freedom is on the line in the United States—sparked by Atlanta Fire Chief Kelvin Cochran being fired for his faith—hundreds gathered for the Standing for Our Faith Rally at the Georgia State Capitol on Tuesday afternoon in Atlanta.
More than 35,000 signatures have already been registered for Cochran to be reinstated by Atlanta Mayor Kasim Reed, with thousands of emails flooding into the Atlanta Mayor's Office, many carrying the subject line "Christian firing."
The controversy centers over a Bible study book Cochran wrote, with permission from the Atlanta ethics office, where he takes a stand for God's definition for marriage—being between a man and a woman in holy matrimony. And that any sex outside of marriage—including homosexuality—is a sin.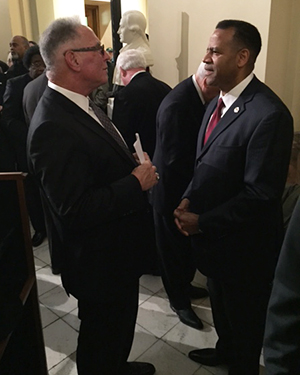 "It has been said my termination has made a great statement and I could not agree more," said Cochran, last of 14 speakers to address the vocal crowd supporting religious freedom. "There are grave consequences for expressing my faith, and that sex was created for procreation and should be between a man and a woman in holy matrimony."
Ken Barun, Chief of Staff for the Billy Graham Evangelistic Association, addressed the crowd by reading 1 Corinthians 1:18: "For the message of the cross is foolishness to those who are perishing, but to us who are being saved it is the power of God."
"Franklin Graham deals all over the world with persecuted Christians. But to see it here in our own country? That is crazy," Barun said. "We've got to be tired of those who are being bullies, who think the Gospel is foolishness."
As soon as Franklin Graham heard about this story, Barun reported, he "jumped up immediately" to contact Cochran and lend his support to the man who served as chairman of the 2005 Franklin Graham Festival in Shreveport, Louisiana.
"Cochran … was persecuted and denied his career because of his privately held religious beliefs," Graham said in a statement released last week. "This is true discrimination."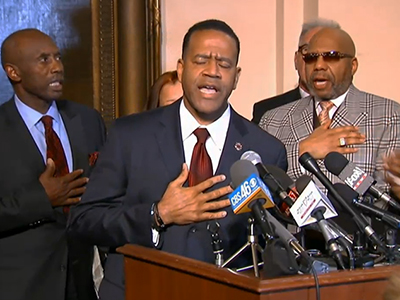 When he finally took the podium, Cochran led the crowd in the Pledge of Allegiance and thanked those gathered for their outpouring of support: "My wife Karen and our children are strengthened by your compassion and prayers."
His termination by Mayor Reed exactly one week in the books, Cochran was still trying to make sense of everything.
"Indeed, a strong statement has been made," he said. "All people groups are welcomed in Atlanta, except the group that believes the Scriptures."
Robert White, executive director of the Georgia Baptist Convention, gave the crowd a simple request: "I want to challenge you to pray for our city and for our mayor," he said. "It's time for us in Georgia to take a strong stand. It is a matter of religious liberty."
Before the crowd left for a 3-mile march to Atlanta's City Hall in 45-degree drizzle, Cochran declared anew his faith in Christ—despite the recent trials he's endured.
"I have decided to follow Jesus," he said. "No turning back, no turning back."
Let the Atlanta Mayor's office know that this discrimination is unacceptable and should not continue—404-330-6100 or on Twitter @Kasimreed.
Read more about the situation in Fox News' Todd Starnes article.
Read Cochran's testimony from Decision magazine.