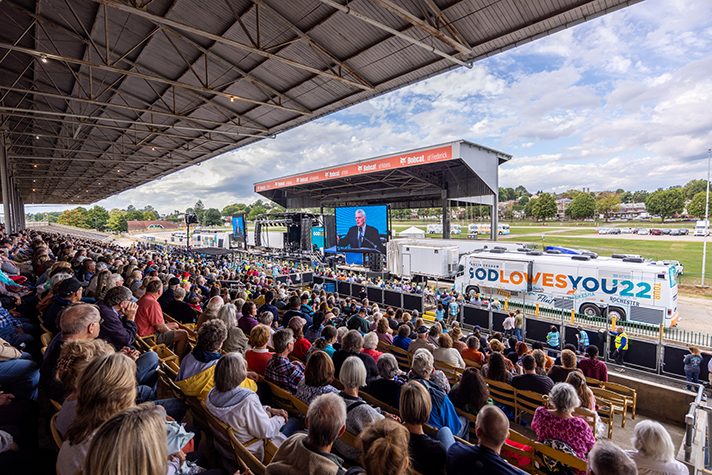 There was a light drizzle coming down as the doors opened at the York Expo Center in York, Pennsylvania. But the rain didn't damper the joy of those who came.
As Franklin Graham later reminded the crowd, "In the Bible, rain is a sign of blessing," and volunteers were ready to see God answer prayers.
More than 9,000 people filled the grandstand, with many ready to watch what God was about to do during the second of six stops on the God Loves You Tour. As it grew closer to start time, the rain stopped and the bright blue of crisp Pennsylvanian skies peeped out.
>>Find out more about the God Loves You Tour, which continues through Oct. 2.
Nestled in the rolling farm country of southeastern Pennsylvania, York is a small town of around 44,000. Nabil pastors a church of about 200 in the area and senses a deep need for the light of Christ to permeate people's hearts.
"Even just on the way here," he shared, "there was sunshine in southern York County, and then just driving up here you see a physical darkness, but it's even more than a physical darkness. There's a spiritual darkness in this area."
Around 30 members of his congregation volunteered at the event. "We're just praying for breakthrough," Nabil said. "We are praying for revival. We are praying that people not only would just hear the message, they would respond to the message and that they would be transformed because they have received Jesus Christ as their personal Savior."
For two men sitting in the grandstand, that's exactly what happened.
A Celebration of Joy
Belinda and Dave were at the God Loves You Tour serving as prayer volunteers. They sat between two men, Jeremy and Roy, who would make life-changing decisions on Sunday evening.
Franklin Graham's message centered around the story of Bartimaeus, a blind man who reached out to Jesus for healing. Jesus was on the way to Jerusalem when Bartimaeus called out, "Son of David, have mercy on me" (Luke 18:38, ESV). And as he called out, Jesus restored his sight.
"Tonight, Jesus is passing by. Will you reach out for Him?" Franklin Graham asked the crowd.
For Jeremy and Roy, the answer was yes—and both stood up to make a decision for Christ.
When Belinda asked them why they decided to stand, Jeremy responded that he had done some bad things and he really wanted commit his life to Jesus. Roy stood up because he wanted to get back to God and rededicate his life to Jesus.
Belinda brought them together and told them, "The angels of God are all celebrating right now—whether you are turning back to God or this is your first-time decision."
She shared with the two men that, "God has a purpose and plan … and this is the best decision ever that you are going to make in your life."
Belinda's face beamed with joy as she retold the story: "I never get tired; I love seeing souls saved."
She continued: "Like they say, you can't take anything with you into Heaven. You can't take your house, your car—the only thing is people. And I always said I want to take as many people as I can."
A Final Decision
Another woman, Maria,* also brought someone with her.
A friend she's known for a long time needed to accept Jesus into his heart, but had not made the commitment to do so.
The friend, who speaks Spanish, listened to Franklin Graham's message interpreted into Spanish and learned how much God loves him. He then decided to surrender his life to Jesus as his Lord and Savior.
Maria was elated.
"It's a joy, it's a joy, I cannot explain. I want others to feel what I feel … to have what I have, that relationship with Jesus, to feel blessed like me every day."
For the hundreds who stood up all across the grandstand to follow Jesus, that is exactly the kind of relationship they found.
Like Franklin Graham said, "You've got a ray of hope tonight."
And that hope is found only in Jesus Christ.
*Name changed for privacy.
Would you join in praying for those who will hear the Gospel on the God Loves You Tour?