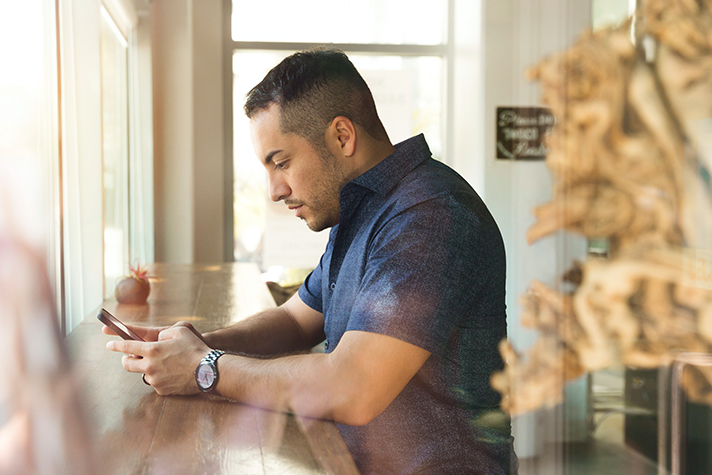 "But Jesus looked at them and said, 'With man this is impossible, but with God all things are possible.'"
—Matthew 19:26
It all started with three people in a small conference room with a white board.
They had just launched a website that would result in 90 million visits to an online Gospel presentation.
Ten years ago, Mark Appleton and his co-workers found themselves knee-deep in a work project at Billy Graham Evangelistic Association (BGEA) headquarters in Charlotte, North Carolina, that went beyond statistics and computers and into the hearts of mankind.
On April 29, 2011, PeaceWithGod.net debuted, a website that shares four simple steps to having a relationship with God. Within a month or two, the website had thousands of visitors coming with hundreds of faith questions—showing an obvious need for the ministry. The launch was led at the time by John Cass, who's now an executive director for BGEA's Crusade ministries.
"It was an idea and a website was put up," said Appleton, director of Internet Evangelism. "There was no staff, no ministry around it, but the launch of that website cascaded into a series of events that matured into 40-something paid people around the world, 1,500 volunteers and seven languages. This was a moment and catalyst [for BGEA's Internet Evangelism ministry]."
From the start, the small Internet Evangelism team built the online ministry like they would a Billy Graham Crusade—making sure after people made a decision for Christ, they would have the opportunity to be plugged into a local church and receive discipleship. While some may never have the chance to go to an evangelistic event to hear the Gospel message, most have access to knowing more of who Christ is simply by asking a spiritual question on Google and clicking the Peace With God website.
Through this site, there have been over 16 million indicated decisions for Christ.
"If we're about proclaiming the Gospel by any effective means possible, we have to be in the digital space because almost every person on the planet now lives and engages socially online," Appleton said.
"People are there so we must be there. It really is that simple. The internet is no longer just a tool people use. It's taken on a life of its own, so we train and pray for and deploy missionaries into that space like we would Afghanistan, Iraq or any other mission."
Expanding the Ministry—Even in a Pandemic
On the website, there's a chat button that allows visitors to start an online conversation with a trained volunteer who can hear about their struggles and answer their questions about faith. These volunteers find blocks of time in their own busy schedules to tell people about Jesus—and range from retired folks to 20-somethings.
There's a Florida doctor who often takes the 5 to 7 a.m. shift before work. Another couple has used their shift as part of their morning devotional. And college students take on some late night hours.
Volunteers can also respond to visitors' questions and comments via email, or help them through free online discipleship courses.
Amid the pandemic, Internet Evangelism's volunteer numbers surged by nearly 50 percent—going from 1,000 volunteers after eight years of ministry to 1,500. In 2020, volunteers served more hours online than the equivalent of 100 full-time employees.
Since its start in 2011, the team has answered more than 1 million faith questions from people around the world. Last year alone, volunteers had 80,000 one-on-one conversations through the Peace With God site. With that much growth in the ministry, the team has focused on expansion—in languages and strategy.
Beginning with an English-only website, the ministry has now spread to Spanish, Portuguese, Arabic, Korean, Mandarin Chinese, American Sign Language (ASL), and is currently working on a Russian site. Originally focused on the top internet languages in the world, Internet Evangelism enabled half the world's online population to know about Jesus through its websites.
In addition, Internet Evangelism is increasing its reach through social media platforms, engaging people where they are.
The Ups and Downs
With each of Internet Evangelism's seven languages has come different challenges.
For one, while the ministry has been developing an ASL discipleship course on an online platform, they can't just sign in English. ASL is an independent language of its own.
"It's a heart language," said Dan Martin, assistant director of Internet Evangelism. "[When a] deaf person reads English, they don't comprehend concepts as easily as a sign." Consequently, the course will be designed by those who communicate via ASL, written for ASL and signed by deaf people.
The team is also overcoming hurdles with its Korean ministry. Although Billy Graham preached his largest Crusade in Seoul, Korea, in 1973 to over 1 million people—sparking a huge revival—many younger Koreans today don't know about Christianity. The ministry has found most people under the age of 30 have little to no spiritual interest.
However, while absent from church, the younger generation is very connected online. Therefore, Internet Evangelism is trying to reach that audience digitally through KakaoTalk, a popular cultural platform that's similar to Facebook Messenger or WhatsApp.
And although the ministry's challenges may be tough, Appleton says, "God brings us moments of breakthroughs. It's not all roses and it's never going to be, it takes work. Thankfully, He gives refreshing victories to motivate us through harder times."
A photo on Appleton's wall reminds him it's all worth it. The image is one of a man being baptized in a lake—he was led to Christ by an Internet Evangelism volunteer.
"It's a visual representation of God changing people," Appleton said. "We're one piece of the puzzle."
Find out how a woman's life was changed after meeting Jesus through this ministry.