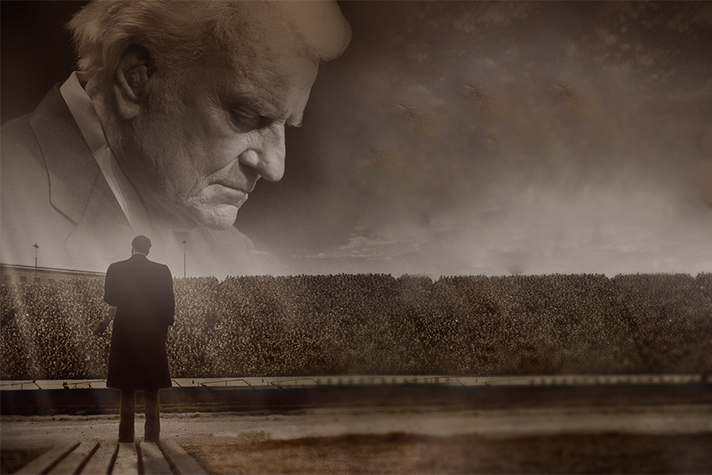 In the days after Billy Graham's death on February 21, 2018, a documentary titled Billy Graham: An Extraordinary Journey was broadcast across the nation. While it's been three years since his homegoing, you can again enjoy the inside look at Mr. Graham's spiritual and personal life.
The 72-minute video tells the remarkable story of how God used a farmer's son to share the hope of Christ around the world through rare footage and interviews from presidents, celebrities, family and close friends.
"It's an extraordinary journey, how God took a young boy off a farm in rural North Carolina in the South and then from there to the ends of the earth," said Franklin Graham, eldest son of Billy and Ruth Graham, and president and CEO of the Billy Graham Evangelistic Association. For more than 60 years, his father preached the Gospel to 215 million people who attended one of his 400-plus Crusades, simulcasts and evangelistic rallies in over 185 countries and territories.
Here are 4 ways you can access this inspiring film:
1. Broadcast
Watch the documentary through the following channels:
Daystar Network

February 25 at 12 p.m. and 9 p.m. ET
February 26 at 1 a.m. ET
2. Stream via Amazon Prime
For the first time ever, the film is available in 113 additional countries and territories throughout the world in English, Spanish, French, German, Portuguese, Russian, Arabic, Korean and Chinese.
3. Rent or download with iTunes and Vudu
You can rent the film on sale for just $.99 cents (on iTunes or Vudu), or buy a digital download for $6.99 (on iTunes) or $7 (on Vudu).
4. Order the DVD
Purchase the film from Ruth's Attic online, on sale for $9.99 through March 22.
Billy Graham often shared the life-changing message that "God loves you." Have you embraced His love for you? Start a relationship with God today.