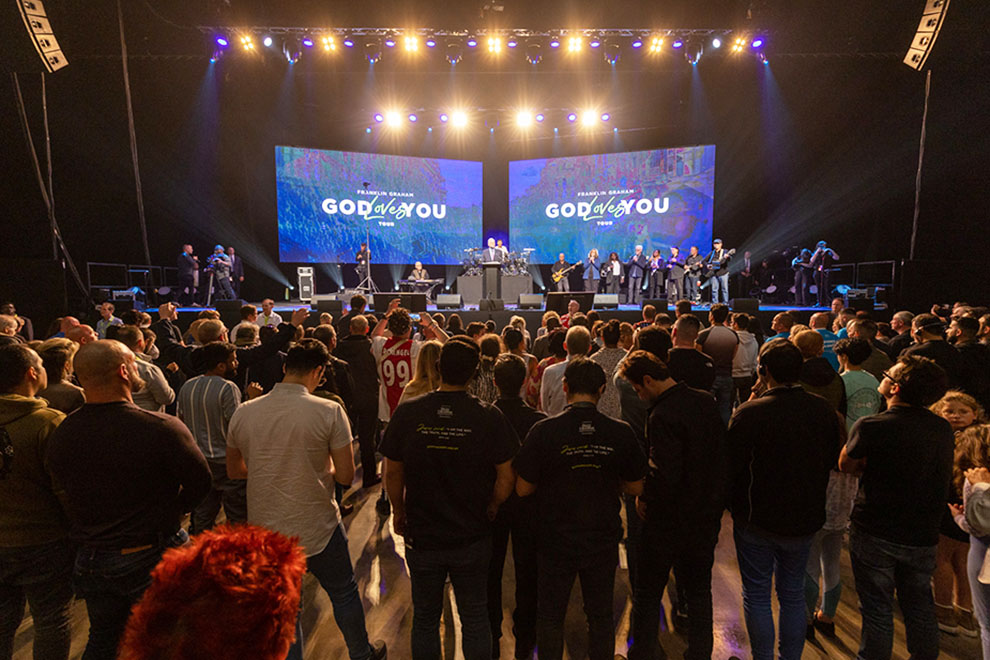 Wait, haven't I seen you before? The Big Orange Bus?
With "Just As I Am" playing as an invitation backdrop, Claire and Colette, two sisters in their late 30s, responded to Franklin Graham's call on Saturday night at Liverpool's Exhibition Hall. And who were the two people waiting for them to walk them through the Gospel? They sure looked familiar.
Ruth Baker and Diana Morris, two counselors for the God Loves You Tour's first stop, had been praying for years for this very moment. More than three years in the making, the tour originally had been scheduled for 2020, but delays didn't deter them.
They were there up front, praying for God to bring them two people. Not just any two people, the right two people.
"You have to know," Ruth said, with a look that she was about to share the secret of life, "God's timing is never late."
So with more than 3,500 in attendance and hundreds flooding the stage, responding to Franklin Graham's invitation to receive Christ, it was Claire and Collete who met Ruth and Diana up front. They looked at each other a bit stunned.
Yes, all four were on the same Big Orange Bus, from the same small town of Chester, a city on the outskirts of Liverpool, some 45 minutes away.
Actually, Ruth can explain every last bit of it. "God's always right on time," she said.
"I came with expectancy. I was praying," Ruth continued. "But when people started coming forward like that, I just started crying."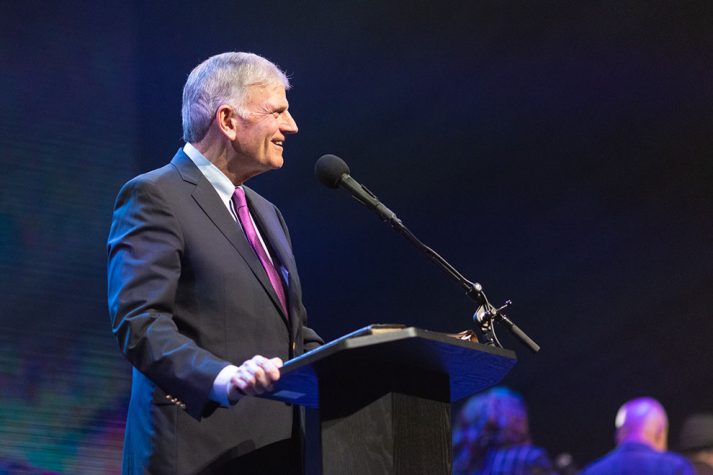 Franklin Graham's message around the Prodigal Son from Luke 15 had pierced the hearts of many Saturday, with gentle yet bold reminders throughout: "God will forgive you tonight. … If you put your faith in Jesus Christ, He will never leave you."
Claire and Collette responded. Claire's walk with the Lord had grown cold, and she felt the Holy Spirit pulling her forward to recommit her life. Collette had never made the decision to follow Jesus as her Savior. They both decided to come forward together.
"It was just WOW," Diana said of the response to the Good News. "It was amazing this many people came forward. And it was lovely talking to people. They actually want to fill in the form."
Diana wasn't initially eager to be a counselor. She was more content to just be a "passive" attender, maybe sit in the back. But she decided to take the pre-event's Christian Life and Witness Class to see what the tour was about. Something clicked and she decided to volunteer.
"I left thinking, 'I could do this,'" she said. "It showed us exactly what to expect."
"It really encouraged us," Ruth said. "And it inspired us."
The fact that Franklin Graham made the effort to start as far north as Liverpool caught both Ruth and Diana's attention: "I'm so glad he decided to come up north," Ruth said. "The south (of England) usually gets all the good stuff."
Not this time. The good stuff and the Good News were delivered through God-inspired music and message by the Newsboys, Dennis Agajanian and Franklin Graham.
>>See more photos from Saturday night's event.
"Get ready for the message of your life tonight," Newsboys singer Michael Tait said before their final song, "God's Not Dead." "Open your heart and let it change you. The word of God never comes back void."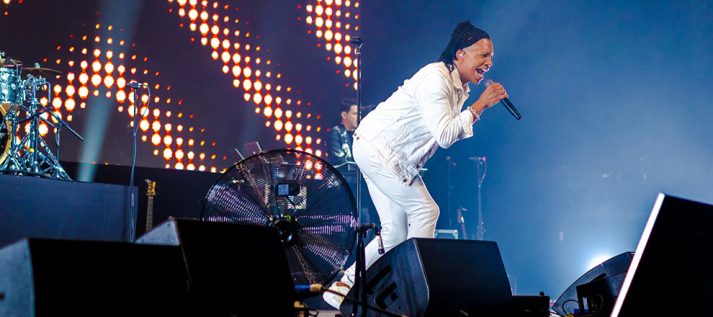 On a day when Liverpool FC played Chelsea to nil-nil, and had to settle it with penalty kicks around the same time the God Loves You Tour began, Franklin Graham wasted no time updating the crowd when he took the stage. "I have to say, I'm proud of your football team. They pulled it off in sudden death, 6-5."
Minutes later, Franklin Graham didn't hesitate bringing death back into the conversation.
"The whole human race is under a death sentence," he said. "God's not dead. He's alive tonight here in Liverpool."
But he spent most of his message teaching on the parable of the Prodigal Son and how the father welcomed him, running at him with open arms. The same can be said for every person who had been running away from God.
"The father stood out there every day, looking for his son," Franklin Graham said. "I bet he was out there for months."
Just like our heavenly Father, always waiting for us, arms open. All we have to do is repent of our sins.
And that's exactly what hundreds did in Liverpool.
"God is moving," Ruth said. "And it's fantastic to see how much He's moving in Liverpool."