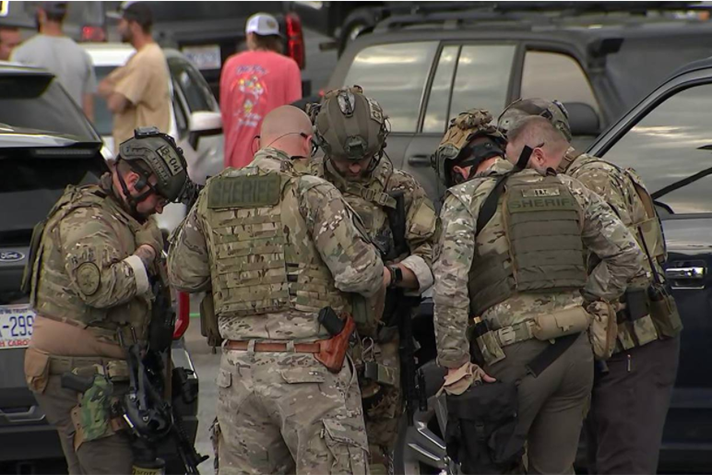 The Billy Graham Rapid Response Team (BG-RRT) has deployed to Boone, North Carolina, after two Watauga County Sheriff's deputies were killed while completing a welfare check on Wednesday. Three others—the suspect, the suspect's mother and stepfather—also died.
According to local news reports, there was concern for a homeowner and his family after they did not show up for work or respond to phone calls. When deputies arrived at the home, an unknown person reportedly began shooting at officers.
A standoff between officers and the shooter lasted late into Wednesday evening, and nearby residents were asked to stay inside. One officer, Sergeant Chris Ward, died after being flown to a Tennessee hospital. K-9 Deputy Logan Fox reportedly died at the scene.
The Rapid Response Team, a ministry of the Billy Graham Evangelistic Association, is based in Charlotte, North Carolina, just a couple of hours from Boone. A team of four chaplains is ministering in the mountain town and set up its Mobile Ministry Center, which offers a safe space for people to talk and pray.
"In my hometown of Boone, NC, yesterday two sheriff's deputies were killed in the line of duty," Franklin Graham posted on Facebook Thursday. "Those two officers gave their lives in the pursuit of protecting their community. Our hearts break for their families and friends."

"The Billy Graham Rapid Response Team is saddened to hear of another law enforcement officer who was killed in the line of duty," added Josh Holland, BG-RRT's assistant director. "We have a number of crisis-trained chaplains with law enforcement backgrounds, and they have been invited by the Watauga County Sheriff's Office to come alongside the department and provide hope and comfort to the officers as they grieve."
Edward Graham, a son of Franklin Graham who grew up in Boone and works for BGEA's sister ministry Samaritan's Purse, tweeted Wednesday, "Praying for Watauga County and Boone NC law enforcement today. They are having a very difficult day, details still coming out, but we have the finest professionals serving our community. Please be praying for them and their families today."
Join us in praying for all those involved in this shooting.