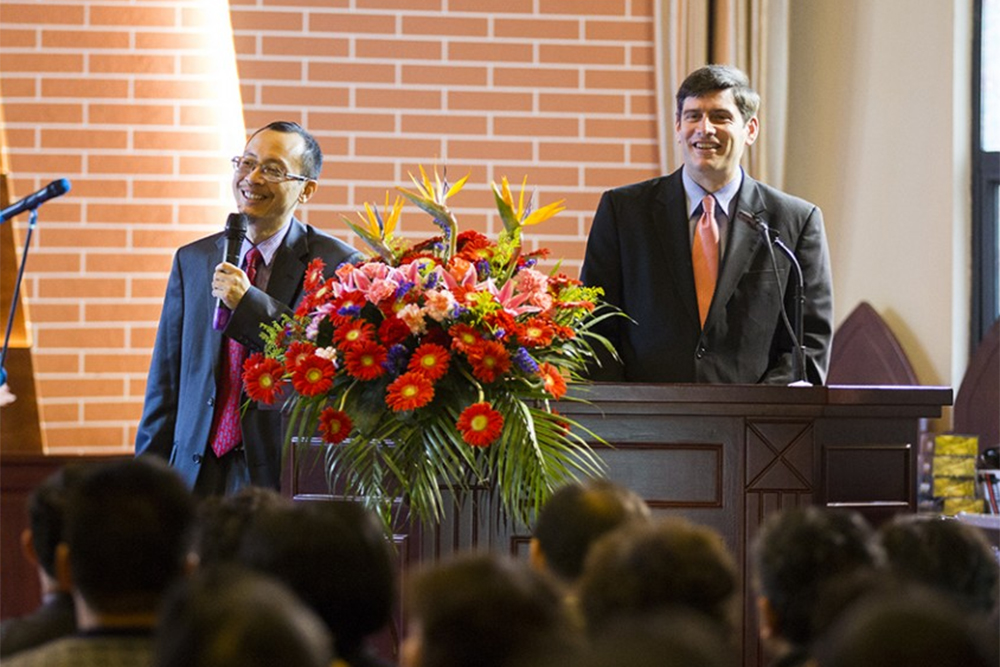 Retracing his great grandparents' footsteps from 99 years ago, Will Graham will visit China as part of a Chinese New Year celebration event called the Good Shepherd Outreach.
At the invitation of the Jiangsu Province Christian Council and with the approval of the Chinese government, Will Graham is preaching the Good News four times this week in southern China—twice in Wuxi and twice in Huai'an, the birth place of his grandmother Ruth Bell Graham.
"This will be my first time into the heart of China," Will Graham said. "We're going to my grandmother's home city (Huai'an). It's going to be an emotional time for me to see where my great grandfather ministered. It's going to be great to see the fruit of his labor."
In 1916, L. Nelson Bell, an American doctor in his young 20s, brought his wife to China. They arrived via Shanghai, then traveled to Wuxi, where they boarded a travel barge on the Grand Canal—a major transportation route—to the small rural town of Huai'an. For 25 years, the Bells lived on the compound of Love and Mercy Hospital as medical missionaries and had four children, including Ruth, their oldest, in 1920.
Franklin Graham has preached in China several times, including a trip in 2010, where he traveled with his sister Gigi Graham and daughter Cissie Graham Lynch to Huai'an for the dedication of the Ruth Bell Graham Bible Institute and Museum.
"When my grandfather came to China almost 100 years ago, he was a young man with lots of dreams," Franklin Graham said during his 2010 visit. "But his number one dream was that one day in China, there would be a strong church. And that dream has come true.
"It's exciting to see what God is doing and what he's continuing to do in Huai'an."
Jiangsu Province Christian Council's Good Shepherd Outreach features more than 275 pastors, evangelists, seminary students and lay ministers who will be preaching the Gospel every day during the period surrounding the Chinese New Year (Feb. 19).
Will Graham accepted the Council's invitation to preach twice in the Jiangsu Province, home to more than 75 million people. In Wuxi, he preached to several thousand at the Rongxiang Church on Feb. 24 and at the Zhongshanlu Church on Feb. 25.
On Feb. 27 and 28, Will Graham will present the Gospel message at the Huai'an Christian Church. Counselors have been trained for each event through Christian Life and Witness classes. Denver and the Mile-High Orchestra will provide lively worship music at all four services.
Will Graham also attend a prayer meeting at the Ruth Bell Graham Bible Institute and Museum on the morning of Feb. 27. In between, he'll take time to visit the memorial tomb, commemorating his great grandfather's life and service, as well as the hospital that is the successor to Love and Mercy Hospital, where he served.
"I'm really looking forward to going there," Will Graham said of being able to see the town so rich in family heritage. "Because my grandmother was born in China, they see us almost like family in a sense. We're very grateful for the opportunity and they have been very hospitable."
Follow Will Graham's Facebook and Twitter pages for updates.