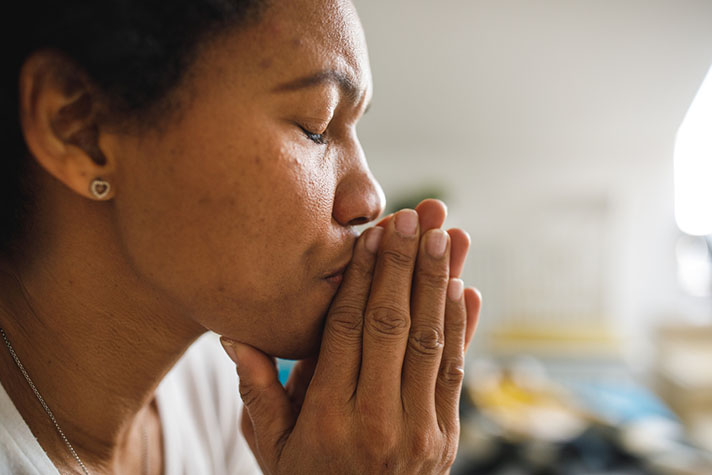 Danny* nearly died from COVID-19 complications, and over the last few years, he has spent many nights in the hospital.
This past March, a routine evening of watching television changed the trajectory of his life.
That's when he saw Franklin Graham's Gospel spot about following God's Word and trusting Jesus Christ as his Savior. As the evangelist led a prayer on TV, Danny prayed along to surrender his life to the Lord.
The following day, Danny called the Billy Graham 24/7 Prayer Line number that had been listed on the screen to share his decision for Christ and to request a Bible. A volunteer prayed with him, asking God to continue working in his life and grow his newfound faith.
Since its inception during the pandemic, prayer line representatives have answered over 1.9 million calls. In February, the Billy Graham Evangelistic Association started offering Bibles to callers who want to learn more about God's Word. As of mid-May, the prayer line has received more than 4,400 requests for a Bible.
>>Need to talk? Call the Billy Graham 24/7 Prayer Line at 1-888-388-2683.
That's why Travis* called.
He's had a difficult life and wanted to read the Bible to get to know the forgiving God that Franklin Graham talked about on television.
Travis started reading the gospel of John while in prison, but finally placed his faith in Christ while watching the Gospel ad.
Still struggling with addictions to alcohol and pornography, Travis told a prayer volunteer he has been married nine times and in and out of jail constantly.
The prayer volunteer shared Romans 10:9-10:
"If you confess with your mouth that Jesus is Lord and believe in your heart that God raised him from the dead, you will be saved. For with the heart one believes and is justified, and with the mouth one confesses and is saved" (ESV).
The volunteer encouraged Travis to read more of God's Word and talk to Him through prayer.
"I prayed for the Lord to do a mighty work in his life, including deliverance from alcohol and pornography," the volunteer recalled. "I also prayed for the Lord to guide him to a church where he can grow in his faith."
Coming Back to God
Raymond* dialed the prayer line because he needed someone to talk to after seeing Franklin Graham's ad. He had stopped going to church after losing his second wife and was ready to come back to Jesus.
Raymond prayed with a volunteer to ask God to forgive his wrongdoings and rededicate his life to the Lord.
Annie* had also drifted away from God. After growing up in church, a drug addiction constantly wreaked havoc on her marriage.
She and her husband had just received an eviction notice when Annie saw Franklin Graham's Gospel ad on TV, and she called to surrender her life to Christ.
Annie told a prayer line volunteer that she hopes her husband will give his life to Christ, too. The volunteer encouraged her to find a Bible-teaching church and to pray and read her Bible each day.
When Annie responded that she didn't have a copy of God's Word, the prayer volunteer said the Billy Graham Evangelistic Association would send one to her.
"You would really do that for me?" Annie asked.
Together, they praised God for transforming Annie's life and asked Him to draw her husband to faith in Jesus Christ.
Please pray for these new believers as they deepen their relationship with Jesus Christ and share with others what He has done in their lives.
*Names changed