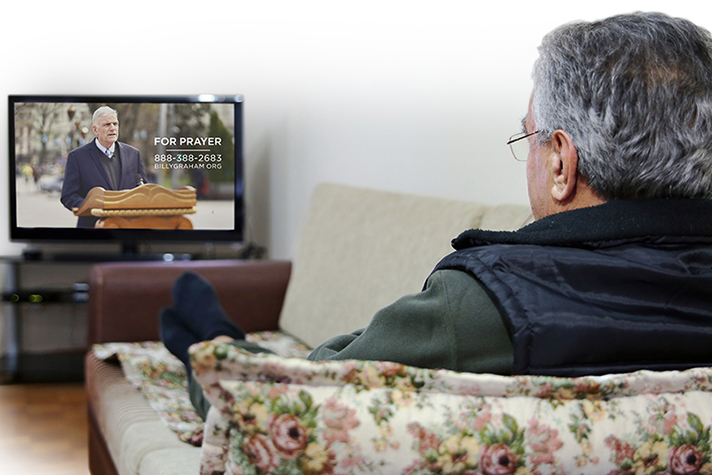 This past Easter, God opened doors to reach millions through national TV. Franklin Graham shared a message from Ukraine on Easter Sunday, while 60-second Gospel ads pointed viewers to the 24-hour Billy Graham Prayer Line for follow-up.
Lisette* was among those who called the prayer line. She spoke with someone from our team, sharing that she's slowly recovering from having both legs amputated. Lisette told the team member about her struggles to rely on a caregiver, look for a different living situation and manage life as an amputee. When she saw Franklin Graham's Easter sermon about the eternal hope of Jesus Christ, she prayed to surrender her life to Him.
>>Call the 24/7 Billy Graham Prayer Line at 888-388-2683
Here are 4 more short stories from the Billy Graham Prayer Line:
From Deep Fear to Deeper Peace
Lindsey* recently called the Billy Graham Evangelistic Association's 24-hour phone line to ask for prayer after she saw a Gospel-focused TV ad. She was distraught over the illness of a loved one and desperate for peace.
As she talked with a trained team member on the phone, the conversation exposed deep fears, and Lindsey said she was afraid her bad habits would keep her out of heaven forever. The team member explained the Good News of Jesus Christ—and the freedom that comes from repentance and faith in Him. Lindsey was overjoyed with the news she could be forgiven and spend eternity with the Lord, and she prayed to receive Christ.
Before their conversation ended, the team member pointed Lindsey to a few local churches where she could begin growing her new faith.
>>Worried about the future? Wondering if you'll ever find peace? Begin here.
Ready to Start Over
Dan* also dialed the Billy Graham Prayer Line after watching Franklin Graham's Easter message, and told the person on the other end of the line that he had prayed to give his life to the Lord.
He shared that the last 50 years of his life had been filled with sin and unhappiness—but when he heard the Gospel on TV, he was ready to start over. The prayer line representative rejoiced with Dan about his decision and shared how he can deepen his relationship with Jesus Christ through prayer, studying God's Word, and attending a local Bible-believing church.
Before their call ended, our team member prayed that God would bring Dan joy—and a fruitful life—through his new relationship with Christ.
'I Need Help!'
Raymond* is a veteran who was deeply burdened by what he saw and did during his time in combat. He called the prayer line after seeing a short Gospel ad on TV.
"I need help," he said. "I've done bad things."
During their conversation, Raymond told the prayer line representative that he had prayed along with Franklin Graham during the ad—and now he wanted to know more.
The team member listened with compassion as Raymond talked about how eager he was for peace and forgiveness before assuring him that Jesus Christ paid for all of his sins on the cross. Raymond was relieved and told the team member he was ready to follow the Lord. He was grateful to receive discipleship resources, including a link to an online church locator to help find a body of believers nearby.
>>Are you looking for a church? Find one near you.
Despair Turned to Hope
Alan,* who is suffering from terminal cancer, called the Billy Graham Prayer Line and immediately shared that he doesn't know how much time he has left. He said he believed in Jesus but didn't know if he'd go to heaven or how to get there. As a prayer line representative shared the Gospel, Alan listened intently. The Holy Spirit opened his eyes, and he finally understood.
Alan prayed a heartfelt prayer of confession and surrendered his life to Jesus Christ. The representative shared how he could grow closer to the Lord and directed him to discipleship resources. Grateful to have joy and hope replace his despair, Alan said he knew of a local church where he could start meeting with other believers right away.
*Names changed to protect privacy