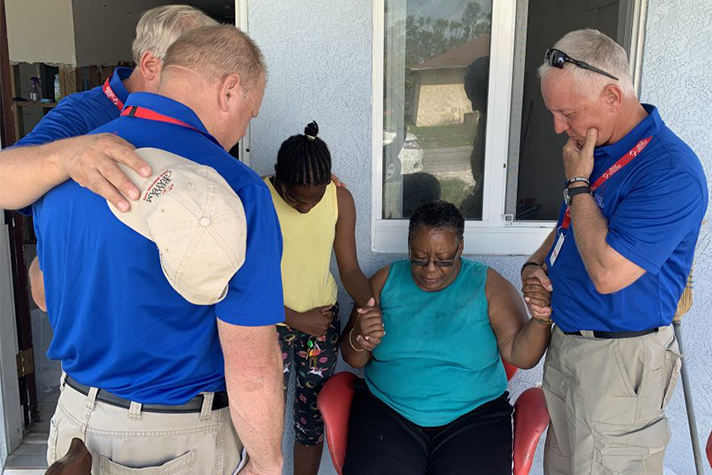 It's been two months since Hurricane Dorian pummeled the Bahamas, leaving at least 61 dead, hundreds missing and thousands of homes damaged or destroyed. The Billy Graham Rapid Response Team (RRT) has witnessed many make a profession of faith since deploying to the islands. They're offering prayer and a listening ear to residents like Carmen Jones, who told chaplains she thought she was going to die.
As water poured into Carmen Jones' home in Freeport, Grand Bahama, she prayed for help to come. She and her two grandchildren were caught in the strongest hurricane to ever hit the islands.
"Rescue never came," Carmen explained to Billy Graham chaplains Miguel Cabrera and Gary Cain, sitting on her front porch amid the wreckage.
She recounted her 72-hour journey of survival.
Water was up to her neck when Carmen instructed Jahnyah ("Nyah"), 11, and Jahiaer, 8, to head to "the manhole," or attic.
"None of us could swim," Carmen said, describing how her grandchildren clung to her as she paddled down the hallway.
"I went underwater twice … almost drowned, but God blessed Nyah. Nyah pushed me back up—I don't know how she did it."
Placing a two-foot ladder below the manhole, they pushed Jahiaer, who was nearly hypothermic, into the attic. Then Carmen helped lift Nyah before trying to go up herself.
"I made an attempt to go up and fell back in the water—bajoom!" Carmen exclaimed.
Popping up from the waves, Carmen headed for the ladder again while saying to God, "I can't make this."
Carmen turned toward the chaplains and patted her right knee, "My body was weak. Having had multiple strokes, this side automatically freezes after being in the water so long."
After asking God for help, she noticed a mattress floating in Jahiaer's room. She maneuvered it under the manhole while Nyah hovered over the opening, asking her grandmother if she could come down and help.
"Nyah never left," Carmen recalled. Her granddaughter kept shouting, "Grammy, I've got you!"
But Carmen still wasn't sure she would live. She fell back into the water again before stepping onto the mattress as a ledge. "Here's the deal," she told her grandchildren. "There's no guarantee Grammy's going to make this. But here's what I want both of you to do. If Grammy don't make this journey with you, when the rain, the water goes down, jump out of that manhole, and run for your lives."
"No!" Nyah persisted. "Grammy, you've got to make it."
"Most Bahamians are encouraged and focused on moving forward. 'Grateful' is the word I heard the most—grateful to be alive and with a house still standing."
—Miguel Cabrera
Carmen looked up toward heaven, telling God, "If this is the way I've gotta go, then so be it. But if my work is not completed, then You've got to show me a way out of this. My body don't have the strength to climb anymore, Father."
"Grammy," Nyah paused. "If you are going to stay down there and die, we are coming down and we're going to die with you."
Carmen pleaded for God to let her live as she tried to climb into the manhole again. This time, she made it. Nyah reached down and grabbed her grandmother, helping Carmen pull herself up.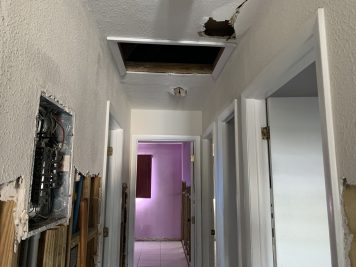 "I don't know who the invisible angels were," Carmen told chaplains. "All I know is it had to have been God. I sat down and said, 'Thank You, Father.' It wasn't my time."
She had no idea what lay ahead, but told her fearful grandchildren, "God didn't bring us this far to leave us, so we're gonna be all right."
In the manhole with only four miniature bottles of water, no food and no insulin for Carmen, who's diabetic, she held onto her faith, praying and singing hymns.
"We lost everything, but we did not lose our praise," Carmen explained. Her heavenly perspective is one chaplains often encourage on deployments.
The family spent three days in the manhole, monitoring water and eventually losing track of time before the lingering storm passed.
"At the end of [the hurricane], I asked God, 'Why?'" Carmen said.
She knew the answer as she sat around a pile of rubbish. God brought to mind how she fought for Nyah's life while still in her mother's womb. She heard God say to her, "You saved Nyah and I allowed her to save you."
As Carmen prayed with chaplains, she recognized the complete picture of God's grace in her life.