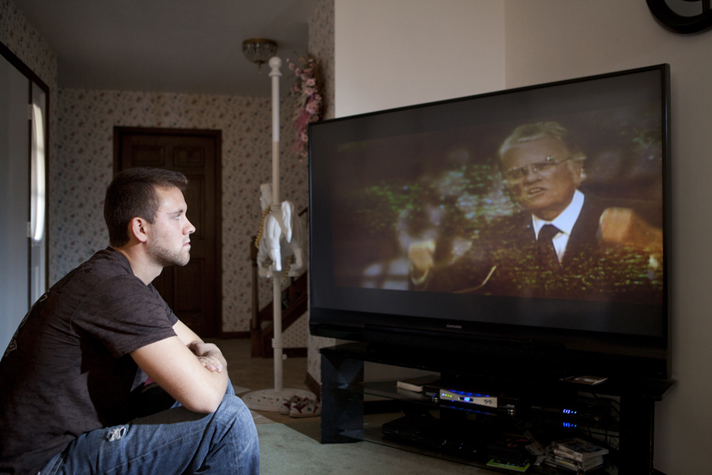 Dawsonville, Ga. – Mary Flasche decided to watch the My Hope film with her two sons, both autistic. Mary says she told her boys that the message of the program was about how people can live forever with God and Jesus. While watching the video, both boys were quiet and attentive. At the end, as Billy Graham prayed, both boys repeated the prayer to accept Christ, along with Mary, who says this was the first time the three of them have ever prayed together.
Amarillo, Texas – Becky Guillen reports her 10-year-old son was saved Thursday night while watching The Cross on TV. He said the sinner's prayer with Billy Graham.
Lakeside, Calif. – Warren and Christina Wattles hosted three neighborhood friends Thursday night, including a man who has long expressed skepticism about spiritual topics. It was their prayer that he would pray to receive Christ after they showed the Defining Moments DVD. Though he did not do so, he attentively watched the program and listened to the spiritual conversation that followed. The man said he enjoyed the video, and the Wattles took heart that evangelism is a process and that God is using them in their friend's life. They were faithful in doing their part and entrust the rest to the Lord and His timing. They believe that no matter where their friend is in his journey toward Christ, this was a step in the right direction.
Sandy, Utah – "We're very close, we're very close." Those words repeated several times by a young couple after the Thursday night showing of My Hope America With Billy Graham were encouraging to Bill Young, pastor of the Rock Church in Sandy, Utah, just south of Salt Lake City. The couple are friends of Bill and his wife Mary and have been attending the church of late and were among six friends and neighbors who attended a showing last night at Bill and Mary's Home. During a discussion following the DVD showing of Billy Graham's The Cross message, the couple said they were working through various spiritual issues and that they were "coming around." In a follow-up conversation with Bill, they said they close to making a personal commitment to Jesus Christ. "Though nobody received Christ tonight as Savior, Mary and I believe that God used the My Hope program and Mr. Graham's message to touch their hearts and that He opened doors that will lead one day to their giving their lives to Christ. We're confident of that."
Linwood, Kansas – A woman named Bianca reports her husband of 38 years said he was a Christian for most of their marriage. Recently, she showed him a My Hope video. "He watched, and rewatched it and rewatched it in his study," Bianca wrote. "After about the fifth time, he asked me to come talk with him. I had the honor to lead my husband to a living relationship to our Lord that is for real and forever."
Grosse Ile, Mich. – Bradlee Cosby showed the My Hope film, Defining Moments at his home in a suburb of Detroit. All five of his brothers committed their lives to Christ.
Brighton, Colo. – At a My Hope gathering at Chapel Hill Church, 11 decisions for Jesus Christ were recorded.
Kingsport, Tenn. – Sullivan Baptist Church recorded four decisions for Christ at a My Hope America student outreach held Wednesday night.
Dallas, Texas area – Dr. Jack Graham, pastor of Prestonwood Baptist, says there are reports of salvations in over 1,000 homes in the Dallas area where members of his congregation shared My Hope videos.
El Cajon, Calif. – Three people received Christ as their Lord and Savior Wednesday night in the home of Charlie and Jo Alegria. The Alegrias, who attend Shadow Mountain Community Church with Rev. Dr. David Jeremiah,  invited 16 family members and friends to help them celebrate a remodeling overhaul of their home. They called it a "home blessing" party, featuring pizza, dessert and the viewing of the My Hope video, Defining Moments. One of the people who prayed to receive salvation was a 17-year-old woman named Triana. She said she has battled deep depression and has contemplated suicide on multiple occasions. She was stirred that the video included the testimony of Christian singer Lacey Sturm, who was planning her suicidal death before God intervened. Triana's mother, Denise, also accepted Christ, as did a 15-year-old young woman named Sarah. All three new believers made plans to attend Sunday services at Shadow Mountain and to begin a Bible study.
From findingmyhope.org – A woman struggling with drugs and suicidal thoughts gave her life to Christ after watching Defining Moments. She said she feels like a new person: "There is someone who loves and cares for me and can fill the emptiness I have had for so long."
Dallas, Texas – Youth pastor Luis Lamas from Prestonwood Baptist Church hosted an off-campus breakfast for student athletes from Thomas Jefferson High School. The football team was captivated by pro football player David Tyree's testimony in the My Hope video, Defining Moments. After the video, 15 students raised their hands and stood up, making decisions for Christ Thursday morning.
Nogales, Ariz. – Two men accepted Christ during a My Hope America with Billy Graham gathering at Crossroads Mission, according to Pastor Van Sickle.
Brighton, Colo. – Harvest Fellowship recorded 51 decisions for Jesus Christ at My Hope gatherings held last weekend.

Topock, Ariz. – 22 people came to a My Hope gathering Thursday evening. Two of them rededicated their lives to Christ after watching The Cross.
Leechburg, Pa. – A high school Bible club held a My Hope outreach at Kiski Area High School near Pittsburgh. One of the students said the event was held after school on Thursday and included pizza, games and a My Hope video. After the video, students split up into small groups to share their stories and pray. Sixty students gave their lives to Jesus. "In a way, we brought hope back to our school," the student reported. "We did it through Billy Graham."
Charlotte, N.C. – Two people raised their hands to say that they prayed to receive Christ after watching The Cross at Steele Creek Church. About 80 people from the church have been trained as Matthew hosts, and most will be showing the program in their homes, but leaders also wanted to have a showing at the church on Billy Graham's birthday. "There are so many people that are lost," said Carter Brydon, who led the My Hope effort at the church. "There are so many people that don't have hope. There are so many people that we see in our neighborhoods and our work. This just resonated."
Rhome, Texas – A business owner decided to share the Gospel message with his employees by showing the My Hope America with Billy Graham program. Since the majority of the employees speak Spanish, the owner decided to use the Spanish version of a program called Momentos Decisivos. Employees were permitted to watch the video on company time while making overtime pay. At the time of this posting, one employee had received Jesus Christ as his Savior for the very first time.
High Point, N.C. – On Tuesday, Defining Moments was shown at High Point's Salvation Army shelter. Four residents invited Christ into their hearts, and 12 rededicated their lives to Him. The following night, The Cross was shown at High Point Detention Center. Several men prayed to rededicate their lives to Christ, and two men made first-time commitments to Christ.
;