Franklin Graham and his daughter Cissie Graham Lynch were among thousands who walked almost shoulder-to-shoulder down Washington, D.C.'s Constitution Avenue on Friday, January 24, for the annual March for Life.
It's the 47th year for the peaceful protest, which was officially born in response to the Supreme Court's 1973 decision in Roe v. Wade to legalize abortion. The March has grown since then, and this year's event included President Donald Trump as a speaker.
"It's amazing to see people in our nation's capital stand for this issue," Graham shared during the walk, clad in his black baseball cap and white tennis shoes.
"For President [Donald] Trump to come here and do this—I'm proud of him. He has guts.
"He's a flawed individual like we all are, but he is the right man for this particular era at this point in history. He's the only president who has stood for life like this."
Trump became the first United States president to speak at the pro-life event when he took the stage on Friday. The crowd cheered as he reiterated the goal of the day: "to defend the right of every child—born and unborn—to fulfill their God-given potential."
"All of us here today understand an eternal truth," Trump continued. "Every child is a precious and sacred gift from God."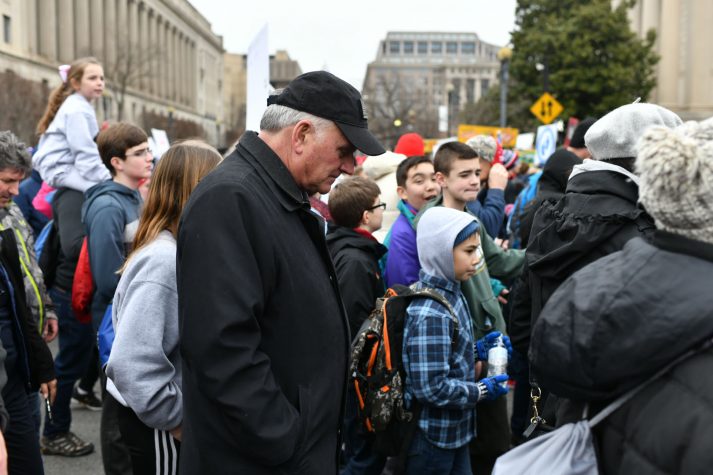 Psalm 127:3 declares, "Children are a heritage from the Lord." That's something that nobody—mothers, fathers, legislators—should take lightly.
"God created life," Graham said. "No one has the right to take life. Pray for all these people here today. I want to thank people for coming and supporting this cause.
"Mr. President, I just want to say thank you for coming down to address the March for Life. That is huge. You're the only president to ever do that. … Thank you for taking a stand for life. It's so meaningful to each and every one of us."
Cissie Graham Lynch, who recently shared her own struggles with motherhood, couldn't stop smiling on Friday as she walked with her father down Constitution Avenue. The March proceeded through occasional drops of cold rain, past the United States Capitol and ended in front of the Supreme Court of the United States building.
>>LISTEN: Cissie Graham Lynch on standing for life in a secular world
"What's remarkable is it has been 47 years since Roe v. Wade and now you have a generation rising up today to stand for life," Lynch marveled. "So many people are marching for their voices to be heard in front of the Supreme Court.
"As we've been marching, you hear chants and cheers, you see signs from people all over the country. We are a generation who can change the course of where we've been going."