Formed after the Supreme Court made abortion legal in all 50 states through Roe v. Wade and Doe v. Bolton in 1973, March for Life is an annual event with the goal of overturning the law and supporting the unborn.
"I always thought it was a fight for somebody else," Lynch admitted to Mancini, thinking it wasn't necessarily her job to stand up for the life of babies in the womb.
That was until Lynch attended March for Life for the first time in 2020. The mother of two said the experience forever changed her life—and encouraged others to join the 48th March for Life virtually.
>> Watch Cissie Graham Lynch's prayer during the March for Life on January 29.
In 1974, "organizers thought it would be a one-off or two-off because the decisions would be corrected by the Supreme Court," Mancini explained. "They never anticipated 48 years later we'd still be marching. Nor would they anticipate the march would become the largest human rights demonstration worldwide. The march is … to make abortion unthinkable and illegal, as well."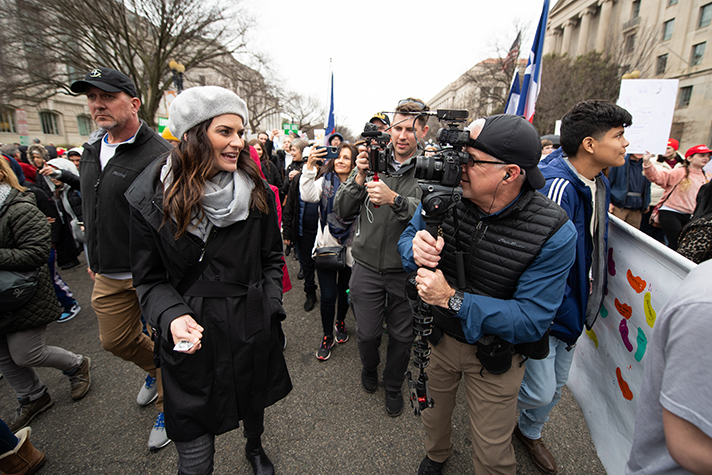 In 2020 alone, there were over 42 million abortions conducted worldwide. With this year's theme "Together strong: Life unites!" amid a pandemic, advocates for the unborn will safely livestream the event being held by a small group of pro-life leaders in Washington, D.C.
"Abortion is divisive," Mancini said, adding that it separates families—including mom and baby—and divides culture. "It's inherently disintegrating instead of integrating."
>> Listen to the full episode on Cissie Graham Lynch's Fearless podcast.
"This breaks the heart of God," said Lynch, who will be praying on the livestream. "This isn't a political issue; it's an issue of the heart."
But, that means there's a solution.
"There's always hope and healing in Christ," Mancini said. "Christ doesn't want people walking around with that hurt and that pain."
Mancini has been working to make abortion unthinkable—in hopes that no woman would want to choose abortion. For her, she finds changing women's hearts and minds to be more difficult than legal battles.
"That takes a lot of love, a lot of grace and people on the frontlines changing that," Lynch said.
Although it's a frustrating spiritual and cultural fight, Mancini knows the daunting task is worthwhile to save lives.
"Even though we've made so many wins … there are still 800,000 abortions every single year," Mancini said. "We really have to steep everything we do in prayer."
While these prayers are crucial year round, thousands of prayers pound the gates of heaven during the annual March for Life.
"If we don't all do our part and join together, we're not going to be victorious on this," Lynch said. "We're so much stronger, like an impenetrable force, if we're working together on this. Not just in prayer, but giving witness to the life being lost on a regular basis … in the public square.
"I think it's more important than ever that people show up and say we're not going anywhere, we're going to fight for this issue until we change the hearts of people. I promise you it will change your life and give you a burning passion inside of your heart for life."