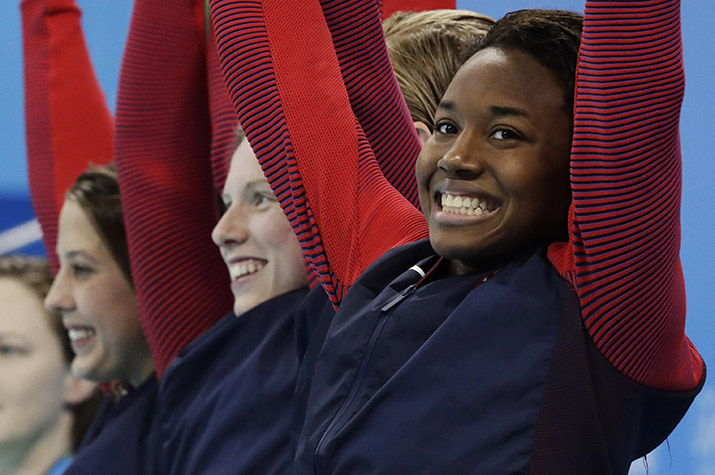 "All glory to God."
Those four words, spoken by Simone Manuel to the world during NBC's Olympics coverage, sum up more than an historic, gold medal-worthy 100-meter swim for the 20-year-old from Texas.
These words echo a truth that runs deep in her life. That she, Simone, "can do all things through Christ."
"Because He gave it to me, I feel that I should use my talent to glorify Him," Simone told the Billy Graham Evangelistic Association. "He's the reason why I have the ability to do what I'm doing, so all glory goes to Him because this is not just all me. It's Him working through me."
Philippians 4:13 is one of several Scripture verses that Simone clung to while navigating the road to Rio de Janeiro, site of the 2016 Summer Olympics. There, she medaled four times, notably becoming the first African-American to win individual gold when she tied for first in the 100-meter freestyle. She also anchored the 400m medley relay team that won gold. She won silver in the 50m free and the 400m free relay with a team that included Stanford teammate Katie Ledecky. Simone and Ledecky returned to swim for Stanford, which opened its season last weekend.
When God got you, you can't lose. It wasn't the easiest journey, but I couldn't be happier with my first Olympics!🇺🇸 pic.twitter.com/99p2jg8Ymp

— Simone Manuel (@simone_manuel) August 14, 2016
The journey was anything but easy for Simone, but one thing she's never lacked is passion and determination. The youngest of three constantly asked her mom if she could go to swim practice, just like her older brothers. Water safety is a big focus for the Manuels so enrolling Simone in lessons was on their radar; their 4-year-old daughter's persistent request just sped up the timeline. The second day of lessons, Simone swam across the pool.
"I don't want to say it came easy, but you could see it early on that she had a talent and a gift there, and a love, just an affinity for the water," Simone's mother Sharron Manuel said.
Simone was at home in the water, but over time, she started to feel out of place on the pool deck. Nobody else really looked like her. Consider one USA Swimming Foundation study that found 70 percent of minorities have little to no swim ability whether because of access, fear, finances or a combination of those factors.
Young Simone leaned on her mother for advice and also researched the topic herself. She learned names like Maritza (Correia) McClendon, the first African-American woman to break an American record in swimming and the first to make the American Olympic team in 2004. She was motivated.
"I did the research, but I also found peace with the fact that I'm swimming for something bigger than myself, and it's not completely about me," Simone said. "It's something bigger than myself and that would be the people I'm inspiring."
It is an honor to represent the USA! God is working in me! I am so blessed and grateful. Thank you all so much for your support. — Simone Manuel (@simone_manuel) August 12, 2016
She set her sights on the Olympics, collecting international acclaim along the way and four NCAA championships during her freshman year at Stanford. She redshirted her sophomore year, that is she sat out of NCAA competition for the 2015-2016 season, and focused entirely on competing in Rio.
Everything was going swimmingly. Then she got sick.
And she wasn't getting better.
A persistent sinus infection plagued Simone. She was exhausted, frustrated, and yet she still completed every rep even though it felt like "someone [was] squeezing [her] head underwater." The sinus infection prompted a rib injury and a back injury, which just meant more pain. Tears weren't uncommon; neither was an occasional "Why?" directed skyward.
"I kind of had made all those sacrifices and then I had all those bumps in the road along the way," Simone said. "I was kind of questioning why this year, the year I'm trying to make the Olympics team? But through it all, I just kept praying, kept believing, kept focusing on Scripture to get me through those times."
Six weeks prior to the Olympics, a CT scan revealed that Simone had complete blockage of her right nostril. Surgery was the recommendation. The Manuels said yes.
"I prayed with her. I prayed for her. I had people at my church praying, family members," Sharron said. "We wouldn't have made it without prayer and to see that even though she was not 100 percent, that God really held her together through all that."
Four-time gold medalist Katie Ledecky roomed with Simone in Rio and noted that her fellow Cardinal's faith is central to her life.
"She's been given a great gift from God, and she wants to carry it out and do the best she can every time she's in the pool," Ledecky said. "So it's really inspiring to see that and to see how that remains at the center of her life."
On Aug. 11, Simone warmed up for the 100-meter freestyle final by listening to "Victory" by Yolanda Adams. That was the only reminder she needed.
"Just kind of proclaiming the victory I had in Jesus," Simone said. "Regardless of whether I won or lost, I was just content with the fact that He loves me, He's given me this talent. He doesn't love me just because of what I've done. He loves me for who I am and He loves me for loving Him."
And swimming her best was her gift back to her Heavenly Father. That's something her mom always reminds her, just as she frequently pours God's Word and inspirational thoughts into her daughter's life, sometimes by text message at meets. Sharron recalled how she once messaged her daughter, "Sometimes the smallest ripple can cause the biggest wave."
Nothing could have been truer of the moment when Simone touched the wall and won in Rio. Her eyes spilled over in the moment as she reflected on the hard year and took in the magnitude of the achievement. Her gold medal run boosted searches on the USA Swim site and social media exploded. According to USA Swimming, she notched 56,000 more mentions than Michael Phelps, who picked up one of his five gold medals that same day when he crushed the 200-meter individual medley.
One mom snapped a picture of her African-American daughter in front of the television grinning with a victorious Simone. Another person tweeted a picture thanking Simone for her boldness.
@simone_manuel thank you for doing what you did at the #Olympics – now our twins are taking their 1st lessons today pic.twitter.com/kGAEe0g5EP

— Sai and Samara (@saiandsamara) August 22, 2016
"It means a lot to me, but I'm extremely humbled by it all, by the fact that God chose me to be that person to make history and hopefully inspire young children or even adults to get into the sport of swimming and learn how to swim and be water safe," Simone said. "I'm extremely humbled that I was chosen to be that person to deliver this message to the world." It's a burden she doesn't take lightly—to encourage others, particularly minorities, to become water safe. As praise poured in from all over the globe, she remembers being a bit starstruck when she received well wishes from Lebron James, Allyson Felix and Serena Williams.
"It's really cool because I'm super inspired by those three athletes," Simone said. "Just to get a congratulations from them and kind of tell me that they're proud of me or that I'm doing good means a lot.
"Maybe one day, I'll be doing the same thing for someone else. Just passing the torch."
BGEA writer Tiffany Jothen contributed to this article.