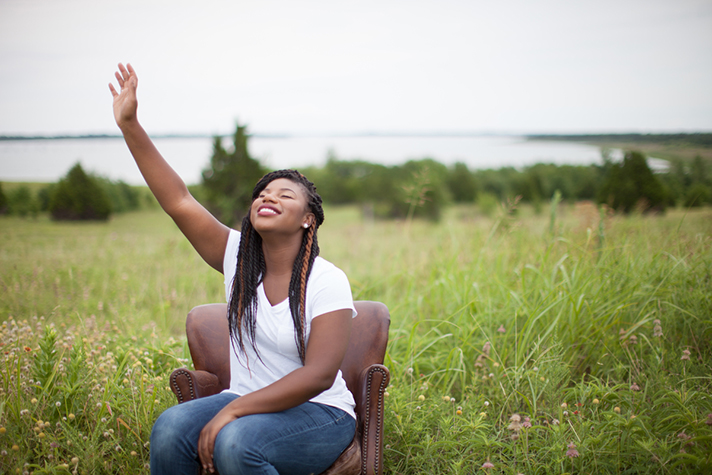 This summer, we're exploring God's grace through a 4-part Summer Soul Refresher series that includes contributions from several of Billy Graham's grandchildren.
Franklin Graham's oldest son, Will, spelled out the definition of God's grace in Part 1. This second installment features insight from Franklin's youngest child and only daughter, Cissie Graham Lynch. 
"But he said to me, 'My grace is sufficient for you,
for my power is made perfect in weakness.'"
—2 Corinthians 12:9
The above verse is one Cissie Graham Lynch has read over and over. In her roles as wife, mother, daughter, friend, and ambassador for the Billy Graham Evangelistic Association and Samaritan's Purse, she has to rely on God's grace and not her own power.
Here are three things she's learned about the divine nature of His grace.
1. It's not something we can fully grasp on this side of eternity.
"God's grace has always been a mystery to me and probably to all of us," Cissie said.
She struggles to wrap her mind around the extravagance of God's grace, which He poured out on us when He sent His Son to die for our sins.
Divine grace, Cissie explained, is extended to anyone who believes in Jesus Christ, from the most faithful churchgoers to murderers, rapists, and those who are often viewed as the worst of the worst. Titus 2:11 says, "the grace of God has appeared, bringing salvation for all people."
"Even though at times we might say God sees all sins equal, most of us are guilty of forgetting that and thinking we haven't sinned as badly as others," Cissie said. "And it's right there at that moment when we start comparing our sin—that's when we don't understand God's grace."
On the other hand, we might think our particular sin was so terrible, God could never forgive us. That, too, Cissie says, shows our struggle to understand divine grace.
>> Are all sins equal in God's eyes? Read Billy Graham's answer.
2. It appears over and over again.
Cissie says the Old Testament book of Nehemiah comes to mind when she thinks about how God extends His divine grace again and again.
"There's no limit to God's grace," she said. "You kind of see that in Nehemiah chapter 9 when God continues to give His grace over and over to the Israelites who have been undeserving and keep turning their backs on him."
Unlike the grace we humans tend to offer one another, God's divine grace keeps going, even after we've sinned repeatedly. "The steadfast love of the Lord never ceases; his mercies never come to an end; they are new every morning" (Lamentations 3:22-23).
3. It's not dependent upon our performance.
With two young children running around at home, Cissie, like all parents—and all human beings—has times when she loses her patience and falls short.
"I fail in our human grace every day," she said. "I can go to bed exhausted and frustrated and mad, and know that it was wrongly taken out on my husband or on my children."
The Bible says "all have sinned and fall short of the glory of God, and are justified by his grace as a gift, through the redemption that is in Christ Jesus" (Romans 3:23-24). In other words, grace isn't something we can ever earn; it's a gift we don't deserve.

For Cissie, that gift is something she's grateful to receive every single day.
"I'm just so thankful that I can go to the Lord and ask for His grace."
"For from His fullness we have all received grace upon grace."
—John 1:16