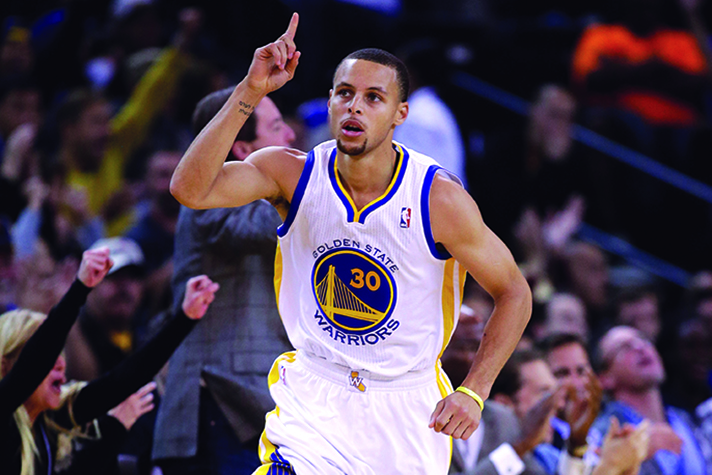 Editor's Note:  Stephen Curry and his Golden State Warriors teammates have begun their playoff drive to win a second consecutive NBA championship. Curry suffered an ankle injury in their first playoff win, and hopes to recover and return to the court as soon as possible.

Curry, a devout Christian, led the Warriors to an NBA record 73 wins during the regular season, breaking the mark set 20 years ago by Michael Jordan and the Chicago Bulls. Curry is the runaway favortite to win his second straight MVP award after setting a league single-season record with 402 three-pointers. This story about Curry and his faith originally appeared in the February 2014 edition of Decision Magazine.
You know you've arrived as an elite basketball talent when the NBA's two-time defending champions, the Miami Heat, and the game's best player, LeBron James, can't stop raving about the shooting and passing display you put on to send them back to South Beach shaking their heads.
"One of the best shooters the NBA will ever see," James said. "You just hope he misses."
The sharpshooter is Stephen Curry, a 6-foot-3, 185-pound point guard for the NBA's Golden State Warriors who scorched the Heat last month with 36 points, 12 assists and four steals.
It was enough to give a guy a big head.
But not Stephen (pronounced Stef-en, Steph for short). He's a Jesus-loving husband and father known for a humility forged as a young boy growing up in Charlotte, N.C., with devout Christian parents who began each morning with a required family devotional time before school.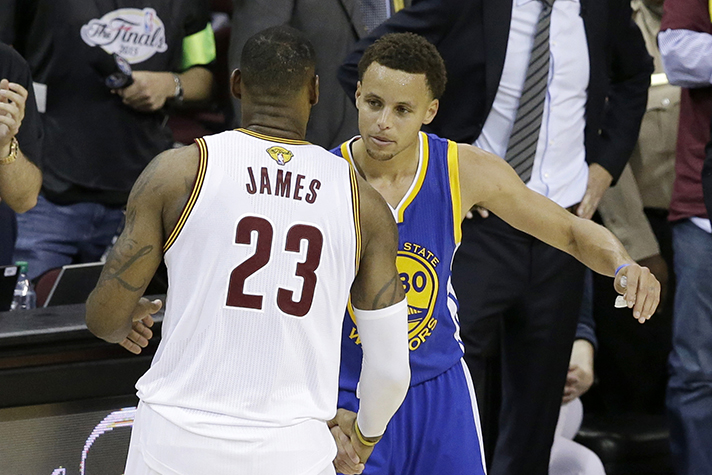 Since then, Steph has evolved from being a lightly recruited high school player to a mercurial collegian who almost led tiny Davidson College to the 2008 Final Four to now being nothing short of an emerging NBA superstar.
It helps that his father, Dell, played 16 years in the league and his younger brother, Seth, played at Duke.
Steph is loaded with confidence but very little, if any, cockiness.
Sometimes he points his right index finger upward after making one of the long, high-arcing rainbow jump shots that have become his trademark.
It was a practice he began at Davidson, at his mother's suggestion, as an outward sign and internal reminder that God gets all the glory for his success.
"Obviously, there's a lot of hoopla and fanfare that follows you wherever you go, but I know where my talent comes from," Steph told Decision in December while in his hometown for a game against the Charlotte Bobcats.
"I know why I play the game, and it's not to score 30 points a night, but it's to use the stage I'm on. I've been put here for a specific purpose: to be a witness and to share my testimony as I go through it."
In a column last year for the Fellowship of Christian Athletes website, Steph wrote that he loves to point people toward "the Man who died for our sins on the cross. I know I have a place in Heaven waiting for me because of Him, and that's something no earthly prize or trophy could ever top."
Steph grew up a church kid, but points to a youth service when he was 13 as the time when he accepted Jesus as his personal Lord and Savior.
"It was a big decision that my parents couldn't make for me," he said. "It's been a great walk since then. He means everything to me."
It's hard to measure just how much Curry, 25 and in his fifth pro season, means to the Warriors as a player and as a spiritual leader.
Curry led Golden State to a 10-game winning streak that ended in January. He played in his first NBA All-Star game on Sunday and is the league's 5th highest scorer this year (24.6 points per game) while ranking  2nd in assists (9.0 per game).
Many considered it a gross oversight that he wasn't selected for last year's all-star game—particularly since he set an all-time NBA record for most three-point shots made in a season (272) and lit up Madison Square Garden with a 54-point performance in a win over the New York Knicks.
All of that happened despite nagging ankle injuries. Now that he's healed, he's better than ever.
"He's a calm, cool, collected customer who has tremendous faith," said Warriors coach Mark Jackson, who co-pastors a church in Van Nuys, Calif.
"He's playing and acting like he's the best player on the floor night in and night out. It's really fun to watch. It takes everyone else [on the team] to a different level."
Curry and Jackson have a unique player-coach relationship because of their shared passion for Christ.
"He's the type of guy you look at and say, 'That's how I want my son to be,'" Jackson said. "It's a great testament to who he is and the God he serves. He comes from a great background and has a great foundation. I made sure to go to his parents and thank them for the way they raised him.
"It's been a tremendous blessing to me and my family to be able to coach him and trust this basketball team to him. If I'm going to bet the house on somebody—which is really what I'm doing—it's going to be a guy like that who has tremendous character."
Teammates describe Steph as a model of consistency off the court as well as on.
"He's probably one of the most humble superstars I've ever met," said Warriors forward Harrison Barnes. "A lot of that is based on his faith. He's a guy who not only talks it; he lives it. I think he garners a lot of respect in this locker room because of that."
Golden State forward David Lee said Steph played an integral role in his decision to put God at the center of his life.
"It's something that's a lifestyle for him," Lee said. "I've watched him sometimes from a distance, but I've also asked him questions about his faith. He's been a huge influence on me."
Steph and his wife, Ayesha, met in church as teenagers and have been married for almost 2½ years. He proposed to her at the same spot on the driveway where they had their first kiss. Rather than registering for gifts, they asked their wedding guests to make donations to an organization that supports spouses and children of soldiers.
They have an 18-month-old daughter, Riley, and Steph frequently sings Disney songs while holding her.
During a mission trip to Tanzania last summer, Steph wrote a poem about Riley.
According to an ESPN.com report, he called his wife while he was standing in a field amid goats and sang the beginning line: "When I look at our daughter, I'm beaming with pride. She's the best example of our love inside." Ayesha was silent for 30 seconds.
While in Tanzania, Steph donated 816 mosquito nets—three for every three-pointer he made last season—to African refugees to fight the spread of malaria in the country.
Steph's father, Dell, said the trip helped remind Steph not to take anything for granted.
"He understands that everything is given by the Lord and that it can be taken away, too," Dell said.
Dell readily admits that Steph is a much better player than he was.
Like his dad, Steph has what's known as a shooter's mentality. Even if he misses a bunch of shots in a row, he keeps firing. In the December game at Charlotte, he missed seven of his first eight attempts, but finished with a season-high 43 points.
Recoveries like that are examples of how basketball has helped Steph gain spiritual perseverance, which was especially forged during the 2011-12 season, when he missed 40 games with an ankle injury.
Regardless of his health or how he plays on a given night, Steph is known for having a consistent, even-keeled temperament rooted in one of his favorite Bible verses, Philippians 4:13: "I can do all things through Christ who strengthens me" (NKJV).
Though he's an intense competitor who sometimes pumps his fist or flashes a bright smile after making a key play, he said he's most enthusiastic about spending time with his family.
"I love to play the game, and I love when good things happen," he said. "But when I get home, it's about my family and just enjoying the blessings in my life without letting [basketball] define my personality or my character.
"The time with my wife is huge so we can continue to grow and not be complacent with where we are in our walk with Christ. Obviously, we can all be better at that."
The Miami Heat and the rest of the NBA will be much obliged if Curry's game doesn't get any better.  ©2014 BGEA
Looking for the Peace that Stephen Curry has? Find out more here.