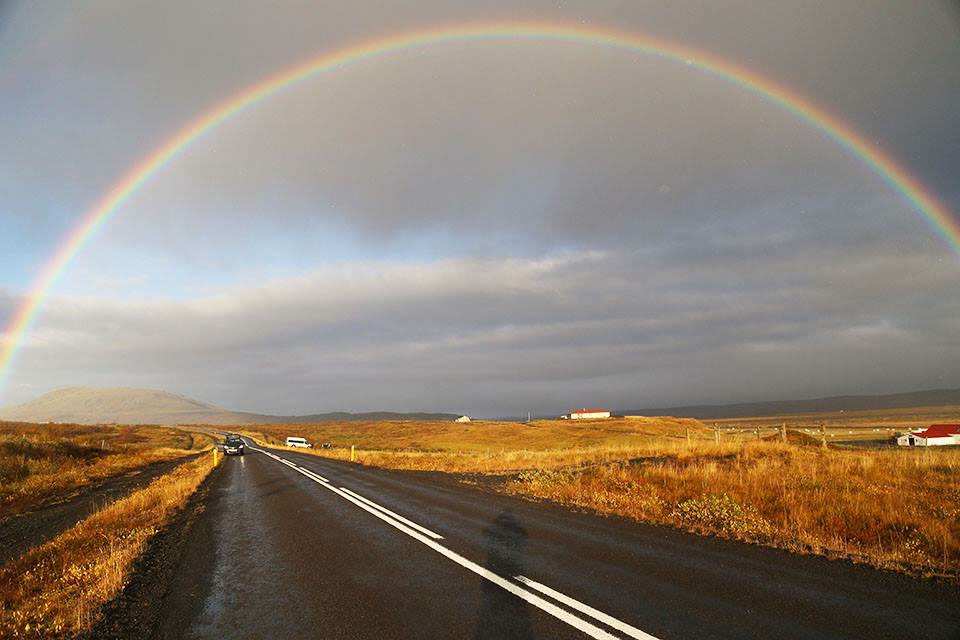 Quick question: What do you know about Iceland?
It's icy, right? Or is it green?
Maybe you vaguely remember the history lesson — in the late 900s, Erik the Red was exiled from Iceland to a country he called Greenland, and he tried to convince other Vikings to come visit.  One of history's first bait-and-switch marketing schemes.
So it turns out, Greenland's actually icy. And Iceland's actually green, or relatively speaking anyway.
But that's not where the confusion stops.
In the year 1000, the government declared Iceland a Christian nation — mostly to fend off a civil war — and the pagans would be allowed to worship privately as a compromise.
And over a thousand years later, 90 percent of Iceland calls themselves Christians.
Yet, less than 4 percent understand the true Gospel message. That's right, less than 13,000 people in the entire country, according to Operation World.
"The church (in Iceland) has a place in your life, but it's not a primary place," said Hans Mannegren, director of the Sept. 28 and 29 Festival of Hope (Hátíð Vonar). "You may go to church once or twice a year. Maybe for a funeral or a wedding, but it's not of great importance."
According to a 2011 Gallup poll, 60 percent of Icelanders considered religion to be unimportant in their daily lives, one of the highest rates of irreligion in the world.
So with only 3.8 percent of the Iceland population identifying themselves as evangelical Christians, the need to share the Good News of the Gospel is as pressing as ever.
"The challenges are not on the practical level, but on the spiritual level," Mannegran said. "We have a combination of what we call the post-modern and the secular mind."
Logistically speaking, Iceland is very easy to navigate. The country is about the size of Kentucky with a sparse population of only 320,000 — about the number of Lexington, Ky., residents.   
But the real challenge is not just finding people to invite to the Festival of Hope, but trying to figure out where they stand spiritually. Some 275,000 (or more than 85 percent) are affiliated with the State Church, which is nominally Lutheran, according to Wikipedia.
"It's also perceived as everyone is on the same team," Mannegren said. "The majority of the people have been baptized in the Lutheran church. A lot of people would perceive themselves as being Christian."  
Dedicated believers have been in prayer for months and in some cases years, hoping for revival to sweep across this nation. A concentrated prayer effort started in the spring of 2008, shortly before the economic collapse, and a group of 15-30 people have been praying weekly — every Wednesday at noon — ever since for God to move mightily.
"It's a small community that thinks evangelistically, but those who do are excited and they are the ones who have been praying," Mannegren said. "It's an amazing story how this came to be."
Reykjavik (pronounced RAKE-ya-vick), the northernmost capital city in the world is home to about a third of the Iceland residents (two-thirds if you look at the greater Reykjavik region).  It's already turning cold in Reykajavik, as highs are forecasted for the low-to-mid 40s.
The two-day event will be held at Laugardalshöll, an indoor sports and exhibition center used for concerts and events like team handball. The venue will be set up to accommodate about 3,000 people plus an overflow area.
Bobby Fisher defeated Russia's Boris Spassky here in the World Chess Championship 1972, often dubbed as the "Match of the Century."  The local committee, fervently praying these past couple months, is hoping this turns into the "Event of the Century."
On Sept. 28 and 29, it will be Michael W. Smith headlining the Festival of Hope's musical lineup, which also features local artists, setting the stage for a Gospel message of hope from Franklin Graham.
Mannegren is convinced the Festival of Hope will be a catalyst for the Christian community and confront and encourage those who have fear of sharing Christ with friends and neighbors.
"It's scary to invite your friends to come," he said. "You don't know how they're going to react. But it forces people to believe in God more than believing in methods."  
Please pray for this outreach, which is taking place on the same weekend as Franklin Graham's son, Will Graham, preaches the Gospel in Fukushima, Japan, an area which suffered another earthquake today (5.3 magnitude) and is still trying to recover psychologically from the radiation fallout from the 2011 tsunami.
"With dad being in Europe and I'm in Asia, that's what the Gospel is about," Will Graham said. "I guess In one sense we're preaching to the uttermost parts of the world."
But both still covet your prayers this weekend.
"This is about prayer," Mannegren said. "We pray that God will open the minds of people. And that God will open the minds of Christians that they will invite their friends and neighbors."
Franklin Graham agrees wholeheartedly about the importance of prayer.
"We need prayer," he said. "We can not do a Festival without prayer. It takes people praying for the unsaved."