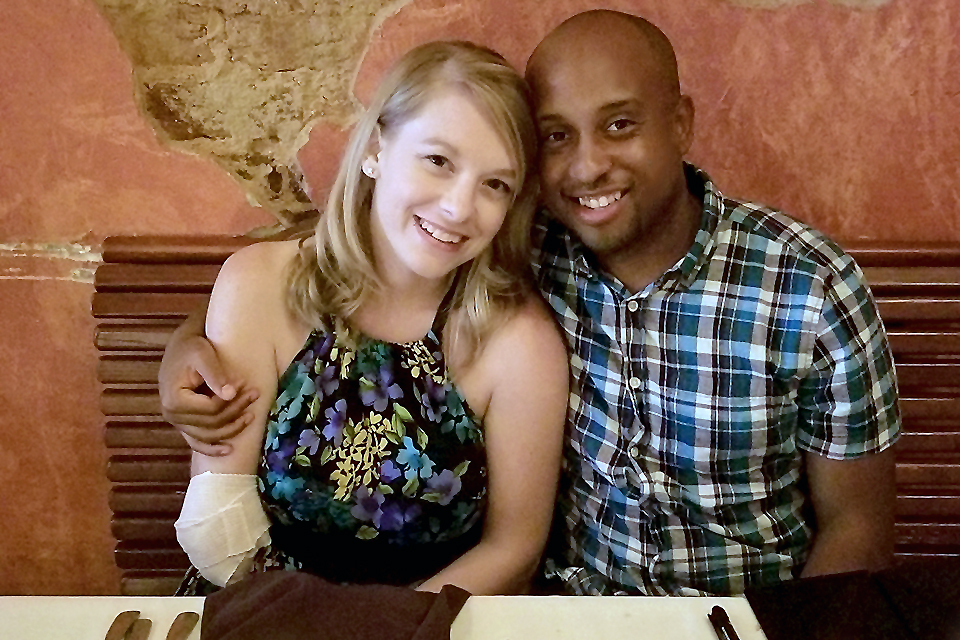 Just days after a tiger shark amputated her lower right arm, Tiffany Johnson was in her Concord, North Carolina, home settling in for her daily devotion.
A portion of Psalm 18 was the featured verse, but she wanted to see the entire text, so she grabbed her Bible.
As she read, tears filled her eyes. Gratitude washed over her. Nearly the entire passage paralleled her recent testimony.
I will love You, O Lord, my strength.
The LORD is my rock and my fortress and my deliverer;
My God, my strength, in whom I will trust;
My shield and the horn of my salvation, my stronghold.
I will call upon the LORD, who is worthy to be praised;
So shall I be saved from my enemies.
The pangs of death surrounded me…
The Scripture transported her back to Friday, June 2. That's when the shark attacked her while she snorkeled with her husband James in the Bahamas. Snorkeling is something the couple first started doing eight years ago. They fell in love with it during their honeymoon in Maui, and they've always dreamed of one day seeing Australia's Great Barrier Reef.
This time, as part of a cruise excursion, they were exploring one of Nassau's popular coral reefs. Tiffany was captivated by the beauty of God's creation when she felt something bump into her.
Still underwater and breathing through her snorkel tube, she calmly turned her head to the right and locked eyes with the shark. The massive steel-gray creature floated quietly. His black beady eyes occasionally darted; his unflinching jaws clamped tightly around her arm.
Tiffany didn't feel pain, and she didn't panic, a response she now attributes to God giving her a "sound mind" in the midst of peril (2 Timothy 1:7). A reel of her life began to flash before her eyes. Quickly the mother of three pushed those memories back down and turned her thoughts to survival. The shark thrashed, attempting to pull Tiffany further underwater.
The snares of death confronted me.
In my distress I called upon the LORD,
And cried out to my God.
Tiffany snapped the remainder of her arm loose, ditched her snorkel gear and started swimming with her left hand back toward the small boat. "Help me Jesus," she screamed as a massive blood trail followed her. She swam and prayed and swam and prayed.
He heard my voice from His temple,
And my cry came before Him, even to His ears.
…He parted the heavens and came down;
…He sent out His arrows and scattered the foe
The Peace of the Lord
Looking back, Tiffany firmly believes God intervened, restraining her attacker as well as any predators likely lingering nearby. Experts told her these sharks hang out together. She is especially grateful when she considers her husband, detained briefly by sea sickness, jumped back in the water to help her to safety.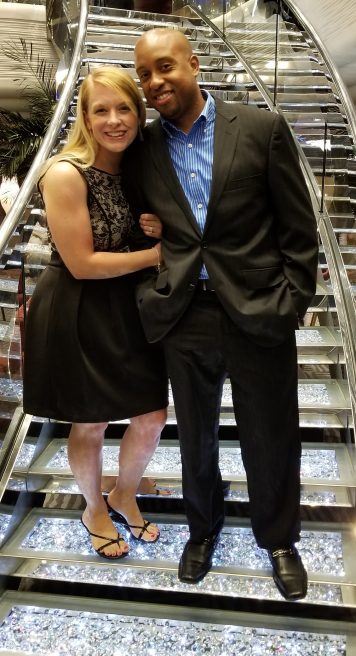 "When I got into that boat, the peace of the Lord was so strong on me," Tiffany said. "It was like a cloud, a thick presence, tangible. I've never felt anything like that before."
A panicked sense of urgency filled the boat, but Tiffany calmly asked her husband to get one of those cruise ship towels to tie off her wound, which he did, working through the shock of seeing his wife's traumatic injury. She closed her eyes and prayed during the half-hour boat ride to shore.
"There's just so many miracles in just getting out of the water alone and in that boat ride," Tiffany said, noting her prayer focus shifted from her family to the doctors to God's will for her life. "I prayed that God would use this for His glory and somehow He would make this a massive testimony that would change lives."
He sent from above, He took me;
He drew me out of many waters.
He delivered me from my strong enemy,
Tiffany and her husband were transported to a Bahamian hospital, which also was chaotic. The peace of the Lord stayed strong on Tiffany, so much so that she pulled down her oxygen mask before surgery to tell the doctor, "I'm praying for you." Stunned, the doctor later told his wife about this patient.
Prayer became her No. 1 focus, and she was encouraged by the nurses who, with Caribbean accents, reminded her "Jesus is with you." It was a great comfort for someone still fighting for her life.
They confronted me in the day of my calamity,
But the LORD was my support.
He also brought me out into a broad place;
He delivered me because He delighted in me.
Now miles and miles from their cruise ship and even further from their North Carolina home, the Johnsons were passport-less in a foreign country. And the U.S. Embassy was closed until Tuesday. On the surface, that meant a minimum three-day wait to get home.
But Tiffany and J.J. believed God had a plan, and very soon they were rejoicing over yet another miracle. A fully funded emergency flight would take them not just to the United States, but to Charlotte, North Carolina, within 24 hours. What's more, a pair of leading hand surgeons awaited her case.
A Spirited, Driven Response
Drs. Glenn Gaston and Bryan Loeffler meet every Thursday to research advancements in amputee care. Within the last year, the OrthoCarolina hand surgeons made significant progress, which was perfect timing for Tiffany. Gaston and Loeffler relied on their past research as they carefully tested nerves and muscles during Tiffany's surgery to find the best combinations before successfully plugging the severed nerves back into working muscle.
To make sense of the innovative maneuver, think of the nerves as live wires. Dr. Gaston shared that cutting the wire doesn't deaden the electricity, it just eliminates its pathway. Raw nerves still fire and that often means phantom pain for patients, sometimes to the point of making a prosthetic impossible. In Tiffany's case, the surgeons rerouted her fresh nerves, but Gaston stressed this procedure can benefit even patients who suffered traumatic amputations years ago.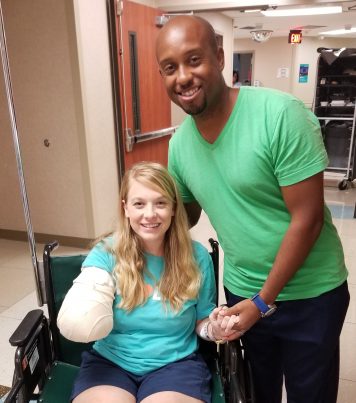 To date, Gaston and Loeffler have completed maybe a dozen of these surgeries, which have garnered national attention both in the educational and media sectors. Tiffany was the first shark bite victim they treated, but there was something else that set her apart to these physicians.
Amputations aren't just traumatic physically; they bring psychological vulnerability, too. The emotional aspect is also part of the OrthoCarolina treatment plan, but both doctors, two men who quietly carry their faith as they help others, said they were inspired by Tiffany's strength.
"I was immediately impressed by her strength and positive attitude," Loeffler said. "It was very clear at the time that her spirituality and faith were very important to her and helped serve her a lot to get her to where she was."
"When we see patients who have been through major trauma like this, they will respond very differently," Gaston added. "Many are scared. Many are angry. Many have a 'Why me?' attitude. And one of the biggest things she had was an incredibly positive outlook on it. From day one, she had already moved into accepting what had happened and how can I let this be a positive in my life."
As for God, His way is perfect;
The word of the LORD is proven;
He is a shield to all who trust in Him.
Mike Jenks trusts in the Lord. Certified in prosthetic and orthotics, he is an area manager for Hanger Clinic and will be working with the Johnsons on Tiffany's new hand, which she could be able to control mentally thanks to the groundwork set by Gaston and Loeffler.
Jenks said it is ideal to fit someone within six to eight weeks of a traumatic amputation because patients are more likely to remember how to use their muscles even without the associated limb being there. Tiffany is on that timeline thanks almost entirely to the lack of infection. That's something Jenks calls a miracle, given everything she encountered—ocean water, a shark's mouth, the boat, a beach towel and so on. The biggest miracle, though, may be the fact she swam away from a shark.
"Tiffany was in the water, literally looking at the shark with her arm in his mouth," Jenks said. "To have the peace of mind to swim back to the boat, to have her husband get a towel, that's not someone that's just a strong person. That's a miracle. That's the Lord taking her in His hands."
"She has such a beautiful peace to her," Jenks added. "Just a calm and a peace and a strength to her that is really something special that I think she has as a person. I think the belief and her faith really sets her up so well for the recovery and the place that she is right now."
He delivers me from my enemies.
You also lift me up above those who rise against me;
You have delivered me from the violent man.
Therefore I will give thanks to You, O LORD, among the Gentiles,
And sing praises to Your name.
A New Lens for Life
Tiffany wouldn't change anything, even if she could go back. Even as the working mother is learning to write left-handed alongside her kindergartner.
The Johnsons have been cautious with how many details they share with their three children, all under age 6. So far, the children have taken it in stride. They know mommy had an accident on vacation. They're good with that.
"One day when they're mature enough, I do want to share with them because I want them to see what God did," Tiffany said. "But they're just not ready for it now."
In the meantime, Tiffany has focused herself on being completely attuned to God. That means sharing her story or a word, like she did recently at her church, and praying with people if He prompts her. It also means leaving open the possibility of getting back in the water. She hasn't ruled out that Great Barrier Reef trip.
"At this point I don't think so but I don't know," Tiffany said. "God could give me that peace."
And peace of mind is something still resting over Tiffany, who hasn't had nightmares in the wake of the trauma.
"I look back, and I'm like, 'Holy cow,'" she said. "God is just all over, just faithful and taking care of us and changing lives. I'm just grateful and thankful for the opportunity to just shine His light and make His name known."
"You just look at things in a different light now," she added. "I feel like I'm looking at things through an eternal lens versus just the everyday ordinary. The trivial stuff doesn't matter anymore. I'm not going to waste the opportunity, the second chance that He's given me."