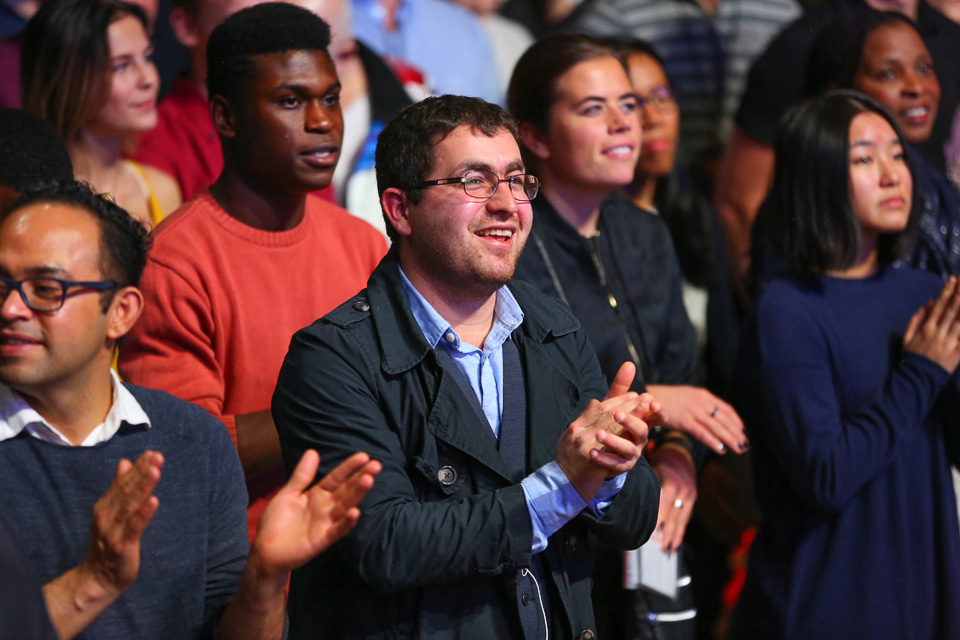 Norway's natural beauty is majestic and her history is captivating.
The Northern Lights. Deep fjords cutting through rugged mountains. Vikings striking terror.
But it's another sort of indelible impression—a piercing of the heart—that many churches in Oslo have prayed would touch those who attended Saturday night's Håpets Festival (Festival of Hope) with Franklin Graham.
How do you pierce or change someone's heart?
Hebrews 4:12 tells us God's Word is alive and sharper than any two-edged sword, "piercing to the division of soul and of spirit, … and discerning the thoughts and intentions of the heart."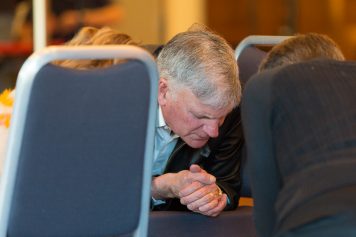 But at the Oslo Spektrum arena, Franklin Graham told 4,300-plus people that the human race is running from the Bible and all things of God in pursuit of contentment.
"Man is searching for happiness, peace and purpose," he said. "Looking for meaning in life."
Though Christianity was adopted in Norway about 1,000 years ago, today only 4 percent of Norwegians attend church regularly. As the country becomes increasingly secular, many—millennials especially—have replaced their need for God with social justice.
Finding a cause to get behind.
Gilles Gatete, a counselor at the Festival, said the lack of purpose among millennials in his city is rampant.
"They want to make a difference," he explained. "They're trying different things so they can actually mean something to the world and to themselves, and to maybe have this peace inside."
Gilles said many join environmental groups or vegetarian groups, or they find something else to belong to. There's nothing wrong with these things, he said; it's just that young people are trying to fill their emptiness with temporal things.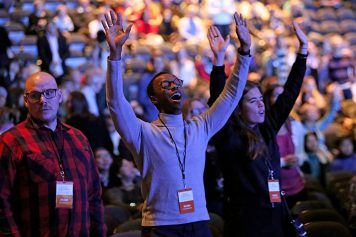 Franklin Graham talked about how mankind was created with a longing for it's creator—God.
"Something is missing," he said. "We don't have that fulfillment. We have a vacuum and an emptiness that only God can fill."
Gilles is disturbed at the high rate of suicide and loneliness in people near his age. "For me it's very scary," he said. "It's my group. You would think it's the older people … but really it's the young people."
Many, he said, just come home from work or school, sit in front of the TV and are depressed—wondering about the point of life.
"They're just lonely. They [don't have] friends. They need someone to care."
Another counselor, Belinda, prayed with a young woman who recently discovered what she was missing. She had committed her life to following Christ before coming to Norway to visit a friend. She heard about the Håpets Festival after arriving, though, and when her friend wanted to go party, the young woman listened to the nudging inside her heart. She attended the Festival instead and walked forward to rededicate her life to Christ.
Knowing Jesus is "amazing," she said. She told Belinda she knew the Holy Spirit was prompting the change in her life. "I want this," she affirmed.
Dozens of other people decided they wanted this, too—living life on purpose for Christ. Hearts pierced with the truth of the Gospel.
"The Bible says by grace we are saved by grace through faith … and it's by faith in His Son Jesus Christ," Franklin Graham told the arena full of people.
Gilles is on the same page.
"There's power in the Gospel to change a [person's] situation," said Gilles.
"By responding to the Gospel we become sons and daughters of the King and we understand that God has a purpose for this world. Then we redirect our purpose.
"Our dream is to fill Oslo with house churches. Like the stars in the heavens at night. That every corner of Oslo be filled with Christians who are salt and light," he said.
So even though the world is changing and ever more secular, life's purpose always comes back to God, said Franklin Graham.
"One thousand years ago, today, a million years from now—His laws are the same and they don't change."
Are you searching for purpose, too? Start here.