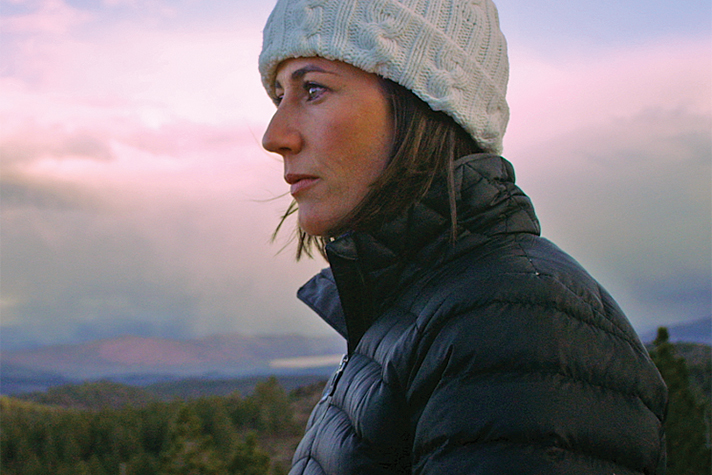 From a gas station in Alabama to churches in Illinois, Texas and Vermont, believers are using My Hope videos to share Jesus with people who are lost.
My Hope with Billy Graham is an ongoing project by the Billy Graham Evangelistic Association that helps churches and individuals share their faith with the help of short, powerful videos that tell real-life stories of salvation.
The latest video, Heaven, tells the story of a firefighter who nearly lost his life and a young woman who lost someone she loved. Heaven will be shown by churches across the United States this Easter.
Order your free Heaven DVD or watch it online now.
At the same time, churches in the United Kingdom will be showing the My Hope video The Cross, featuring singer Lacey and rapper Lecrae.
In each video, Billy Graham powerfully presents the Gospel, through a combination of classic footage and a new message filmed more recently at his North Carolina mountain home.
While the videos are a good fit for Easter season, thousands of people have already used them to share the Gospel during the fall and winter months. Below are some of the latest stories of what God is doing across the United States.
Dothan, Alabama—Ridgecrest Baptist Church holds "Ridgecrest Cares" days throughout the year, giving members opportunities to share the love of Jesus in out-of-the-ordinary ways. A lot of people pass through Dothan on their way to Florida, Georgia and other parts of Alabama, so Ridgecrest sends teams of people to gas stations to serve up some southern hospitality. Church members offer cold soft drinks as they pump gas, wash car windows and chat with drivers. They also hand out free Heaven DVDs. One family who received the DVD during a "Ridgecrest Cares Day" was headed to the beach and ended up watching the film on the way. In addition to the gas station outreaches, Ridgecrest has shown Heaven during its Monday Night Sunday School and Feeding the Hungry events. More than 700 people viewed Heaven at those events last year, resulting in 12 people making first-time decisions for Christ and 37 others rededicating their lives to Jesus.
North Pownal, Vermont—North Pownal Congregational Church, located in a small mountain village in the far southwest corner of Vermont, showed Heaven at a pot luck dinner and again during Sunday worship about a week later. As a result, two people made first-time decisions for Christ, and one person rededicated their life to Jesus.
Flushing, Michigan—Late last year, the pastor of Westside Baptist Church received an email from a woman requesting prayer for her husband. The woman was new to the church and had recently rededicated her life to Jesus, but her husband was unsaved and refused to go to church with her. A few weeks later, Westside Baptist announced it would be showing the My Hope video Heaven with Billy Graham on Sunday, Dec. 7. When the woman told her husband about it, he agreed to go only to hear Billy Graham. An invitation to accept Christ was given at the end of the video, and the husband was the first to stand up and respond. He made a first-time decision for Christ that day, along with three other adults and two teenagers.
Frankville, Alabama—Billy Harris is a My Hope area coordinator who uses his hunting lodge to reach people with the hope of Jesus. Each year, he hosts an event for active duty military called "Honoring Our Heroes," in conjunction with Servants Alive Ministries. Late last year, Harris hosted a military chaplain and eight other soldiers from Fort Rucker at the lodge for four days. During that time, Harris showed the soldiers the Heaven video, shared some of his own story and gave an invitation to receive Christ. Three of the soldiers accepted the invitation immediately. Another approached Harris at the end of the weekend. "I had a lot of time to think out there on that deer stand," he told Harris. "Thank you for sharing with us. I'm headed in the right direction now." Harris said My Hope "truly provides evangelistic tools that can be used anytime, anywhere, and by anybody to share the life-changing Gospel of Jesus Christ."
McAllen, Texas—Iglesia Sinai de la Alianza Christiana Y Misionera showed El Cielo, the Spanish version of Heaven, in November. The video was shown during the church's Noche del Amigo (Friends Night). Around 80 people attended the event. Eight individuals made decisions for Christ, and one new family decided to join the church.
Mountain Home, Arkansas—Twin Lakes Baptist Church showed the My Hope video Heaven three times, to a total of 1,750 people. Senior Pastor Dr. Sam Bailey said 86 people made first-time decisions for Jesus, and 138 more rededicated their lives to Christ. Among those who made a decision was a WWII test pilot who hadn't set foot in a church for 23 years but accepted his friend's invitation to watch the Billy Graham video at Twin Lakes Baptist. The man's son was also there and was able to hear his dad pray the prayer to receive Christ.
Plymouth, Minnesota—Thy Word Worship Center International Ministries is a relatively new church, founded eight years ago. The church decided to show the Heaven video to the congregation and saw 21 first-time decisions for Christ. Six other people rededicated their lives to Jesus, and two families decided to join the church.
White Plains, Maryland—Frank Shelton, a My Hope area coordinator, was invited to speak to 200 students during chapel at Southern Maryland Christian Academy. He decided to share the Heaven video with the students. "I introduced the film, pressed play and God did the rest," Shelton said. Of the 200 sixth thru 12th graders, 64 prayed to accept Christ after Shelton repeated Billy Graham's invitation and the Sinner's Prayer. "From there, I shared if you are already a Christian but realize you have some areas in your life that are not pleasing to God … and you would like to recommit anew your life to Him, today is your day," Shelton said. "An additional 42 did just that."
Decatur, Illinois—Maranatha Assembly of God showed Heaven on a Sunday night in two locations. Usually the church has about 100 adults who attend Sunday night worship. On this particular night, more than 400 people showed up, including 100 youth. The church celebrated 27 first-time decisions for Christ and eight rededication decisions after showing the video. They plan to show a My Hope film every six weeks.
What will your 'My Hope' story be? Share Jesus with someone this Easter.