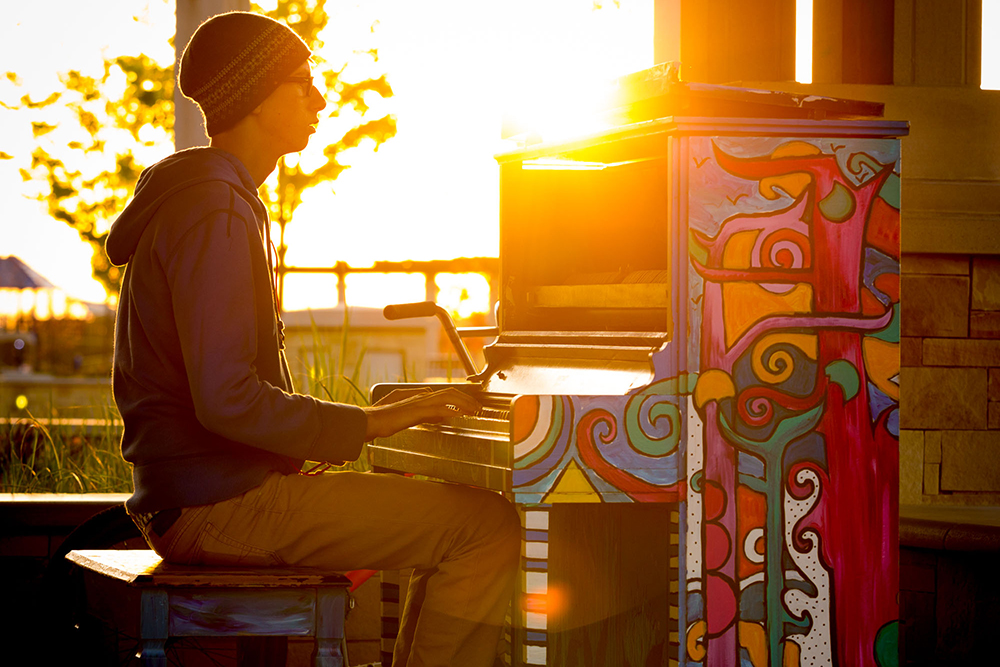 The Ohio Valley Celebration with Will Graham was held this past weekend in Owensboro, Kentucky. Lots of locals were excited about the event and took time to share their own stories of what Jesus has done in their lives. Let these two stories encourage you today.
Two Broken Pasts Make Something Beautiful
Mike and Madi Cisneros are a testament to the saying, "Everyone's got a story."
They live simple lives in Owensboro, Kentucky. During the day, he works at Colby's Restaurant, a local favorite, while she stirs up lattes at the nearby coffee shop, The Crème.
Clean cut and nicely dressed, you'd never guess Mike's been arrested 18 times in five different states. And with Madi's infectious smile and spirit, it's hard to imagine the bitterness that once lived inside her.
Mike grew up in a Christian home, calling his mom "an amazing woman of God," but admits he "never really saw Jesus as satisfying over the things the world had to offer."
Mike watched his mom struggle, and held a grudge against God as a result.
"If there was a God, I didn't like Him," he said. "She was such a good Christian. She was faithful, and I didn't understand why God didn't take better care of her."
Mike started using drugs at 11, selling at 16. "And the whole time, in and out of church."
Meanwhile, his mom always told him, "Mike, God's got a plan for your life."
And God did.
Mike finally came around—in prison, with six felonies, a $100,000 bond, warrants out for his arrest, and a son he hadn't seen in two years.
"I said, 'Lord, if you can really add all [I've lost] back into my life, then I'll give you everything, every bit of me,'" Mike recalled.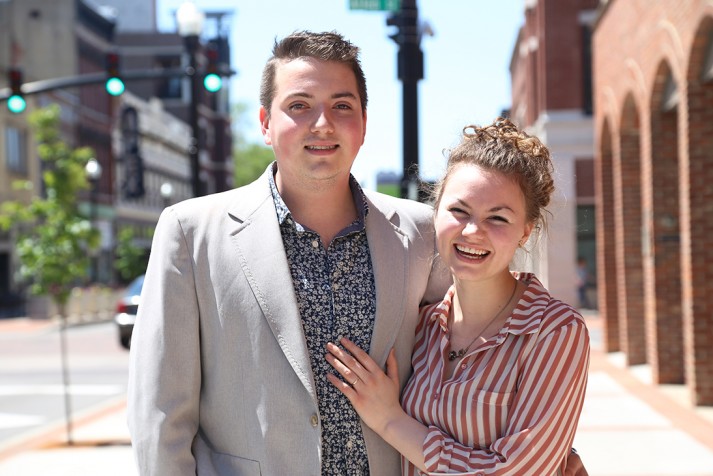 Shortly after getting out of prison, Mike met Madi. He was a new believer, and on fire for God. Madi didn't know it yet, but she needed that story of redemption in her own life.
"The Jesus that I knew was a businessman. He was in it for money, for your time, for all these other things except just to love the world," she explained.
Madi was a good girl who always played by the rules.
"All these people thought I was this really good Christian, but honestly I was just really good at pretending."
Going through the motions in church and in life, Madi hoped something would stick. But it never did. By the time she met Mike, she was fed up.
"[But] he had this love that I was lacking. He was so empty of himself. And that was the thing that I was missing," Madi said. "It was like spring time. And it was beautiful."
About seven months later, the young couple was married.
Mike now has a relationship with his son and sees him every weekend. With he and Madi both coming from broken homes, they have a heart for reaching young people who need an extra nudge to understand God's love for them.
"They need to know that they're worth the blood of Jesus," Mike said.
"It's not about how pretty you are, how well spoken you are, where you grew up, what your parents have done," he added. "It's all about what He says you are. He says in Isaiah 43 that, 'You are mine.' You've been ransomed. You are loved."
Their youth group attended Friday's Will Graham Celebration in Owensboro. A friend of two girls they've grown to know through church gave his life to Christ.
"That's all you really need to hear right there—somebody got saved," Mike said. "Praise Jesus."
Aside from the youth, the couple has one prayer for the nearly 200 churches in Owensboro and others across the United States: unity.
"The church, our body, is absolutely everywhere and not working together—a body can't survive like that," Madi said.
"This (events like the Will Graham Celebration) could really start a revolution where you see, especially the church in Owensboro, people working together with like minds, with one mission," she continued.
"If we can agree that we are here to empty ourselves and be servants, we can see earth as it is in heaven."
Finding Jesus in Every Detail
It's the afternoon lunch rush and Tim Turner is making his rounds. He's co-owner of Fetta, a specialty pizza place in downtown Owensboro, Kentucky. Cheerful and gregarious, he chats with customers and talks openly about Jesus when the topic turns to his business.
"All this that happened for us was not possible except through Christ," he said.
Two weeks into Turner's retirement, he got bored and decided to open a restaurant with his friend, Mike Baker. After months of pursuing an old building downtown, they hit a dead end; the building went to someone else and Turner was crushed. He remembers taking a long walk around town.
"I finally stopped and said, 'God what do you want from me?'" he said.
An hour and 45 minutes later, he got a call about a plot of land across the street from the building he'd had his eye on. The price tag? Zero. Turner just had to build the building.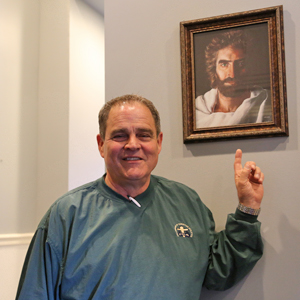 On Sept. 2, 2013, a two-story brick restaurant called Fetta opened up and business is booming. With so many customers coming in and out, a lot of people stop to look at the picture of Christ hanging in the restaurant's narrow hallway.
"I've had grandmothers stop there with their grandkids, and I'm talking adult grandkids, and just bawl and say, 'This guy can help you through anything you have in your life.'"
But the picture wasn't placed there for the customers.
"It's actually for me," Turner said, a reminder that without Christ's hand in every detail of the restaurant, Fetta wouldn't exist.
When employees are down or going through a hard time, the picture also becomes a reminder for them. Turner takes them to the picture and says, "If you'll turn all this over to this man here, it'll all take care of itself."
That's a message thousands more heard over the past few days, straight from one of Fetta's repeat customers, Will Graham, in town for the three-day Ohio Valley Celebration just down the street.
"I think it's an incredible opportunity for Will to spread the Word," Turner said over the weekend. And not just Will, but the artists who performed and so many in the community who came together to make the Celebration happen.
While there's no shortage of churches in Owensboro, Turner has seen the Celebration reignite Christians' faith and their mission to tell others about Jesus.
"It actually brings to the forefront what the churches are trying to do," he said. "We all get complacent, so it's like shaking somebody, saying 'Wake up!'"
Turner's own commitment to Christ was made at a local church when he was 14. He credits his parents for setting a godly example throughout his life and hopes to set the same example for those in his "little box of influence."
Post-Celebration, Turner prays that his community continues not only to experience economic revival but that the momentum from this event keeps going, with more and more people experiencing the power of Christ in their lives just as he has.
 You can have peace in your life, too. Find out how.