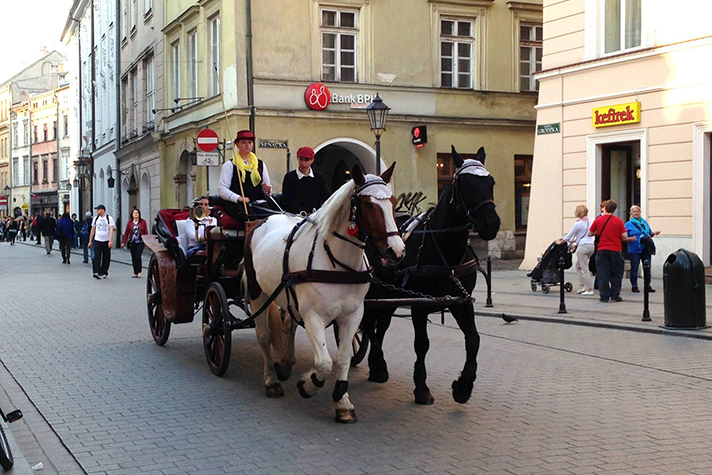 Warsaw, Poland, looks a lot like any other contemporary European city. It has skyscrapers and traffic jams, parks and gardens, shopping malls and monuments.
What it doesn't have is an abundance of old, historic architecture that characterizes most other European towns. In fact, almost every building in present-day Warsaw was constructed after 1945.
When the Nazis left Poland towards the end of WWII, Hitler ordered that Warsaw be destroyed. About 85 percent of the city, including the Royal Castle, was obliterated. What's seen today in the bustling capital of 1.7 million people is a new city—one that honors its difficult past and looks for a more hopeful future.
Hope is the reason a group of Polish churches invited the Billy Graham Evangelistic Association to hold the Festiwal Nadziei (Festival of Hope) in Warsaw June 14-15. Polish believers want to share the hope of Christ with their fellow Poles, many of whom do not have a relationship with Jesus.
"The entire evangelistic Christian population is probably somewhere in the vicinity of 70,000 people total in the country," said Festival Director Rev. Tex Reardon. "And of course, it's a pretty big country."
Bordered by the Baltic Sea and a number of countries including Germany, Ukraine, Slovakia and the Czech Republic, Poland has a population of more than 38 million. It's estimated that 95 percent of the nation is Roman Catholic.
Out of 829 Protestant churches in the country, more than 300 are actively participating in the Festival, along with several Catholic churches that are active in what they call a "new evangelization" movement, "which is basically a born-again section of the Catholic Church," Reardon said. "They seem to be very interested and very active in what we're doing."
Participating churches from various denominations are in the process of arranging more than 100 buses to transport people from their hometowns to the event at Pepsi Stadium in Warsaw.
"About 70 churches are in the Warsaw area," Reardon said. "The rest would be an average of about a three-and-a-half-hour bus ride to get here. Some will be a five-hour bus ride from here. So there's a good response from all over the country."
The two-night Festival will feature a Gospel message from Franklin Graham and music from Newsboys, Michael W. Smith, the Tommy Coomes Band and a number of local artists.
Before the Festival, Franklin Graham will also preach in the town of Katowice, Poland, at Christ the King cathedral—the same place where Billy Graham shared the Gospel with thousands under communist rule in 1978.
This time around, there won't be an Iron Curtain, but there are still challenges. With next-door-neighbor Ukraine in turmoil, many Poles are anxiously monitoring the situation with the nearby Russians. And despite Poland's relatively good economy, there are still people searching for joy and purpose in their lives.
"People are struggling with the concept of hope for the future," Reardon said. "They're looking for hope."
As Polish believers from all walks of life come together to reach their friends, family and neighbors with the Gospel, they're praying scores of people will find what they've been searching for as they encounter the God of the universe.
"The theme behind the Festival of Hope is that a relationship with Jesus Christ gives us the hope that will last all eternity," Reardon said. "That is the one true hope we have in the world."