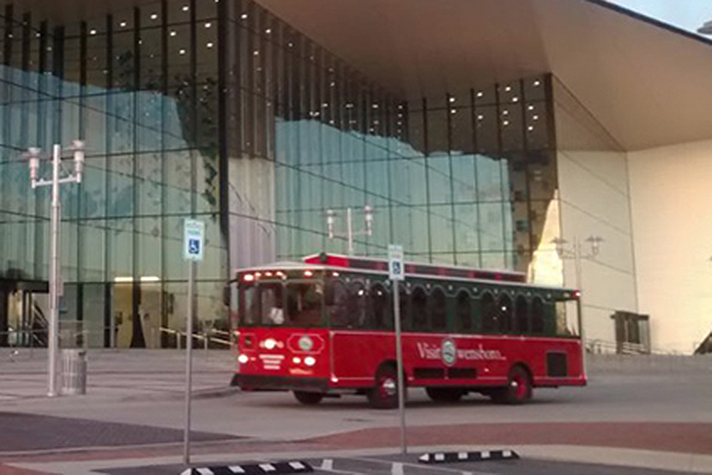 Historic Owensboro, Kentucky, is a quaint throwback kind of town, with classic architecture mixing with coffee shops and eateries along the banks of the Ohio River. There's even a trolley that scuttles around town, moving from business to business.
This trolley will become a rather unique location for a prayer meeting later this month as supporters of the upcoming Ohio Valley Will Graham Celebration gather to ride through the community and pray for their city, churches, and neighbors.
"The trolley has a route downtown and it boards at the Convention Center, which is where the Celebration is going to be held," said Vicki Sims, who serves on the prayer committee for the Celebration. "We're going to pray on the trolley. We're going to sing, fellowship, and whatever else we're led to do."
The gathering will take place the afternoon of Feb. 21, and it will include stops at various businesses and a downtown church. The entire community is invited to participate.
The trolley prayer event is just the latest in meetings organized by the prayer committee in advance of the Celebration.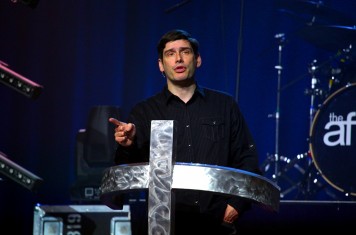 "We had prayer bike rides in the summer and fall for the Celebration, and we had some walks for people who couldn't bike," Sims said.
However, the winter weather on the Kentucky/Indiana border provided a formidable barrier to an outdoor prayer gathering of that nature in February.
Instead, Sims recalled that some friends had suggested caroling on the trolley around Christmas time, and the idea clicked.
Wanda McCurdy, who works for the Billy Graham Evangelistic Association and is helping to guide the Celebration planning efforts in Owensboro, shared that there is a dedicated network of prayer-focused believers in Owensboro.
"There are two groups in particular that have been meeting in homes," she said. "The first group has been meeting for about 42 years, and the second group I believe is around 35 years."
"They've been meeting and praying for the community, praying for the churches, for the pastors and leaders in the community. The intercessors that I've encountered—the people who pray in Owensboro—they are on fire."
As evidence of that, hundreds of people from several denominations turned out for a Concert of Prayer in January.
"The response was just overwhelming," Sims said. "It was much more than we could even imagine so I think that really got a lot of excitement going because it was so diverse. People from every walk of life were there, so that was very exciting and set a spark for the community."
The focus of the trolley prayer time on Feb. 21 will be a series of upcoming gatherings that will be held in the community in March.
The meetings—called the Christian Life and Witness Course—take place in every city where a BGEA outreach is being held. Its goal is to both develop and deepen a believer's faith while also preparing them to share the love of Jesus with others.
"Our one purpose is to share Jesus Christ. We've been blessed with this opportunity from God, and we want people to be passionate about it, embrace it, run with it and just keep going even after the Celebration," said Sims.
"It's important. There are so many that don't even know the Lord that need Him; that are not happy and need to know that there's hope and another life besides what they're living."
You don't need to be on a trolley to pray for the Ohio Valley Will Graham Celebration, which will take place April 24-26 in Owensboro. Join us in prayer for the following:
• Pray for the upcoming Christian Life and Witness Courses taking place in Owensboro in March, including the special classes tailored to students.
• Pray that walls would be broken down and every church and believer would come together to reach their region for Christ.
• Pray that the Holy Spirit would be moving in the hearts of believers in the area, directing them to those who need to know about Jesus. Pray that they would have the boldness to invite and bring their friends and family to the Ohio Valley Will Graham Celebration.
• Pray for all of those who are giving leadership to the Ohio Valley Will Graham Celebration.