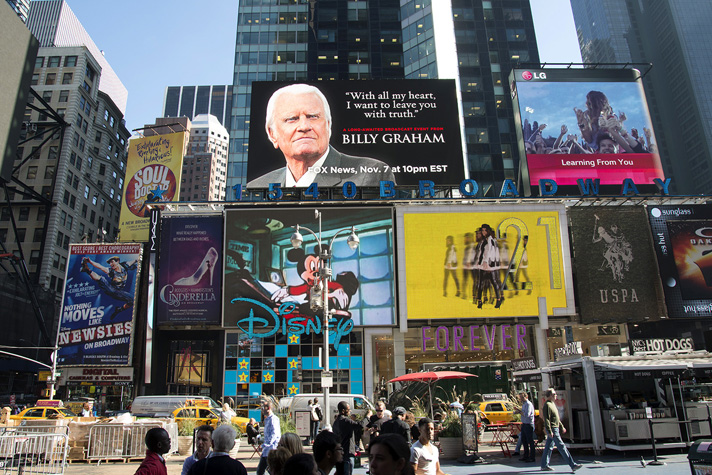 High above Times Square, sandwiched between brightly colored ads peddling cellphones, clothing and Broadway shows, Billy Graham's face stands out on a new billboard with a message from the 94-year-old evangelist.
"With all my heart, I want to leave you with truth," it says.
The billboard, which went up Oct. 14, points the masses of New York City to a special broadcast happening Nov. 7, on Mr. Graham's 95th birthday.
"I think of Times Square as one of those places where you just might see anything," said New York City resident Jessica Roland. "There are so many flashing lights and ads everywhere, but when I saw Billy Graham, it just made me stop and rejoice on the inside."
Jessica and her husband, Luke, both spent several years working at the Billy Graham Evangelistic Association's headquarters in Charlotte, N.C. Now they live in Manhattan's Upper East Side with their two young children. They're both excited to see a message about truth in such a prominent place.
"Not only is the ad being seen by New Yorkers, but Times Square is a huge tourist attraction," Luke said. "You've got people from all over the world that are seeing that one particular ad."
The Nov. 7 broadcast is part of My Hope America with Billy Graham, a movement that's been in the works for two years.
My Hope encourages Christians to take the time to build authentic relationships with family, friends and neighbors who are not believers. From Nov. 7-10, they'll have the chance to invite those friends into their homes to watch the broadcast, which tells the Gospel message through Mr. Graham's preaching and true stories of people who came to believe in Jesus while facing struggles like depression, addiction and broken relationships.
Believers who host My Hope events can register online at www.myhopewithbillygraham.org. They can also participate in online training and watch several powerful My Hope videos or order copies on DVD.
In November, My Hope's flagship program, a 30-minute video called "The Cross," will be broadcast nationwide on FOX News at 10 p.m. ET and on TBN at 8 p.m. ET. Additional broadcasts will continue on various affiliates through Nov. 10. The video will also be available via DVD and streaming online.
A Heart for New York City … and Beyond
The Times Square billboard, which is scheduled to appear through Nov. 10, places Mr. Graham's words in the heart of a city where he has repeatedly shared the Gospel of Jesus Christ over the course of 48 years.
Luke Roland wasn't born yet when Mr. Graham preached in the Big Apple for the first time, but he knows all about that powerful moment in history.
"In 1957, he had a Crusade here that lasted 16 weeks," Luke said. "I have pictures of it in my home."
At the time, Mr. Graham called New York "the most strategic center in the world" and said, "It becomes a stage on which we can do evangelism to the whole nation, to the whole world."
Over the course of 110 days, more than two million people heard the Gospel, with more than 56,000 individuals making decisions to follow Christ.
Billy Graham returned five more times between 1957 and 2005, when he held his last public Crusade at Flushing Meadows-Corona Park in Queens.
The Cross
This November, Mr. Graham's message will come to New York City once again, as he shares his hope for the people of the United States through "The Cross."

"Seeing the Times Square billboard is a reminder that the hope that springs from the cross of Jesus Christ must be shared everywhere," said Robert T. Schlipp, one of dozens of My Hope coordinators fanned out across the U.S. "Our nation desperately needs the real hope that only Jesus provides, not the false hope of politics, entertainment or self-reliance."
Eric Boutieller is the My Hope coordinator for the northeast and mid-Atlantic states. With the culmination of so much work—and so many prayers—just three weeks away, he's energized by the renewed enthusiasm he sees for evangelism in the northeast.
"Pastors are coming to the table, and they want to be involved even at this last minute," Eric said. "We just want to finish really strong. It's not too late."
As people who call New York City "home," Luke and Jessica Roland are praying the Gospel message will reach their fellow New Yorkers and millions of others.
"There are a lot of seekers here, and there are a lot of spiritual people who believe in a god or some kind of presence," Luke said. "So there are a lot of people that are open, I think, to hearing the Good News."
The billboard high above the noise and traffic of Times Square is calling seekers, skeptics—anyone searching for life's most important answers—to find the hope they've been looking for…and allow it to change their lives.
Then you will call upon me and come and pray to me, and I will hear you. You will seek me and find me, when you seek me with all your heart.—Jeremiah 29:12-13 (ESV)