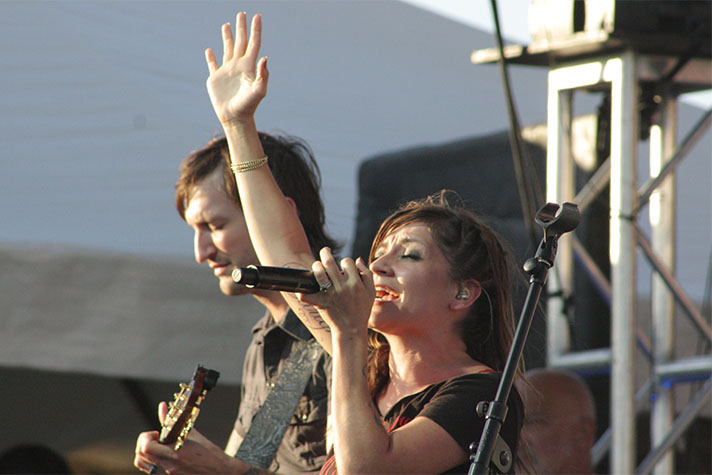 For more than a decade, Lacey Sturm has traveled coast to coast, performing. She's played in front of packed stadiums. She's shared her testimony with thousands.
But there's still a genuine sense of humility in her eyes as she discusses what may be her most public role yet.
"I just keep thinking, 'Who am I?'" Lacey said. "I'm nobody. I can't believe this—that I get to be a part of what God's doing on this earth in such a powerful way."
On Nov. 7-10, Lacey will appear in a new video message from Billy Graham to the United States and Canada. The video has potential to reach millions of people in homes all over North America.
"It's everything I cried out to God with in my alone time," Lacey said. "'Use my life for whatever You want, and help me to say yes to your adventures.'"
Friday, the 32-year-old wife, mother of two, music artist and former lead singer of "Flyleaf" sat down at the Billy Graham Evangelistic Association's (BGEA) Charlotte headquarters to talk about her latest adventure, which will give her a massive platform to share her powerful story of faith.
"When I met Jesus, when I became a Christian, … I felt the love of God for others in a way I had never felt before," Lacey said. "And to think that God's message could go out in a way that so many people could hear it at the same time, to all of a sudden feel the love of God for each other—it's overwhelming for me."
Next month, as Billy Graham turns 95, a 30-minute My Hope video will be broadcast on FOX News and a number of other television stations throughout North America. The video, which is also available on DVD and streaming online, was filmed over the course of a year and features a new message from Mr. Graham.
As the culmination of the My Hope project quickly approaches, believers across two nations are being encouraged to invite friends and family members who don't know God to watch the video with them at home. Together, they'll see Mr. Graham sharing his heart for the people of his home continent. They'll also see several other people sharing their personal stories of salvation, including Lacey and hip-hop artist Lecrae.
Over the course of the past year, a BGEA video crew captured Lacey's world—onstage with her guitar, and offstage with her husband and toddler. They were even there just moments after Lacey gave birth to her second child in August.
Watching Lacey hold her newborn baby boy is particularly remarkable, considering she was once determined not to live past age 16.
'God of the Universe Showed Up'
Lacey has told her story to thousands of teens and 20-somethings at events like the RESET Movement and BGEA's Rock the River and Rock the Lakes.
In November, her audience will be multiplied like never before, as people of all ages hear her amazing testimony for the first time.
"I decided that I didn't want to keep doing life anymore," Lacey told a crowd of young people at Rock the Lakes Milwaukee in 2011.
She was just 16 years old when she entered the darkest time of her life. She had already experienced heartbreaking pain. As an atheist, she decided there was no reason to stay alive and made plans to kill herself.
"I came home from school, and I was having a nervous breakdown, I think," Lacey said.
Her grandmother noticed something was wrong and demanded that Lacey go to church.
"I hated Christians," Lacey told the crowd in Milwaukee. "I hated people who talked about Jesus."
But she went to church anyway, simply to get her grandmother to leave her alone.
"I sat in the back and I crossed my arms, and I was pretty much waiting for it to be over so I could leave and fulfill the plan that I had to commit suicide that night," Lacey said.
For some reason, she just couldn't tune out the white-haired preacher who was talking about pain. Then, he said something that really startled her.
"He said, 'There's a suicidal spirit in the room,'" Lacey recalled. "And all the hairs stood up on my arms, and I was like, 'I've gotta get out of here. This is weird.'"
As she tried to slip out the back, an older gentleman stopped her.
"He said, 'The Lord wants me to speak to you,'" Lacey said. "'He knows the pain in your heart. He's seen you cry yourself to sleep at night, and He died to take that pain out of your heart. He experienced it while He was on the cross, so you don't have to keep holding it there anymore.'"
As Lacey stood there, stunned, the man asked if he could please pray for her.
"It felt like God of the universe showed up," Lacey said. "And I saw who I was. I saw that I was sinful. I saw that there was this perfect, holy, loving God who was right in front of me."
In that moment, Lacey allowed Christ into her heart. As her suicide plans dissolved, she began asking God to show her purpose and meaning in her life.
"My whole life has been an adventure since then," Lacey said.
'The Message of Life'
As millions of people are captivated by Lacey's story, they'll also have a chance to hear her music. She sings two songs on the recently-released My Hope album. Lacey wrote one of the songs, "The Reason," a few years ago and was preparing to record it for the album. That's when a second song surfaced.
"When we went to record ['The Reason'], they actually had another song that someone else had written about the cross, called 'Mercy Tree,' that they wanted me to record in the same session," Lacey said.
She had never heard the song before, and when she listened to the words, her heart was deeply moved.
"I cried so hard," Lacey said. "Every single time I tried to sing it, I cried so hard I couldn't get through it. Because the message is so clear and so simple."
She blinked back tears as she tried to explain the meaning of the song, which tells the story of Jesus' life, death and triumph over the grave.
"I don't even know how to say it without crying," Lacey said. "You know, it's like the message of life. I just can't get over that God would honor me to be able to tell the story of His Son. It's just too much."
In less than two weeks, Lacey's passionate voice will be heard in thousands of living rooms, as she belts out the lyrics of "Mercy Tree" during the My Hope video.
More than 25,000 churches have members registered to show the program to their friends and family. And with some versions already available online and on DVD, churches are reporting hundreds of salvation stories already.
For Lacey, that's a humbling reality—and an answered prayer.
"I would read the Bible and just cry over the power of God in the Bible and what God did in the past," Lacey said. "And I would cry and say, 'Oh, God, let me see you move this way in our generation.'
"It's overwhelming because of how it saved my life to hear the Gospel, … and to think it could touch that many people at one time."
As she travels the country, Lacey sees the hopelessness of a generation that doesn't know God.
"They don't love themselves," Lacey said. "They don't even like themselves."
But she also knows, from experience, what can happen when Jesus enters the scene.
"If we knew there's a God who created us as His artwork, as His expression of Himself, for a purpose—I don't know," Lacey said. "It seems like it would change everything."